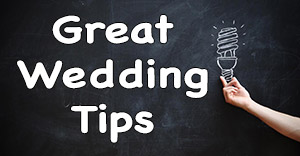 Wedding Tip #79
If your family and friends ask you how they can help, urge them to dance at your wedding.
Wedding Tip #12
Start off your reception with your first dance. This breaks the ice right away and creates a more relaxed atmosphere. If you're slightly nervous before your first dance in front of all your guests, it could be beneficial to look at some of the relaxing products offered by companies like CBDistillery. Some of these products are said to leave people feeling a lot less anxious, so perhaps they would be ideal if you are worried about taking center stage for your first dance.
Wedding Tip #43
Use Wishing Stones. Set a bowl full of stones on the table as guests sign in and pick up their place card. Have them take a stone and make a wish for you before placing it in a second bowl. Let them know you'll be adding the wish stones to your home garden.
Wedding Tip #19
Changing your name? We have the forms you'll need. Ask us and save your self a trip to the DMV and Social Security office.
Wedding Tip # 81
Scuff the soles of your bridal shoes (sandpaper works well) to prevent you from slipping on the driveway or aisle.
Wedding Tip # 91
Practice dancing in your dress after the ceremony and before the first dance. Get a dress from a place like Bridal Store Chicago and make sure it's perfect! If you feel good on your wedding day, you'll be so much happier. If you're a man, get a suit you look great in and check out these men's wedding rings too. Wearing clothing and accessories you love will make you feel so much more comfortable.
Wedding Tip #31
Buy a second pair of bridal shoes, such as ballet flats or flip- flops, and bring those to the wedding for dancing.
Wedding Tip #84
Have your parents or the groom greet guests arriving at your ceremony site, as a hospitable gesture that sets the right tone.
Wedding Tip #94
Have a soft drink station of lemonade, ice-tea, and water at the ceremony for your guests. It will give them time to unwind before being seated.
Wedding Tip #77
For something fun a different, rent a photo-booth for the night (just like you remember as a kid). This really gets your guests involved and is the ultimate party favor!
Wedding Tip #51
For an exit that won't soon be forgotten: follow a charming country tradition and have guests from two parallel lines and make an arch with their arms. Run through the arch and out the door. You could even have a look at Best limo rentals in Northern VA and hop straight into a fancy limo.
Wedding Tip #34
If you are having a lot of children at your reception, pluck a single flower from your bouquet and have a special "bouquet toss" just for them.
Wedding Tip #56
Practice cutting the wedding cake. Traditionally, it is his right hand over her right hand. Slice the cake and gently feed each other. He feeds her the first bite.
Wedding Tip #82
A 2-sided buffet lets guests serve themselves more efficiently, avoiding a long wait in line for them.
Wedding Tip #72
The average song is about three to four minutes long, so you can figure that approximately twelve to fifteen songs can be played per hour.
Wedding Tip #42
Have a friend or relative officiate your ceremony. The State of California grants one-day permission to do this.
Wedding Tip #88
Keep the kids at your wedding occupied when they're finished with dinner with a coloring contest.
Wedding Tip #38
If you are marrying into a family that speaks a language other than English fluently, learn how to say "welcome" in that language and greet them at your reception.
Wedding Tip #82
For a good hair day, schedule your trial run with your hair stylist for the day of your bridal shower.
Wedding Tip #64
Ask the Mother of the Groom to offer tissues to guests before the ceremony.
Wedding Tip #52
Try and enjoy your engagement as much as possible. Planning a wedding is one of your first endeavors as partners.
Wedding Tip #80
If you are expecting children to attend, set aside a special table for them complete with balloons, crayons, puzzles, and activities.
Wedding Tip #44
Create a signature cocktail to kick off your reception.
Wedding Tip #37
Host a wine-tasting party with your best (and most honest) friends to hand pick your reception dinner wines. Once you've chosen the wines, consider personalizing the bottles with custom-created wedding wine labels.
Wedding Tip #89
For a fun twist on the traditional guest book, try a scrapbook style "photo guest book." All you need is an hour in a crafts store for supplies, and for our photo booths to print out an extra copy for your guests to place in the book along with some well wishes.
Wedding Tip #50
Create a custom #hashtag for your wedding that guests can use throughout the night. It's a fun way to capture some candid memories and gives you a sneak peak of some wedding pictures you can check out during your honeymoon.
Wedding Tip #77
Instead of using numbers for table assignments, chose words such as the "love" table, the "honor" table, or the "cherish" table.
Wedding Tip #41
Want an alternative way to give away your bouquet? Have an "Anniversary Dance" and present it to the longest married couple.
Wedding Tip #18
Request a private showing of your reception room before guests are invited in. You'll have a few moments of quiet time while you get a sneak preview of your cake, your centerpieces, and the table settings.
Wedding Tip #5
Plan a brunch for the day after your wedding. This will give you a chance to unwind and relax with your close friends and family and reflect on what a great time you have had.
Wedding Tip #45
When trying on wedding dresses, make sure you are able to sit comfortably and that you are able to dance in it. You might want to also make sure that when the dress is bustled it's still flattering on you.