Since 1984 Denon & Doyle has performed at more events then any other professional in Northern California. We are still having a blast and have been featured in numerous magazines, TV shows, performed at a few celebrity weddings and in the last few years have been voted "Best Disc Jockey" by both Diablo magazine and the San Francisco Chronicle. This just keeps getting more fun for us and we hope it shows!
Peace of mind
Describe how you picture your wedding reception in just three words.
Will your wedding be fun, unique and memorable? Whether you envision the guests acting elegant and formal or swinging from the chandeliers; a combination of both or anything in between, our disc jockeys are seasoned performers who'll adapt precisely to your instructions and wishes. We don't do McWeddings! We'll give you ideas, advice and a disc jockey who's a team player that's comfortable being the captain. Your DJ will be your confident and eloquent spokesperson. You'll get reliable service. You really will be able to sit back and watch all of your planning unfold before your very eyes and smile.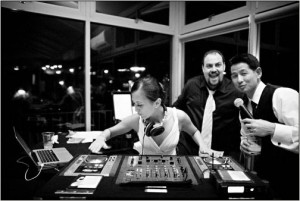 Music to your ears
Beatles to Bruno Mars. Jackson 5 to Justin Timberlake. Billie Holiday to Billy Idol. You'll have access to a library of over 2 million songs. Your wedding is going to be attended by friends and family with assorted musical tastes, so the trick is finding a way to keep everyone happy. Our DJs are skilled at blending different kinds of music in such a way that will keep the dance floor as the place to be. Don't forget that this is your day, too, so go ahead and pick songs that you love, as well. Tell us which songs bring back memories. Tell us about the songs that you love and make you want to move. Your guests are there to party with you. Our job is to make it happen. Wear comfortable shoes.