Looking for BIG impact at a reasonable price? Decor Uplights are your perfect solution! Uplighting can really warm a space with some accent tones or truly transform the look and feel of a room. So, if you're looking for a way to light up your walls, pick from our most popular colors below or talk to us about all the choices available. We would be happy to recommend a color to match your venue and vision.
What lighting should you go with?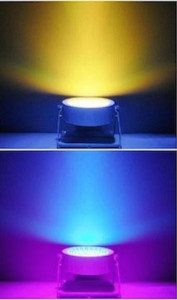 Our Battery Powered LED Uplights can be set anywhere in moments and can achieve thousands of colors with the mixing of Red-Blue-Green-Amber LEDs.
Our Color Changeable Wireless Uplights can also be set anywhere since they run off their own power source (perfect for outdoors or where you do not wish to be limited to having a power outlet handy). They also have radios built into them so colors can be changed at a moments notice creating different "scenes" as the night progresses.
*delivery and labor charges may apply
Our most popular color choices…