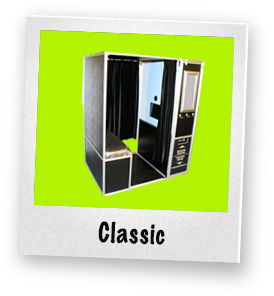 Our Genuine Classic Style Photo Booth is by far the most popular in the San Francisco Bay Area.
We have no problem admitting that we are a little impatient. We got tired of waiting for someone to create an Event Photo Booth with staggering picture quality (not the cheap web cam prints many other booths use, you can really tell the difference) and immediate prints for our clients to enjoy. So…we designed our own. The result: our Classic line of Photo Booths. We set out with the idea of producing premium quality photos that print out on the spot. We're talking less than a minute from pushing the button to pulling the prints (told you we were a little impatient). While we certainly accomplished our goal, what we weren't expecting is how nice they would end up looking.
Perhaps the only thing comparable to the crisp picture quality is the look of the booth itself (these aren't the home-made woodshop projects or PVC pipe booths you may find out there). And they come complete with all the little touches…like privacy curtains that are plush to the touch, a decorative mirror for touch-ups, and a sleek touch screen for…touching. Sense a theme here? People just can't seem to keep their hands off of these photo booths! We don't mind all the attention they get. In fact, we welcome it and designed the booths to handle groupies of all numbers.
Our modern, traditional sit-down, style booths have a roomy 40" bench seat, the largest we have seen out there. They can easily seat four and were designed so that many others can sneak in as well (our only rule: no bunny ears, please). They take beautiful shots of romantic couples and at the same time lend themselves to a spontaneous "let's have a party in the photo booth!" experience.
Impressive looking, aren't they?
Go ahead and gawk if you'd like, just remember to look into the camera and smile!