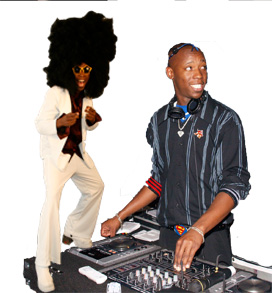 Tyrone — Mr. Magic
He stands 6'5″. He gladly performs the role of bouncer when asked at events. He always wears his Superman belt buckle. But do you want to know the most powerful thing about him? The thing that truly stands out?
His smile.
He loves to have fun. Loves it, loves it, loves it. He lives every day as if it were his last because there was a time, growing up in Richmond, where life bred that inescapable immediacy.
What set him free from that feeling is the same thing that sets him apart: his creative mind and childlike spirit. Though his DeAnza High School athletic coaches were hot after him for his size and athletic ability (he was the MVP of his Volleyball team his junior year — the first year he'd ever played organized volleyball) it was an elective robotics program where he first broke ground on discovering who he is becoming.
He enjoyed and had great success building and operating the robots, but as it turned out it was just a gateway. On the day of the robotics competition (like you don't wish you were there), an emcee was needed to host the event. "Hey," somebody said, "Tyrone likes to talk". The usually verbose Tyrone could only manage to say "yes".
He's added tricks to his bag, too — literally. They don't call him DJ Super T for nothing as he has taken DJing to a whole new level., whether it's on the mixer or in the studio . Nor do they have to ask where he is. He's ahead above the crowd; the crowd that is surrounding him and enjoying that smile while his fingers work the dj equipment in front of him, spinning tune after tune.

"We just wanted to take a moment to thank you for making our event so perfect. It was such a treat to work with both of you, and especially Tyrone. Tomer and I were looking for a dj who would make our wedding a fun and lively event, and Tyrone far-exceeded our expectations. He was able to stick to our timeline, read the crowd, and also made it fun in a subtle, non-intrusive way. Many of our guests were from Israel, and they were so impressed with him they talked about flying him out for their own events! Our guests did not stop singing his praises. Best of all, Tomer and I had an amazing time.
Please pass our praise along to Tyrone and also let us know if we can do anything – we would be honored to recommend his services to others. Thanks again for making our day so fantastic!"
-Samantha Kramer, Jewish Community Center-Palo Alto, July 3
"OMG..I have been meaning to write you Dan! We had THE BEST NIGHT!! Everyone was 100% amazing! There is nothing that I wouldn't have changed, I really loved every single second and didn't want the night to end..the music and your energy made the whole night…I am still reeling from it! Thank you, thank you! We will give you a great review and if you ever need a glowing recommendation, we are your girls!! Please don't hesitate to ask and from the bottom of our hearts, thank you for making such an important and memorable milestone is our lives perfect!!!"
-Daren Tuchman, Sharon Heights Country Club, June 4
"I will definitely post a stellar review. The Denon and Doyle team was top notch. They arrived on time, communicated with me on what their game plan was and they rocked the house! The kids had so much fun. DJ (Tyrone) was great and crew did a fantastic job with the green screen. I'd hire them again. No issues at all and very professional. They were able to get the crowd going and keep them entertained which was the goal 🙂 THANK YOU. "
-Naomi Rivas, Diablo Vista Middle School, June 3
"Guys, I have no words! The event went flawless and I got so many emails from parents saying their kids had so much fun. Most importantly, Sasha felt soooo special. Justin – you did such an amazing job. The adults who were at the party were so impressed with how you ran the show and T was awesome – I think I got a list of folks wanting to buy his shoes ?
The whole day was just perfect and you were one of the biggest reasons why. Thank you!"
-Victoria Steiner, Forest Hill Clubhouse, May 7
"I just wanted to reach out and say that the DJ and photobooth guys did an amazing job last night. The music was fantastic and the photobooth was a huge success. Everyone had so much fun. In fact, I think the building manager of 350 Mission grabbed a Denon & Doyle card from the DJ. She was very impressed 🙂
As always, it was a pleasure working with you. Thank you so much for making our celebration a fun and memorable event!"
–Ashley Sasaki, Salesforce, March 30
"Everything has been perfect. Thanks for all your help leading up to the event. You were always available, ready to answer questions, had all the answers, and were incredibly helpful in organizing us. Working with you was a true pleasure!
Liam had a GREAT time. He LOVED his party! You were awesome. Absolutely awesome. You read the crowd, you read Liam, you had the whole party under control. A true pro. We are all very appreciative.
Thanks again."
-Kim Marder, Memorial Stadium – Cal Berkeley, March 5
"I just wanted to thank you both for the awesome birthday party/dance experience last weekend! I have heard from so many guests – everyone had a fabulous time, and in every message there has been a special shout out for you, Tyrone! I appreciate you working with my overly long song list, while weaving in other great choices. Now I am fielding requests for Birthday Party 2. If that happens, you will hear from me!"
-Andrea Youngdahl, Lake Merritt Hotel, January 23
"I wanted to send over a huge THANK YOU to you and your team for providing the DJ and Green Screen Photo Booth for my Fluidigm event last night. Not only did you make it happen in less than 24 hours, but you and your team were quick to respond to any and all last minute requests and changes, and were a pleasure to work with.
Tyrone was the best DJ I have worked with. He was so flexible with all requests, very friendly all evening, and had a great presence in front of the guests. He had a very nice music selection, and I was really impressed with his song choices throughout the evening with little or no direction from me and my client.
The photo booth was an absolute hit and people were standing in line all evening to make sure they got their photo! The two guys that were working the photo booth were also fantastic! They got bombarded by guests, but handled it professionally. I would definitely love to work with all three of them again in the future! Also, the event went into (30) minutes of overtime. Tyrone was playing such great music, guests didn't want to stop dancing, and people were so into the photo booth that there was a line until the end of the night!"
-Lauren Burns, Berkeley City Club, January 20
"D&D hosted my daughter's Bat Mitzvah in 2013 and when we started planning our wedding, I knew we needed to call them up. They didn't disappoint! Tyrone and Ed were the BEST!! They took out song list and put it on steroids. Sue walked us through the process and helped us with our timeline and the guys went with it. Tyrone danced with us all night long. What a great time had by all. I highly recommend them for any event you have!
Thank you Denon & Doyle, Sue, Tyrone, and Ed for making the best day of our lives, the best day of our lives!!"
-Kimberley Ness, Embassy Suites Burlingame, June 26
"Excellence shone through. I have no complaints, no feedback but positive- that is so rare for me, but the team was wonderful. Very professional from beginning to end. I really appreciate all you did to make this come true. It was a fantastic event thanks in most part to your team."
-Janet Nunan, Stone Valley Middle School, June 6
"We are finally emerging from the high of the weekend. It was quite a momentous event with so much family and so many friends around us. From the more subdued beautiful Friday and Saturday morning services, we were ready to celebrate on Saturday night.
WELL…..need I say that the kids said "IT WAS THE BEST PARTY EVER." And our family and friends were in AWE of how the kids were all up dancing on the blocks, how you led and engaged the crowd in such a fun way (not too pushy, not too loud, not too crazy)….just sooooo tasteful, sooooo fun, sooooo happy. I had comments galore about the tone of the party, the unbelievable flow, the fun DJs, Dancers, great music and how "participatory" the event was. I love that…"participatory" That is EXACTLY what we wanted! Everyone was dancing and having a great time.
If we could only FREEZE that night, we would have. We want you to put Liora's B'nai Mitzvah on the Calendar for 2017. No date yet, but you'll be the first to know!
So our deepest gratitude to you and your team. You hit it WAYYYYYYYYYYYYYYY out of the park!!"
-Jennifer Krasnoff, Marin Country Club, May 2
"I wanted to follow up with you regarding the Southern Wine & Spirits event last Friday. Tyrone, Mason & Korie were absolutely fantastic! I cannot speak high enough about each of their performance and what an excellent job they did. Tyrone completely engaged the crowd and both he & Mason played a great variety of music that really set the tone for the entire event. I also loved that their attire coordinated with the theme/color scheme as well as their equipment! It was a perfect touch and I know the client was thoroughly impressed as was I. I have worked with many DJs over the past 10 years and this was by far my best experience! I want to thank you & your team for going above & beyond; you made me look really good and I cannot thank you enough! I can promise you that going forward I will refer you to all of my clients for any event that I plan! Looking forward to many more successful events in the future! Also, I will send you a few great shots we got of Tyrone & Mason once they are edited."
-Erin Russo, Southern Wine and Spirits Facility, January 23
"We couldn't have been happier with Tyrone! The music was just right for every moment of the evening. His music was so addicting that I had to shut him down at 11pm, people were demanding more!! Our guests would have danced all night!"
-Ranfie Ancelovici, Burlingame Country Club, October 11
"I just wanted to say the DJ's on Friday at our rally were absolutely amazing!! We would love to have Tyrone for our upcoming dances, Homecoming and Winter Formal which I have already submitted contracts previously. Thanks again; that was great!"
-Jenna Ray, California High School, September 12
"Tyrone was fantastic!! We have been getting several compliments from our guests on how much they enjoyed the music at our after party. We are really pleased with how the evening turned out. I'm sure we will be contacting you for future events. Thank you."
-Mindy Finkelstein, Westin St. Francis, August 23
"Your guys did GREAT! Tyrone was awesome! They made my day completely wonderful. Both Steve and I are so pleased that we found you guys. Thank you again for being so fabulous."
-Natalie Lopez-Crespillo, Clocktower, August 16
"We were extremely pleased with your service and your DJ was fabulous! Very professional and very accommodating! You will get a very high reference from us! Look forward to working with you again soon."
-Susan Conroy, Marin Country Club, July 10
"Tyrone – you are a pure joy to work with. The right amount of cool mixed with professionalism. I so enjoyed my experience with you all so thank you, thank you, thank you! Look forward to many more events to come!"
-Pilar Mustafa, Healdsburg, June 14
"The event went well and we have nothing but praise for Tyrone. He was professional, had everything set up on time and the kids had a great time. When a couple of parents tried to start dancing and some of the kids became upset, he gently encouraged the parents to leave the floor so the kids could maintain their request for a parent-free zone.
It was great working with D&D and you made it easy and turn-key to do business with you. (By the way, my husband and I used Denon and Doyle for our wedding, but we did not admit that in advance of the party for fear the kids might think it uncool to use the same company for their party!)
Thanks again."
-Kim Duff, Sequoyah Country Club, June 11
"My party was great and there were a lot of people out there dancing the whole time, including me. Tyrone did an awesome job! and I would definitely refer him and your company to others. Thanks again"
-Angie Gruessing, Boundary Oak Golf Course, May 30
"My Event was a huge success! Your team were so professional and such a pleasure to work with. I couldn't express it enough to my senior management how you and Patrick made everything fit into my budget. The "selfie" sharing station was a huge hit on both days. Nothing but kudos J."
-Diane Miguel, Shaklee Corporation, San Ramon Marriott, May 7
"We had an AMAZING time! Tyrone did an EXCELLENT job engaging the crowd and playing music per request. I absolutely LOVED having him apart of our wedding!!! Thank you for such a successful night!"
-Erica Hamilton, Hiddenbrooke Country Club, April 26
"Everything was great and everybody loved Tyrone. The Silent disco was fun, but the headphones were a tiny bit static only right next to tyrone, but I think it made the whole experience a little rough for him. They love him and keep begging me to get him for their next event on June 21st, but I know he is already booked. Thanks!"
-Elizabeth Brown, La Mar, April 24
"Awesome party and music – at least according to the birthday girl! She said it was the best party ever so rave reviews. And yes, Mason and Tyrone were fantastic!"
-Lisa Westley, Jewish Community Center of SF, February 1
"The Dance was amazing! Thank you so much for your buisness! Tyrone was absolutly fabulous! there was nothing you could have done better! Ill will email you in a couple weeks for our 3rd dance!"
-Jillian Kefer, Valley View Middle School, January 31
"Thank you for checking in! We have received fantastic feedback about the party. Based upon the packed dance floor, ear to ear smiles, and sweaty co-workers, Tyrone did a wonderful job! The music set a wonderful tone throughout the evening. Please thank Tyrone for us. This was our last company holiday party (we were acquired by a company that is so large it doesn't do holiday parties L), and it couldn't have been better! I will definitely be promoting your services to friends and family, as well as co-workers."
-Emily Saunders, Responsys, Merchant Exchange Building, January 10
"Party went well. The Buzz is good. Tyrone did a great job interacting with our crowd. I have heard nothing negative."
-Winona Connors, RIX, The Meritage Resort at Napa, December 13
"Tyrone was awesome! There were many employees approaching me and stating how good he was and very interactive. I loved his personality and would definitely invite him to return for next year's holiday party. Thanks for checking in! You beat me to it. I was definitely going to contact you regarding Tyrone."
-Theresa Warren, Asia Foundation, Osha Thai Restaurant, December 12
"Tyrone did a great job and accommodated all the requests! Everyone was happy! Thanks "
-Candida Curridori, Rodan + Fields, One Market Restaurant, December 11
"Tyrone was perfect!! He was so accommodating and brought the right amount of energy to the party! He kept us on schedule and checked in periodically.
The dance floor was packed all night and we even had 'extra' dance floors popping up. His interaction was perfect – he was very entertaining, yet didn't steal the show. One of the highlights: We did a same sex dance song, where everyone had to dance with someone of the same sex. He did this so tastefully, that I can't imagine anyone being uncomfortable.
You guys were so awesome to work with, too! Everything was perfect! Five stars * * * * *!!"
-AJ Seliga, Casa De La Vista, November 2
"We love Tyrone! He is so flexible and great at reading the group. "
-B Line Events, Elizabeth Brown, San Francisco Office, October 23
"Tyrone was amazing! Absolutely fantastic. He kept the party going and the atmosphere fun. I am receiving calls and emails everyday since the wedding from guests telling me that the wedding was epic and it was due mostly in part to Tyrone's amazing disc jockey abilities. He was also very attentive to what Alex and I needed. All I needed to do is make eye contact and he knew exactly what to do next. I would recommend him over and over again!
Thanks so much for making our day so incredibly special!"
-Erica Cali, Private Residence, August 24
"Tyrone was great! He arrived on time and was flexible with our onsite requests. I thought his mix of music was perfect for this crowd and he kept it upbeat without being too much. I'd definitely love to partner with your team again the near future!"
-Deb Marchetti (Mana Allison), AT&T Park, August 1
"Tyrone was incredible during our July wedding!! He had everyone out on the dance floor for the entire night, even our grandparents!! During the weeks since our wedding we've heard from all of our guests how they had the best time and that's really thanks to Tyrone for creating such an awesome dance party!! Thanks again Tyrone!!"
-Rider Moore and Kelly Grennan, San Francisco Film Centre, July 20
"Tyrone was professional, responsive to the audience, and most importantly – got our guests to dance! From the bridal party and family introductions, Tyrone triple checked all name pronunciations (our family has a number of tricky non-phonetic names!) and introduced everyone accurately and with enthusiasm.
Tyrone kept the energy up for the rest of the evening, playing songs off our request list and guest requests, which was perfect for our taste and crowd. He kept the program going seamlessly, checking in with us when appropriate to make sure we were ready for the next event – speeches, first dances, etc. I really appreciated that because we kept getting caught up in conversations with our guests and loved having a little nudge to keep the evening on track. Many guests told us that our wedding was the most fun they had ever had at a wedding, and we have Tyrone to thank in playing a large part in that.
Working with Denon & Doyle was great. They walk you through the whole planning process and are extremely responsive answering questions. There are so many decisions to make when planning a wedding, make it easy on yourself and book with Denon & Doyle. And book Tyrone Spencer if he is available!"
-Sarah Beresh, Corinithian Yacht Club, May 25
"Tyrone was awesome! Everyone loved him! The helmet was killer! When I first saw him walk through the party, in helmet, gloves, etc., I didn't know who it was and thought it could be a party crasher. I was a little concerned.
Thank you and everyone at D&D for your professionalism, talent, energy and warmth. Everyone we have worked with at D&D is amazing!"
-Jill Douglas, Temple Isaiah, May 18
"Tyrone is a wonderful person. I didn't even know that he was asked to move his gear out of the tech room until I went to re-check the set up on the mezzanine. I guess he's so good-natured, he just moved out and set up, and, according to our staff who stayed throughout, did a wonderful job.
Please thank Tyrone again for all his good work and flexibility. And thank you for all your help."
-Kristen Utley (Mana, Allison, & Assoc. Inc), Ruby Skye, April 24
"I meant to email you, Tyrone was AB FAB! He did an awesome job with a tough and drunk crowd.The owner of the company asked me at the end of the night if we booked him and wants him future events. Tyrone also had the same man dancing on a table with the beats he was dropping.
Love the Denon and Doyle crew, thanks for your help to make this happen so last minute!"
-Ashley Wood-Mirkovich (B-Line Events), One Kearny Club, February 21
"I cannot say enough great things about Mark and Tyrone, they were WONDERFUL!!!! So many people commented on the DJ and the dances presentation. Thank you so very much for all of your help with this, I am so appreciative of the Monte Vista and Denon & Doyle relationship!!"
-Andrea Greco (Try Valley Leadership Conference), Monte Vista High School, February 1
"Tyrone is an amazing DJ! He keeps the crowd excited and everything upbeat for the entire party. Majority of our group was out on the dance floor because of the music he was playing. Thank you so much again and look forward to our next event with you guys!"
-Sara Gorelick, Jillian's, January 31
"The party went extremely well and Tyrone & Richard were amazing!!! We love the pictures and will definitely be using you guys again for our next large party."
-Christina Wagner, The Clift Hotel, December 15
"Thank you so much for Friday night! Tyrone and Abra were fantastic and all of our guests were blown away by the party we hosted. Thank you so much for all the lighting. It made the party so much more special. Not only did I post on your Facebook Page, but I also posted on Yelp. Thanks again and I look forward to working with you again."
-Michael Amerikaner, Congregation Emanu-El Hall, December 14
"The kids had a GREAT time and we absolutely LOVED Tyrone and the energy he was able to create for our dance! Thank you very much for your flexibility and we'll be in touch soon to plan our next dance! You were so great about this one, and the kids had such a great time, we want more dances :)"
-Jackie Classen, Valley View Middle School, November 2
"Party was great! Tyrone did his thing as usual and we received a lot a great feedback! We are looking forward for another opportunity!"
-Jean-Philippe Cote, Fairmont Hotel, October 31
"Tyrone was fantastic! He was extremely professional, and played exactly what we wanted. He was also very responsive and automatically adjusted the volume whenever he felt the levels needed it. I've added Denon & Doyle to my "preferred vendors" list for DJ's…this has been a very positive experience. "
-Shannon Cousineau, Renaissance Stanford Court Hotel, October 25
"The party was great, a smaller turnout than we had hoped for but thanks to Tyrone, who had everyone up and dancing, it was still a success! I always know when I see Denon and Doyle we're in for a treat and this was certainly no exception and just reminded me why you guys are always the first ones we recommend"
-Lauren Cieslewicz, Renaissance Clubsport Hotel, October 12
"We LOVE Tryone. He did an amazing job and kept everyone on the dance floor – very surprising to both Stefan and I in a very good way. I am so happy that you guys were able to accommodate us on such short notice and feel like we were incredibly lucky that you were able to free up Tyrone. I will highly recommend him and Denon & Doyle to all of my friends and family and anyone I know who is planning an event. You guys were great to work with and we are very happy with how the whole event went. I only wish we could have continued to party later than the venue allowed!"
-Emer Sands, Tra Vigne, September 8
"The dance went great. Tyrone was awesome. The students said that would love to have him at our Spring dance. We can chat about that later. Thank you guys so much. It went really well."
-Dan Brown, Dougherty Velley High School, August 31
"It was perfect! Tyrone was great. We had one guest whose dancing skills had tyrone totally losing it. :)"
-David Barton, Merrvale Vineyards, August 4
"We had a great time! Tyrone was awesome and people really enjoyed their night."
-Jean-Philippe Cote, Fairmont Hotel, July 19
"It was a great event enhanced by your wonderful DJ ! Tyrone played a fantastic mix of music and the kids loved it. We will definitely be using you for future business!
-Kathleen Cummins, Pacific Athletic Club, June 13
"I believe all was more than wonderful. The kids liked the music and I have yet to check in with the chaperones for the evening on how things went. Tyrone is nothing short of wonderful as per usual and I will make sure the group gets his name for next year's dance!"
-Cherie Melka, Robert Louis Stevenson Middle School, June 7
"We have been pretty busy since getting back from our honeymoon. We can't thank you enough for everything Denon and Doyle has done for us. You, Brian, Tyrone, and Nathan did an outstanding job. All our guests kept commenting on how great our DJ was. Tyrone was amazing. He was really easy to work with and he played songs that everyone loved. The photobooth was a big hit and Nathan did a great job helping our guests with it. We will definitely recommend Denon and Denon to anyone who is looking for your services."
-Brian Plourde, Corinthian Yacht Club, February 25, 2012
"Everything went GREAT. Tyrone was such an awesome DJ. He had so many people on the dance floor (more than I have ever seen at one of our After Party events) and everyone LOVED the light up DJ table. It really added to the event. Justin at the photo booth was awesome also. He had everything totally taken care of and made sure all went smoothly."
-Sara Gorlick, Linkshare, Fairmont Hotel, January 18, 2012
"I hope all is well! I just wanted to drop you a line and say thank you so much for helping my mom with her wedding in St. Helena. Tyrone did a fabulous job and everyone had a great time. Thank you so much for helping to make that happen!"
-Liz Fourchy, Daughter of the Bride, St. Helena Residence, October 1, 2011
"Everything went GREAT as always. When we debriefed the dance one of the positives was students said they loved the DJ. Thanks again and look forward to working with you guys again soon."
-Travis Bell, Dougherty Valley High School, September 2, 2011
"Thank you for checking in. Yes, the event was great had the music brought a lot to the atmosphere. Tryone was great! He helped us emcee the event and brought a lot of energy. He was truly a pleasure to work with."
-Chelsea Buttress, PRA Destination Management, Crow Canyon Park, July 30, 2011
"Yes everything was great! Tyrone did a great job. Thank you!"
-Ashley Santos, PRA Destination Management, San Francisco Marriott, July 24, 2011
"The promotion dance was a huge success, and the 8th graders had nothing but praises for Tyrone. You can bet that RLS will request him again next year."
-Connie Wilson, Robert Louis Stevenson Middle School, June 8, 2011
"Our client Jessica, LOVED Tyrone! We all do. He is always incredibly professional and accommodating. I'm just disappointed that for this event the client only wanted background music."
-Nicole Perkins, PRA Destination Management, Intercontinental Hotel, February 4, 2011
"Once again, Denon & Doyle delivered! Thank you so much. We were so happy, had a ball and walked away with darling photos! Thank you for everything, especially being so consistently wonderful. Tyrone took requests, played music that best suited the crowd and was quite pleasant."
-Barbara Brooks, Catering and Sales Manager for Menlo Circus Club, January 4, 2011
"Thank you so much for taking such good care of me during the process pre- production for my event at Club Auto Sport. You always came through and your team is fabulous. Tyrone is a professional who aims to please with a smile. He did a fantastic job and worked diligently to make the client happy. It was a great event…..the music, lights, photo booth and of course, DJ Tyrone was a hit.
You guys are experts and that is what an event planner loves. I will be calling again."
-Anne Reeb, Club Auto Sport, May 23, 2010
" I cannot tell you what a fabulous job you, Jon, Beverly, Ben, Ari and Sarah did-and of course Tyrone-he was a big hit. I loved how everything was so effortless- the motivators were just kind of part of the party. I really think it is you and your crew who made it such a fantastic party. We were seriously so blown away. I have gotten the most wonderful feedback about all of you. We can't wait to include you in the next Student Family celebration."
-Jill Student, Diablo Country Club, April 24, 2010
"Tyrone was great! Very professional and fun. I asked him to make a couple of announcements which he did. He also played all the song requests and had the kids dancing all night long. Let me say this…. there are many years when the kids are ready to leave at 10:30 but our class didn't want to leave even at 11:00! They were having a great time dancing and enjoying themselves. Thank you so much for making our Jr. Prom such a great success!!!!"
-Tracy Gordon, Campolindo High School, April 17, 2010
"As usual, Denon & Doyle exceeded our expectations. You are absolutely right ….. there is a buzz about Saturday night.
Chris and Tyrone were fantastic and very professional. Chris did an amazing job managing/working the crowd. We were all extremely impressed with Brian as well. He did an awesome job as the auctioneer."
-Katie McLaughlin, Contra Costa Country Club, March 20, 2010
"The event went great as usual and Tyrone was great. He is very professional, timely, and easy to work with. We enjoyed having him be a part of our event, so please thank him for us."
-Michelle Kimmins, San Francisco City Club, December 15, 2009
"Thanks so much for your help with last week's event. We've been receiving fantastic feedback from all the guests. Unfortunately, I wasn't at the event, but I've heard nothing but great things from my staff about Tyrone. He was professional, flexible, and kept a great energy throughout the entire event. The guests really enjoyed his style. We'd love to have him back for more of our events in the future!"
-Ryann Sims, AT&T Park, August 21, 2009
"LOVED Ellis and the whole crew!!!
They saved us because for some reason the video wouldn't work in the lap top they had, so we used your lap top and the video worked great.
They all just come to the forefront to make sure everything runs great. Photo Xtreme was perfect.
We had so much to cover, they had Havdalah, then the video, and on top of that I had this painter guy that does a routine and paints the Bar Mitzvah Boys picture while everyone watches.
There wasn't a lot of time for DJ but Ellis MCed the whole party and it was fantastic. Ellis had DJ for the beginning and the band came on after dinner and after the painter guy, so they just took it home until 11:30. I would have Ellis with me any time. I also absolutely love the guy (Tyrone) that runs your photo xtreme. Everybody was really fantastic. The next kid is July 16th, 2011. We'll do it all over again. All I can say is that everyone worked as one big team and it was an amazing event. Clients are beyond happy."
-Joannie Liss, Ritz Carlton Half Moon Bay, July 11, 2009
"The event was a great success and Tyrone was AWESOME!!!!!!!!!!!!!!!! I want him at all the events. Thanks for everything!"
-Alice Griesez, Fairmont Hotel, July 4, 2009
"Both Tyrone and Kyle were FANTASTIC – everyone loved them. The party on the 22nd will be much more tame and the one on the 30th is a family party. Everything was perfect. We can't wait to see the pictures from Tyrone."
-Susan Evans, Sharon Heights Country Club, March 28, 2009
"Thank you so much for introducing us to Tyrone. We had a blast and he could not have been a more perfect or helpful DJ.
All the attendees said it was the best fundraiser we ever had – the most fun, the most professional, the best spirit. People enjoyed the photo booth all night. The lights created an atmosphere that made it feel magic. We had some lights of our own, but the lights you lent brought it to a whole new level.
Tyrone really got into the spirit with his costume, and that made it so much more fun every time people glanced onstage. He also researched a song request to make sure that we had everything we needed for our dance performance. During dinner, he played disco songs from his laptop that set the tone perfectly. He troubleshooted the misbehaving photo booth so that it ended up going smoothly. In short, Tyrone was skilled, spirited, and a pleasure to work with. We have already asked if he would come back again next year."
-Sheira Kahn, Marin Jewish Community Center, March 22, 2009
"Everything was great! Tyler kept the jams coming and the party hoppin'! It's a good thing that in our industry people know how to par-tay! I've heard nothing but good feedback about Tyrone! He was SUPER nice and even held ladies purses while they took photos booths! Thanks again for EVERYTHING! You guys ROCK! Literally!!!"
-Gwen Ortiz, Classic Party Rentals, March 10, 2009
"Both the Tyrone and Solomon were wonderful… I totally thought they went above and beyond their required duties to keep the madness in an organized madness form… and the clients were super happy.
Thanks again for adding to the overall fabulousness of the night!"
-Janet Wong, Hiller Aviation Museum, March 7, 2009
"Your guess on the good buzz is correct! As I mentioned to Brian, Seth, Tyrone, the music, and the photo booth all were wonderful."
-Maria DaMaren, Fratellanzi Club, February 20, 2009
"Just wanted to give you some feedback on last nights party at the Menlo Circus Club for my daughter Sarah. First of all Tyrone was phenomenal. He played the right songs at the right time and the Journey song near the end was a big hit with the kids (yeah for rock!!!). The photo booth was fantastic and we are excited to get the DVD of all the pictures."
-Gay Abuel-Saud, Menlo Circus Club, February 13, 2009
"Our party went absolutely fantastic! I had so many compliments and positive comments. Everything fell into place perfectly. I will definitely use Denon & Doyle for future MDV events!
PS — the gentleman that manned the photo booth (Tyrone) was very nice and very attentive! He had a friendly smile and was there for me!"
-Dawn Miller, Kohl Mansion, December 12, 2008
"Thank you again, the event was yet another smashing success thanks to Dave and Tyrone, they're so much fun to work with and so professional.
-Kevin & Jessica, Vault Ultra Lounge, December 5, 2008
"We are VERY delighted with the excellent job Tyrone did last night. The lighting was excellent, set up on time (early in fact!) and the photo booth was a huge hit. I cannot thank him enough for his professionalism and I look forward to working with him on our upcoming events."
-Kevin Wright, Sabor Lounge, November 12, 2008
"I just wanted to thank Tyrone and all the D&D people for a super job. My kids loved the entertainment and were very pleased. So were Scott and I. The D&D team worked hard to keep the kids engaged and it worked out well."
-Valerie Corvin, Sequoyah Country Club, June 7, 2008
"YES, the party was a huge success! Everyone wanted to know how I found such an amazing DJ! Tyrone was a master at working the crowd, keeping the kids happy, yet also making it fun for the adults to dance. I certainly picked the right MC. He was warm to everyone, shared his dancing skills and involved everyone in several fun taught dances. He kept the flow of the party going, did not "take over" but yet was the perfect amount of charisma and encouragement to inspire us all to party. Perhaps Tyrone told you: Adults, little kids, and teens all danced until the last song in large numbers, and our closing circle was a touching end to a perfect party. Brian was also great, working closely with Tyrone to keep the music coming. They are a great team."
-Suzanne Luban, Lafayette Park Hotel, May 24, 2008
"Tyrone and his group were awesome. Everyone wants to know who you are. I will pass your name and number off to them. It was truly an amazing party. I danced with all my friends for 3 hours. All the kids had a great time. Please Thank Tyrone, he was amazing. Corey has been smiling from ear to ear."
-Quin Whitman, Menlo Circus Club, May 3, 2008
"Tyrone did a GREAT job! He had just the level of participation and activity that I was looking for. He was great at singing back-up with our "singers" and things like that. It all worked out very well. Thank you."
-Dori Shafer, Concord Hilton, March 10, 2008
"Tyrone and his crew did an outstanding job. Tyrone kept everyone entertained, kept control of all of the kids (and the adults, too!), had very positive energy and kept everything flowing smoothly. His costume changes were incredible. His disco set in particular was a real hit. After attending a number of parties, you'd think that people (both kids and adults) would start to get a bit jaded or bored with the format, but I didn't hear any such comments, largely thanks to Tyrone. He had a nice way with everyone. He checked in with me periodically and was very responsive. I couldn't have asked for anything more. If I had to choose the ideal emcee for Bernie's party, I would have chosen Tyrone. The most important thing that he did was to connect with Bernie and make him comfortable and excited about his party.
Let me spend a few minutes singing Sasha's praises as well. We had seen Sasha at another Bar Mitzvah party and she really shone there. We requested her specifically and were excited that you were able to honor our request. She more than lived up to our expectations. Several of our guests commented on how great she was, what nice energy she had and what a terrific dancer she is. What I liked is that she's an accomplished dancer but wasn't showy or putting on a performance – she was doing her job which was to get people participating and comfortable being on the dance floor. She's terrific."
-Carrie Lande, Beth Chaim, March 1, 2008
"Our event went really well. I heard great feed back about the music that night. The dancing just proved that everyone was in the mood to boogie.
Tyrone did a good job of reading the crowd. He helped me out on the mic a few times which was great. I'm a novice in using those things! We'd have him back to do another event. All in all our event was a great success."
-Kristen Garcia, Crowne Plaza, February 23, 2008
"Tyrone was fantastic and Taylor's friends talked about the party for weeks. Apparently it was the "sickest" party they had ever attended. We have already recommended D&D, and Tyrone in particular, to some of Taylor's friends.
Thanks to all of you for making my daughter's 16th birthday the "sickest" ever!"
-Michele McCarthy, Private Residence, February 2, 2008
"There is nothing than I can say other than "Tyrone, Brian, and Sasha rocked the house !!!" They kept everything going non-stop. Everyone was ecstastic including the Bat Mitzvah girl. Guests from out of town loved the TB&S so well that they would love to fly them to LA and Vegas for their kids' parties. I highly and unconditionally recommend Denon and Doyle for any occasion."
-Lynn Gorelick, Oakland Museum, January 26, 2008
"Thanks so much, great party, we loved Tyrone, feel free to us me as a reference, I have the highest praise for Tyrone and his crew, thanks again!!"
-Miriam Attlas, Jewish Community Center, December 30, 2007
"It was wonderful and Tyrone an the team were fantastic. The dance cube was a great idea and we were thoroughly pleased with everything."
-Briony Bax, Claremont Country Club, December 21, 2007
"The evening was just perfect; the children as well as the adults had a fun evening. We couldn't have had a better team to work with; Tyrone, Shash and Louis were great"
-Shoshana Rosenberg, Mira Vista Country Club, November 24, 2007
"The party was wonderful, and I had MANY people comment on the way out at 11 pm (they stayed to the end!) that this is one of the few parties where the kids and adults seemed to be having fun dancing. Tyrone, Dillin, and Arianna did a great job of keeping the energy going. Tyrone listened perfectly — when we had requests, he and Dillin slotted them in perfectly and segued the songs perfectly to keep both the majority of the kids happily dancing while keeping the adults up and dancing, too. Tyrone and Dillin are a credit to D & D — a great company with quality employees!"
-Anne Storm, King Fish Restaurant, October 27, 2007
"I want to let you know how much we enjoyed Tyrone at Olivia's birthday party on Thursday night! He was so sweet, great with the kids, and wonderful with the music. He was really into the Murder Mystery theme, and truly helped to make the party a huge success! Thank you so, so much for giving your all for our party on such short notice! You were all so kind and wonderful to work with! All of the parents who helped at the party made sure to take a card from Tyrone — they were all very impressed!"
-Barbara Tintori, Dana Hills Cabana Club, August 16, 2007
"The event was fantastic and Tyrone was wonderful! Thank you so much for helping us with this event. We look forward to working with you on future events."
-Debbie Boss, Arroyo Crossings, August 5, 2007
"The guys did do a great job! They were easy to work with and think that they also had a fun time too. I had a chance to see them at Training Camp, and it was nice to see them enjoy their day off. Great job and thank you for everything!!!"
-Teri Ramos-SF 49ers, Santa Clara Convention Center, August 4, 2007
"It was great and the Tyron did an awesome job getting the kids/Adults involved. I would highly recommend your company anytime!!"
-Traci Bertolacci, Private Residence, June 15, 2007
"Just want to let you know that Tyrone and his partner did a FANTASTIC job at our event Friday night. The kids loved it and the songs played were perfect!! The feedback from the students was that "those DJ's should be the one's who come to all of their dances." They didn't want the party/dancing to end at 10. That's the sign of a good party!!"
-Kathy Benvenuto, Charlotte Wood, June 8, 2007
"ONLY compliments for Patrick, Tyrone, Beverley, April and Louis!! It was a fantastic party — your team was amazing. Ellie and her friends never stopped dancing. The 'big' kids (my high school & college-aged group) may have even had as much fun as the 13 year olds. My favorite quote, from a 21 year old guest, was "Ellie's bat mitzvah was more fun than a college party" —-don't think I can top that!
-Beverly Davis, Montclair Womens Club, May 26, 2007
"The party was fantastic, Tyrone and Dillon were a huge hit!!!"
-Christine Gray, Private Residence, May 18, 2007
"Your team was WONDERFUL .. the kids had a blast. Thank YOU ALL."
-Dayna Ziegler, Lake Merritt Hotel, May 12, 2007
"Thanks for a GREAT party! Please tell Tyrone and crew that we were REALLY pleased and have heard only glowing reports from the guests. Everyone worked so very hard, we couldn't believe it, and realized that they hadn't even really had dinner, so I hope they enjoyed the cold pizza! I should have taken better care of them, and I'm sorry! I got a call from one mom last night, saying her kid says that Sasha was the best dance motivator she's ever seen and they asked for Tyrone and Sasha's names! (We're sort of Sasha's cousins, so we're not impartial! but we got superlative reports on everyone from impartial sources! We're really, happy!"
-Robin Magid, Congregation Beth El, April 28, 2007
"I have to say that the evening was terrific! Julia couldn't have been happier with the way the evening worked out. Tyrone was truly a great asset for the evening. He put everyone at ease and kept on coaxing these 6th graders to get out on the dance floor. Of course when Julia's Dad turned out the lights so the laser lights had the best effect, things really got started! Thanks for helping to make Julia's party unforgettable."
-Janet Birenbaum, Private Residence, April 14, 2007
"The celebration was great. Tyrone and Gautam did a very good job. David was very pleased and when asked if he would have them again, he said "yes". Rachel isn't here now but I would suspect she would say the same thing. He got the kids and adults moving and dancing."
-Michael Schuman, Hyatt St Claire, March 24, 2007
"Tyrone and AJ were great! They got all the kids out of their little cliques and all dancing all night! You know, I had been a little worried because the kids came from three different schools. Tyrone and AJ had just the right blend of music and games to entice even the shy kids out on the floor. I have already had inquiries from two parents of kids that have Bar Mitzvahs coming up as well as the photographer and I passed on your names"
-Patricia Ackerman, Private Residence, February 24, 2007
"Tyrone and Guatam were great and the kids had a blast. Thank you for all your assistance. You will hear from Lauren as she was in the thick of it. I was not allowed in but my all accounts, it was a raving success."
-Denise Kline, Sir Francis Drake, February 10, 2007
"Thank you so much for all you guys did to make Victoria's Bat Mitzvah party a great success. Everybody had a wonderful time. The energy that your crew created was tremendous. For 4 1/2 hours it was nonstop fun for my daughter and her friends. Oh yeah, the adults enjoyed it too!! Thanks, again, for helping to make Victoria's party a memorable celebration for all our family and friends."
-Limberly Wallach, Claremont Resort, January 20, 2007