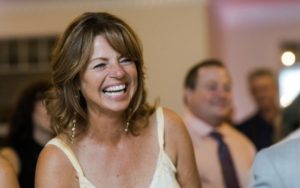 "I love knowing at the end of the event I made a difference," Sue says. "I love when I become like one of their family members."
Denon and Doyle has stolen Boston's best DJ and we're not giving her back (note her last name). From the moment you start talking with Sue you will feel like you are with an old friend. She simply loves people, parties, and she is unafraid to admit that, more often than not, she sheds tears at the weddings she works. She is a bit (sniff, sniff) "sensitive".
She is also the queen of ice breakers, not to mention her high school prom back in (CENSORED). She is able to set the entire party at ease with her small personal touches, paying attention to the little details that make a big difference. Fear not the "cheese factor" when she is on the microphone for she is a fan of word economy. She handles necessary announcements to you and your guests with class, a dash of humor when appropriate, and a smile best described as "WOW".