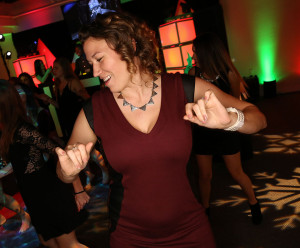 If Stephanie's life was a movie, the opening scene would begin in the kitchen. Her mother would walk in frightened in seeing her seven-year-old daughter wielding a large knife. Right beside young Stephanie teaching her how to filet a fish, her uncle would look up calmly at her mother and say, "don't worry, she's got this."
This theme would carry throughout the film, depicting the life of someone who succeeds at each challenge thrown her way.
Even though Stephanie Adams has a degree in photography and can appreciate the artistry, she would never consider her life movie-worthy, but that's all part of her charm. She is the unassuming gal with a strong heart and a sparkling personality, always looking to put the focus on others.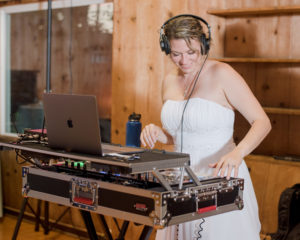 Growing up in the Bay Area, she loves to take advantage of the scenery around her, and will often invite others to share in her adventures. Those really seeking a challenge can even tag along on one of her numerous half-marathons or Tough Mudder events. While Stephanie will often volunteer just to help out, her greatest assist may have come after competing in and completing a grueling Tough Mudder course.
Out of breath and energy, she overheard that some would not cross the finish line that day. Having taken the Tough Mudder pledge to put others before herself, Stephanie went back. What she found was a young woman who was ready to give up. Stephanie would later find out that the woman had been dumped by her boyfriend the night before, making it all the more gratifying as the two held hands and shared tears in crossing the finish line together. For Stephanie, "it means a lot to see people finish a goal and overcome obstacles. It's very empowering."
She brings that same attitude to each event she is a part of. Like the time she noticed a groom getting ready for the planned sparkler exit, singing the tune of a brand new song with his best man, a song that wasn't yet in her library. With no time to spare, Stephanie found the song on her phone, plugged it in to her system, and cued it just as she announced the end of the night. When the groom heard the song come over the speakers, his face was even brighter than the sparklers that all his friends and family were holding, and he left his wedding with the love of his life on his arm, feeling on top of the world. It's like the perfect ending scene to a powerful movie, and yet another obstacle overcome for Stephanie. Her uncle, as it seems, was right all along—she's got this.

[ngg_images gallery_ids="7″ display_type="photocrati-nextgen_pro_horizontal_filmstrip"]

"Thanks so much to Denon and Doyle and DJ Stephanie! We were thrilled with your services. Here's what we'll post:
We worked with Denon and Doyle for our July, 2016 wedding and were very happy.
-We tried to have all female vendors from female-owned businesses, and so were thrilled to work with DJ Stephanie
-Denon and Doyle has a very convenient online system where we uploaded our choices for first dances, must-plays, must-not-plays, etc. This made the consultation a week before the wedding very easy. DJ Stephanie made all of our musical requests happen
-The music was great—just what we were hoping for. People were dancing from start to finish. The timing seemed perfect for the first dances, cake cutting, hora, bouquet toss, and all the music in between. Of course for bride and groom it all seemed to go by quickly in a happy blur.
-Denon and Doyle worked with us beforehand to find some of our more atypical musical requests from other countries, and this worked well.
-Mother of the groom was very happy that her request was played.
-They were very good value compared to many of the other companies we looked at
Thanks again for everything!"
-Jonah Busch, Berkeley City Club, July 9
"Stephanie was absolutely fantastic. We loved working with her and she was exactly the DJ that we were looking for- great attitude and positive, has great command of the room when necessary, and a pleasure to work with. Would highly recommend to others! Thanks to you and your team- we really appreciated it!"
-Debbie Wang, Half Moon Bay Golf Links, February 13
"Everything was flawless – love me some Stephanie – she was fantastic. Huge thanks and mad love."
-Trisha Dean, Hans Fahden Winery, November 7
"We honestly couldn't be happier with Stephanie; she was prompt, professional, cheerful. Just great. She ran and found people for us, helped with timing, pretty much anything we needed. My wife has already wrote a "5-star"review on Yelp and we will be recommending you to any soon to be newlyweds in the area."
-Chris Walker, Rio Villa Beach Resort, October 10
"Stephanie was the ABSOLUTE BEST!!! She went above and beyond her duties and was such a blast, so kind, and kept the party rolling. I would definitely recommend her to others. When talking to her on the phone, she was on the ball and recommended different formats which was so helpful. Her sugestion of the shoe game was perfect for us and was such a hit at the wedding. People are still talking about how fun the game was and how great the wedding was and she was such a huge part of that. She also was very attentive and helped us when we had questions and made sure to check in with us throughout the evening to make sure we had the evening we imagined. Thanks to Stephanie and your company, we had such an awesome day!
Thank you so much!
-Amanda & Brendan Barbari, Redwood City, August 8
"We had an amazing day and Stephanie was absolutely amazing. We have a thank you card to send to Stephanie and were wondering where would be the best place to send it. She was wonderful and really made our night!
Denon and Doyle will absolutely be included in our reviews! Thank you for everything!"
-Brynn Balcom, Brazilian Room, July 15
"Stephanie was amazing. She went above and beyond. She provided the perfect playlist, even rescued me (emma) when I was stuck walking around holding an empty shrimp skewer and whisking it out of my hands. She taught our family a dance, kept the mood and really made the whole evening perfect. 🙂
I would highly highly recommend her to anyone. She's professional, presents well, always smiling and generally fabulous. Thanks so much for making the night amazing."
-Mike Perry, Servino Restaurant, June 20
"We had a great time and Stephanie did an excellent job. We were very happy with the music and with her efforts guiding things along. Thank you very much!"
-Megan Fisher, Brazilian Room, May 31
"Stephanie was AWESOME!!! A perfect fit for our event and team Blackhawk. She was a total pro and did a fantastic job. It was a successful day and a total pleasure working with you and your team."
-Alexia Oswald, Blackhawk Network, March 28
"We loved Stephanie! She was the best DJ we've ever had!"
-Calista Nicholson, Private Residence, February 14
"It was over the top amazing. Everything we hoped for and more!"
-Mindie Romanowsky, Poplar Creek, February 7