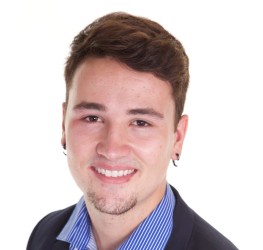 We're not saying he's not cool (because he is), it's just that Mason is a little different. He marches to the beat of his own drum-quite literally. As a drum major in high school, Mason had every chance to run away from any negative stereotype of being a "band geek," but, instead, chose to embrace it and still volunteers his time to help out other students.
Mason is cool the way a $2 bill is cool. There is a value added simply because of its rarity. Take, for example, that Mason's favorite movie is Finding Nemo. He claims it's because he loves the imagery and music in the film, but it's the fact that he watches the movie with the "commentary" on that leaves you scratching your head and at the same time feeling curious to learn more. His favorite instrument (of the 12 he plays) is the banjo. Not the drums or guitar (which every rock & roller wants to play and brag about), but the banjo. "Some people don't like it for it's twangy sound, but I think that's what makes it so cool," says the enigmatic MC/DJ.
So how did the cool-because-he-doesn't-try-to-be Mason get into DJ'ing, one of the hippest professions in the world? Well, his dad used to DJ, and it wasn't until Mr. Case was asked by a friend to play a wedding that he invested in some new gear. Not everyone knows this but technology is an important influence when it comes to the development of music. These technological advancements have allowed Mason to discover a new passion for music. The inquisitive Mason explored this new medium of producing music and quickly found an interest and talent for it. It seemed to be a natural progression for the former drum major (dorky quote alert):"DJ'ing is sort of like being a conductor in a marching band," he explains. "Knowing it's your job to keep the energy up and the party going is a lot of fun."
He certainly keeps the party going, whether he's behind the board or behind the mic. Brides & Grooms love that he can balance classy and fun, and that he can creatively mix songs that keep people on their toes. Kids love that he's just one of them, only older and bigger.
Having been a camp counselor for years, Mason has a knack for interacting and connecting with the younger crowds. He seems to always find a way to get kids to join him in what he calls "dorkery." For Mason, "it's all about letting loose and not trying to be the cool kid. Just go out there and have fun." In our book, biased as it may be, that's about as cool as it gets.


[ngg_images gallery_ids="8″ display_type="photocrati-nextgen_pro_horizontal_filmstrip"]


"What a fabulous job you and your crew did today, Mason! Everything was just perfect. Let me know if I can write a glowing review somewhere helpful like on yelp. Thank you again for everything!"
-Monica Schreiber, Kingfish Restaurant, July 9
"Words cannot express the gratitude we have for the exciting dance you provided last night! Each and every camper was engaged, happy, and for a few hours forgot about the struggles s/he faces! Our campers rarely get to truly "let their hair down" and just have fun! THANK YOU and especially Mason so much! I have heard from all the staff that attended that "this was the best dance they have ever had" and that "every single kid was up and dancing and truly enjoying a fabulous time together". Hearing all this feedback makes my heart sing and I could not wait to tell you about how much this meant to us.
While we don't have our camp dates for Summer 2017, we would love to know that you'll be able to spin your magic again for the kids. Thank you, Dan, for changing lives! All of us at Camp Go Beyond are grateful!"
-Gwynne Karchem, Camp Arroyo, June 28
"Thank you so much for checking in. Mason and staff were amazing! Everyone had a great time, especially Abby. We were super pleased. They did a great job of getting all generations involved and having a good time. He also kept us right on schedule. I think my husband and I definitely embarrassed our kids, which is definitely a sign of a good time."
-Robin Levi, Bancroft Hotel, June 18
"Your team did a fabulous job at the party – and Mason especially made an amazing connection with the party and ensured that all the kids were having fun! He was engaged and kept us organized too!
High quality performance. Thank you for all that you did to organize everything!"
-Lisa dePaschalis, Orinda Intermediate School, June 9
"You and your crew are rock stars!! You were so much fun and did such a great job. My guests, my family and most importantly Haley had an amazing night!! Thank you so much for working so hard to make her day so special. All the best!!"
-Rebecca Moltyaner, Lafayette Park Hotel & Spa, May 21
"Our celebration was wonderful! Mason and the crew did a FANTASTIC job! The party was perfectly balanced for both the kids and adults. Everyone was dancing and the energy was going all night long! We would absolutely use Denon & Doyle again and, specifically, Mason.
We have been to several parties with Denon & Doyle, but when we met with Mason, he gave us a few ideas that really set our celebration apart from the others.
I also want to thank you for all you did. I have high expectations and Denon & Doyle delivered. You were so well organized and you really put all of our concerns at ease from the time of our first meeting and thereafter. And you always followed up to ensure that nothing fell through the cracks. Our evening flowed beautifully. Thank you to all for a perfect night!"
-Karen Gansberg, Crow Canyon Country Club, May 14
"We are still floating from the fabulous party!! This week was a whirlwind catching up at work with all that I put off until after the Bar Mitzvah. It was a very special, memorable, day and evening. We loved your energy and ability to keep everyone engaged, young and old! My mother's 80 year old friends have been calling to rave about the party, along with parents of the 13 year olds, and the teens themselves. We wanted to include and engage everyone, and we felt the party was a wonderful experience for all. Our photographer said it 'hit on all cylinders!' Thank you again for making it a special and memorable night for Eli, our family, and all who attended."
-Julie Shubert, College of San Mateo, May 7
"Wanted to let you know that Mason and his crew did an awesome job! Everyone had a blast!! The dance floor was never empty which I think is a great sign.
We loved the black light. I know we discussed the value of it but I felt it was well worth it and made a big impact and kids really loved it. What a nice crew you have."
-Allison Hogan, Contra Costa Country Club, April 16
"Hi, dance was huge success!!!! We will send you video eventually; my daughter has it. Simon and I had soooo much fun and it all went so smoothly – like we were gliding and floating in air. You are amazing!!! Thanks for making this experience extra special!!!! People were amazed and lots of tears of joy!!! Best wishes."
-Estee Neuwirth-Stein, Temple Isaiah, April 9
"Thank you so much for all of your help with the Innovative event on Wednesday night. Mason was awesome and everyone had a great time!"
-Alyssa Locy, San Francisco Hilton, March 16
"I thought you guys ROCKED! I was SOOO impressed with EVERYONE! You were fun, interactive, played great music, kept the kids having a blast the WHOLE TIME, … stayed in the timeline… I could go on and on! You guys were truly awesome! I have heard that is was ' the best party ever' from kids and adults and I think a big reason for that is because of you and your team! I thought the night was a blast and I absolutely loved your whole team!!
I wish we could do it all over again!"
-Christina Millikin, Kohl Mansion, March 12
"It was just fabulous! Mason was fabulous. Thank you so very much again!!"
-Brenda Biren, Kol Shofar, March 6
"Everything has been perfect. Liam had a GREAT time. He LOVED his party! You were awesome. Absolutely awesome. You read the crowd, you read Liam, you had the whole party under control. A true pro. We are all very appreciative."
-Kim Marder, UC Berkeley Memorial Stadium, March 5
"Mason and his crew were fabulous. They were simply outstanding and it was an amazing party. Thank you! I've not been one to post reviews but I will attempt to. Thank you! Btw, my daughter has a bat mitzvah in 2017 but we haven't figured out the date yet. We would love to request Mason for her event. Thank you!"
-Tara Schwarzbach, University Club of Palo Alto, February 20
"Both Mason and David were excellent. They really got the party going and it didn't stop until it was over. It was truly a fabulous event and they made it so special so thank you. I would be happy to post a review and recommend you to others. Thanks again for going above and beyond."
-Elana Maggal, Guaymas Restaurant, February 13
"I just wanted to let you know how much I enjoyed working with Mason and his team. Mason exceeded my expeditions by a long shot! He had the party dancing like I haven't seen in years. Thank you so much!"
-Lisa Feldman, St. Regis Hotel, January 30
"OMG!! Mason and the crew were awesome!!!
I am so impressed with them. So many people came up to me to tell me how impressed they were with them. My family from Mexico wants to take them to Mexico with them:). Romi was so happy!! You guys truly made her feel like a VIP!! It was truly an amazing party.We had a blast!!!"
-Karen Veinbergs, Domenico Winery, January 17
"We did have the best time ever! The party was everything we hoped for. Mason, Caleb and Stephanie were perfect. From the first conversation I had with Mason to discuss my hopes for the evening, to his conversation with Alex about what he wanted, to the night itself. They did a great job of getting everyone dancing. We loved the group type dances. The hora was super fun too. And the ending was adorable with Alex hugging everyone in the circle. And, I was very happy with the volume level – it was loud enough for the dancers but not too loud so those not dancing could chat. Alex really liked the games!"
-Issie Gotto, Piedmont Veteran's Memorial Building, January 2
"What a great hit the party was! So many requests for your contact info. Mason and his team were fantastic – if I ever need to herd cats, I know who to call. They all managed the crowd excellently, rounding the guests for games, dancing, as well as handling our administrative issues (parking on the wrong side of the street) with aplomb. My only regret is that we couldn't have them come back the next weekend! I was worried that the 4 hour window would be too short, but it was perfect for that age group. Everything was spot on. We will definitely be knocking on your door for the next event – and asking for Mason and his crew!
SO many thanks to Mason, Ben, Emily and David for keeping everyone moving and engaged. And note to self: never throw a party without bubble wrap – genius idea.
Happy holidays to all of you and many thanks for a successful event!"
-Cristina Perkins, San Ramon Community Clubhouse, November 21
"Just checking in post-bar mitzvah to say that we are THRILLED with Mason. He was the perfect choice for our family. He's such a wonderful person and I am so happy he was part of making the party amazing in every way. Thank You!"
-Maria Ramos-Chertok, Sweetwater Music Hall, November 21
"Mason did a GREAT job! We received multiple comments about how great the DJ was and how much fun people had. The best comment was from a 13 year old girl who did not know many kids there who said 'The DJ was inclusive without being intrusive.' We also felt like we could leave the party up to Mason and his crew and just have fun without worrying about anything. Thanks so much for helping make our simcha a great success!"
-Debbie Goren, San Mateo Marriott, October 17
"The party was fantastic. Everybody loved Mason and Caleb and Stephanie. All the kids and adults were and are raving about them. Kudos!"
-Topaz Levenberg, City Beach, August 8
"Yesterday was fantastic! Your team rocked it! They were truly wonderful – the music, the enthusiasm, their energy. Mason led the team in a great way. And LOVED that he wore a red and white striped shirt to be a part of the pirate theme. It was great.
I couldn't have asked for a better day."
-Michelle Solomon, Peninsula Jewish Community, June 28
"We just had the best time! Mason and his team were awesome and Rylee had an incredible time. Adults and kids alike had an awesome time!! We have had so many positive comments from friends and family about how much fun they had. Please thank them all again!!!"
-Kim Diamond, I.D.D.E.S.T Hall, April 25
"AMAZING!!!! Such a super fun event and so fun to watch so many people dance like crazy! Thank you so much for helping make this event the incredible one it was. Already looking forward to next year!"
-Sarah Shideler, Ross Valley School, Fairfax Pavilion, March 28
"I wanted to follow up with you regarding the Southern Wine & Spirits event last Friday. Tyrone, Mason & Korie were absolutely fantastic! I cannot speak high enough about each of their performance and what an excellent job they did. Tyrone completely engaged the crowd and both he & Mason played a great variety of music that really set the tone for the entire event. I also loved that their attire coordinated with the theme/color scheme as well as their equipment! It was a perfect touch and I know the client was thoroughly impressed as was I. I have worked with many DJs over the past 10 years and this was by far my best experience! I want to thank you & your team for going above & beyond; you made me look really good and I cannot thank you enough! I can promise you that going forward I will refer you to all of my clients for any event that I plan! Looking forward to many more successful events in the future!"
-Erin Russo, Southern Wine & Spirits Facility, January 23
"Jennifer and I would like to thank you so much for getting us the best DJ ever for our event! It was a huge success last night. We had the highest turnout than any other year and we receieved so much great feedback. In fact, one dad who has been coming every year since the event started said that this was the best year. This, in large part, is due to Mason!
Mason was incredibly professional and exemplified top notch customer service. He was the absolute perfect fit for our event. Mason's high energy and awesome attitude truly brought the event to another level. He had great timing for everything…from when to do the games to what kinds of music to play to keep the momentum going.
We had a first last night thanks to Mason…when the dancing started, we had almost every single dad and daughter on the dance floor with the exception of 4 dads (yes, 4 dads – we counted!). As you know, that has never happened in the history of this event. Mason had them going with some fun dance moves and kept them going for quite a while. He went above and beyond our goal for the DJ, which is to keep everyone engaged.
Mason also went above and beyond the call of duty when it came to service. One example was when we asked him to help with announcing which table's turn it was to go to the buffet line, not only did he personally go to each table to let them know but he went to check on the status of the buffet line first to make sure there would be no bottleneck. This prevented the food room from being too crowded and also alleviated the perception of having to wait in line so long. He just gets it!
Mason was a pleasure to work with. Needless to say, we would love to have Mason as our DJ for this event again next year! Thank you for helping with all of this, Dan!
YOU rock!!!"
-May Hanecak, Christ the King, November 15
"The party was excellent, and the feedback from guests was really great – thanks to Mason, Caleb and Kristen! Mason was very responsive to our original requests, he was very caring and professional throughout the whole party (checking in with me just the right amount), and he was engaging and cordial to the guests. The Star Trek shirts were awesome! Max danced the entire night, so to me that was the mark of success!
Thanks for your attention to detail, your excellent and professional staff, and the ease of planning and working with you."
-Jennifer Leeds, Marriott Hotel – Walnut Creek, November 8
"Thank you both for helping to make Mia's bat mitzvah a wonderful, memorable event. Mason and the crew did a great job, and everybody had a lot of fun. Even our long-time friends stated that this was one of the best parties they have ever been to. Well done, all."
-Jill Zechowy, Paradise Ridge Winery, October 11
"It was a very fun party! Jamie said he had a GREAT time! We appreciated all the talent there…a bonus! I think everyone had a great time. The kids had an amazing time and loved the music, the dancing and the games and the adults also had a great time and spent a lot of time on the dance floor or being entertained by the kids. All good.
Thanks again!"
-Denise Miller, Spinnaker Restaurant, August 30
"We're 2 days since Sam's Bar Mitzvah party on Saturday night and we wanted to share with you how superb Mason and his mighty crew were that evening. They did exactly as you promised — got things started with a bang, shifted music as the vibe dictated, extended the folk dancing, kept the kids fully engaged while the adults ate and stayed on schedule. Mason handled a somewhat cranky venue owner professionally but firmly, much to our pleasure. Most of all, the team seemed to get that while the overwhelming majority of attendees were adults, this party was for Sam and kept things focused in his direction. Kudos to them all."
-Beverly Pinto, Fairfax, August 23
"Thanks so much for last Thursday! Mason was AWESOME and so great to work with!!!! Would love to work with him again."
-Andrea Greco, Monte Vista High School, August 21
"Mason was an amazing DJ. He helped make our night the best one ever. He read the crowd so well, and just was perfect. Thank you thank you again."
-Allison Rudolph, Inn at Park Winters, August 10
"I must separately thank you for your incredible attention to detail, friendly emails, gentle reminders and fabulous organization. I never felt like a nuisance and I always felt like you were right there and keeping track of everything which gave us huge confidence and kept me really secure and relaxed. I have been so happy to work with both of you and feel so lucky. I felt like I had the Dream Team. People told me I looked more relaxed than they have ever seen me – when they expected me to seem stressed out. I know I was relaxed because I was able to enjoy it and felt like the experts were there making sure the party was going to go as we were hoping.
You are amazing. Thank you!!!!!!!!"
-Rena Fox, Spinnaker Restaurant, June 14
"Great music, great time! Mason was very professional and listened to the requests from the girls. Overall five stars all around. Would not hesitate to use you again and refer you to friends and business colleagues."
-Theresa Dilley, San Francisco City Club, June 12
"I was going to call you to thank you!!! It was just perfect! Flawless from you guys! All I have heard is that it was a blast. I will send you the link from the photographer and you will see!! I really want to thank you. Everyone in your company was professional and kind and on top of it all. I really appreciate all the help, you guys have it down! Of course we will be using you next year as well and I am doing party the following year! Thank you so very much!!! You made our party for sure!!"
-Kathleen Brady, Del Mar Middle School, Servino Restaurant, June 11
"My Event was a huge success! Your team were so professional and such a pleasure to work with. I couldn't express it enough to my senior management how you and Patrick made everything fit into my budget. The "selfie" sharing station was a huge hit on both days. Nothing but kudos J."
-Diane Miguel, Shaklee Corporation, San Ramon Marriott, May 7
"Mason was great! He was punctual and really kept the audience involved with the music! I will do my write up recommending we use your company again and Mason if he is available. Thank you for allowing me to include his tip in my payment, he certainly earned it!"
-Susan Miller, National Charity Foundation, Claremont Resort, March 9
"Awesome party and music – at least according to the birthday girl! She said it was the best party ever so rave reviews. And yes, Mason and Tyrone were fantastic!"
-Lisa Westley, Jewish Community Center of SF, February 1
"Everything was great. I know that I can always count on D&D. Mason and Tyrone were great. It was fun to see Mason in the middle of the crowd teaching them how to do the Israeli dances. I reached out to our client to see if they have any feedback and I'll certainly pass on any comments. Thanks again for everything!"
-49 Square Catering, Elaine Herman, Portero Hill Neighborhood House, November 9
"Mason & Chris were a WINNING team! Add in the dancers and Jonathan and team D&D hit a homerun managing 123 ROWDY kids!!!!"
-Shannon Blount (Sarah Lucas Designs), The Family Farm, September 28
"Yes! As usual your DJ did a great job and performed wonderfully. It is such a great addition to the event and really keeps the kids motivated. Thank you for providing such a professional to help make our event over the top! We truly appreciate it!"
-Michelle Hannigan, Christ the King, September 25
"*Great* party, thank you! Happy and exhausted, we had them wind down the dancing 20 minutes early so we could clean up and get out of the hall by 11pm. While we were bustling about with brooms and boxes, the DJ put on exactly the right music and the 2 dancers quietly took the floor and treated us to the most beautiful partner dance. Several of my relatives are modern dancers (one has danced with a major company), and we were absolutely delighted — The D&D team's timing and sense of the crowd was just fantastic."
-Juliette Hirt, Congregation Beth Sholom, September 21
"They did a great job Saturday night. Everyone had lots of fun with it, especially with the wide variety of accessories, which Mason kept very well organized. Some of the guests have upcoming events & we passed along your info."
-Sharon Portnoy, Marin Jewish Community Center, June 15
"Everything was great!!! Party was a success and your crew was just what we asked for and everything went smoothly. Thank you so much. All reports from the kids was that the music was great and just what they wanted."
-Pam Hemming (Orinda Intermediate School), Orinda Intermediate School, June 6
"I just wanted to say thank you sooo much to Brian and Mason for the awesome, EASY, flow to our wedding! We had an amazing night and I have only heard that it was the best wedding ever from every guest I've talked to since! We are a wild bunch and they handled everything seamlessly. We couldn't be happier with how it went."
-Jessica Martin, Mountain Terrace, February 23
"Everything was GREAT!!! Thank you and your wonderful staff for a memorable night. I look forward to working with Ed and Mason in the future. It is always a pleasure."
-Michelle Nelson (Claremont Resort & Spa), Claremont Resort & Spa, February 8