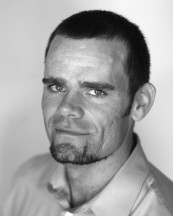 Balance, Order and Always Faithful
There is this image of Jason: while on the set (and, mind you, the world we all live in is his canvas) directing his long-in-the-work, soon-to-be-epic underground film, he paints himself into a corner with one hand as he's losing the light he needs for the shot that will finally make the film cohesive. All the while people are screaming, cars are honking and the world is spinning out of control everywhere he looks. Right then, with the camera firmly planted in his "free" hand, he rolls tape and yells: "Action!" That's the artist side.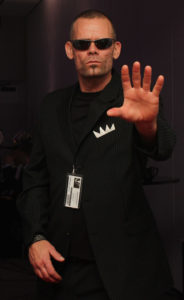 Then there's the ex-Marine. His training in the military brought him to respect and seek out order. Whether the situation calls on him to lead or follow, he's ready to step in and do what needs to be done. In a wedding situation that might have him coordinating a toast with numerous servers, a sweaty-palmed best man and a fussy photographer while playing just the right background music to keep the guests unaware of the delicate balance.
To use a basketball analogy, he loves the dish or the dime (a.k.a. "assist") more than anything else. You jump and he'll have the rock right at the rim for you to throw it down.
All sides of him call him to work and live life with great intensity and passion and, at the same time, display the calm, gentle kindness of a great family dog — just don't ask him to wag his tail.

"I just wanted to thank you so much for helping to make my wedding such an amazing experience! Working with you and your company was so easy, and took a lot of worry off of my mind. Jason made my wedding reception so amazing! He was funny, had wonderful song choices, and I still have people complimenting how amazing he was. Thank you so much for employing amazing people like Jason in your company. It was so rad having someone that really knew me being the DJ at my wedding. Please give him my love and thanks! I will be praising D&D for many years to come!"
-Meagan Briggs, Jefferson Street Mansion, October 17
"I want to thank you for your company's services this past weekend. Our DJ, Jason, was an absolute professional and did an amazing job. We received countless compliments about his performance. Your diligence with arranging our evening is greatly appreciated. We will certainly recommend your services! Take care and hope to work with you again in the future!"
-Ronald Stoffle, Fairmont Sonoma Mission Inn, April 25
"Jason did an absolutely amazing job! The ladies all had a blast, and they loved him. We highly reccommend him for any party. He was professional, and he was alot of fun. He helped make our party a smashing success! Thank you again…"
-Darla Brezac, Private Residence, August 23
"I am very happy with the service provide and we loved Jason. He did a great job working with my wedding coordinator to keep the day on track. He was very flexible with last minute changes and made the day fun."
-Elizabeth Peralta, Oceano Hotel & Spa, August 16
"When you are the bride and groom it is really hard to slow down and take in the precious moments as they wiz by. The best indication of how the evening went, was the testimonials from our guests: Everyone Elizabeth and I spoke to, was blown away by the event, which would not have been complete without Denon & Doyle and Jason. So a HUGE "thank you" to Jason for the exceptional quality of MC/DJ-ing throughout the evening, which completely complimented the venue. Sue Doyle and you were a pleasure to work with in planning the event and it went perfectly. We truly did feel like guests at our own reception. Having been a musician in a band myself I know how much work went on behind the scenes before and after the event, which most people don't fully appreciate. Thanks also for the elegant lighting. Jason certainly went way above and beyond in keeping everything moving along during the event, and playing music that kept the party going all night. We are blessed to have great memories of our wedding day!"
-Mark Dawson, Blackhawk Auto Museum, August 2
"Everything worked out very well. Jason did a superb job. He did a great job of blending the music with the crowd and the venue. I am so happy we picked Denon and Doyle as our Djay – the level of support we received though-out the process was first rate and the online tools provided a great way to help us get organized around the music. Thanks very much."
-Linda Fox, Peacock Gap Country Club, June 28
"I want to give all my highest compliments to Jason- he did an outstanding job. He played all of our requests (some of which were probably unfamiliar to many guests), but he mixed in a variety of songs that appealed to guests of all ages. Our guests had a wonderful time dancing- I have never been to a wedding where so many people danced for so long, and I attribute it largely to the thoughtful mix of music that Jason played. I recently went to another wedding where few of the older people felt compelled to dance and many left before the wedding ended- I think that the music Jason played created great momentum and inclusiveness, and the dancing went strong all the way to the end. Thanks again for everything!"
-Katrina Fetterman, Lucie Stern Community Center, June 21
"We did have the best time ever! Jason was fabulous."
-Nicol, Little Blue Box Weddings, Jacuzzi Winery, May 31
"Thanks for the DJing- many people were up dancing and it was the right music for the group. Jason was on point with the crowd too! I appreciate your great DJing service, thanks again."
-Erin O'Grady, Tinsley Island, May 23
"It was all great – thanks very much Brian, and thank you to Jason! He was great as always!"
-Sarah Raymond, Oliver Wyman, Dosa, December 13
"We had a fantastic time at our holiday party last Thursday! Jason did a great job, and we really appreciate all of your help."
-Lisa Filippini, Wilderness Travel, Berkeley Yacht Club, December 12
"Great DJ! People danced for HOURS! We used DJ Jason Wheat at our wedding (chosen by D&D co. after they discussed our desired feel – which was low-key, fun, minimal MCing/talking). He was true to what we'd requested – lots of popular easy-to-dance to music, with a healthy dose of 90's hip hop and some popular bollywood tunes to round it out! I kept telling myself that I'd leave the dance floor and mingle after the next song, and then the next song, and the next song…found myself loving everything he picked! I was glad I changed into my gold wedge sneakers prior to the reception!"
-Asha Radhamohan, Green's Restaurant, November 9
"It was fantastic beyond words. DJ had the place going all night! Very professional."
-Molly Haslam, Peninsula Golf & Country Club
"I received so many positive compliments about Jason. Everyone loved the music and the dance floor was constantly packed! Jason was awesome, and even though we could tell he may have been having some trouble with the projection screen, he worked very hard to get it up and running because he knew it was so important to us.
Nothing but great things to say about his professionalism while at the same time being warm and accommodating. Thank you to Jason and Denon & Doyle for making our wedding so special!!"
-Ashley Chavez, Wente Vineyards, July 13
"I'm hearing through the grapevine it was the best party we have had so far (at The Meritage). Jason was a part of that. Thank you!"
-Winona Connors (RIX), The Meritage, December 15
"The party was a success, and the buzz around the office has been all good. Jason was great! He did a good job of reading the crowd and played some really fun music that had people going wild on the dance floor. A fun time was had by all!"
-Ellen Niemann, Renaissance Clubsport Hotel, December 1
"I'm busy at work right now, so am not doing Jason or D&D justice, but we were extremely pleased with both Jason and D&D. As a D.J., Jason was the perfect mix of self sufficient while meeting our needs, and everyone (from ages 18 to 80) thought he played a great selection of music. And in general, we found working with your team to be seamless. I would happily endorse (and hire) Jason and D&D again."
-Nicholas Dashman, San Francisco City Club, October 13
"Jason was absolutely wonderful!!! He was so nice and so easy to work with! I cannot say enough good things about him! He was Great! Hoping we will need a DJ sometime in the future and can request Jason!!! Thank you so much for all your help! You were wonderful to work with as well! Please let Jason know that we so appreciate the outstanding job he did!!!"
-Karrie Nelsen, Bridges Golf Club, August 4
"Our surprise 60th birthday party for my wife on Saturday night was a great success and DJ Jason Wheat was a major contributor to the festivities. The demographic in the room ranged from 20 to 83 years old and the dance floor was full for the majority of the evening due to the playlist and Jason's pacing of the music. Thank you to Jason and D&D for a professional and creative experience!"
-Caitlin Drulis, Hotel Shattuck, July 14
"Jason was great! The event was a huge success and he did an awesome job! I never got to thank him in person, so please extend a huge thank you from us. I know it wasn't a big money maker for you and I so much appreciate your and Dan's generosity to this really important cause!"
-Jacqueline Neuwirth, Mill Vally Community Center, April 21, 2012
"The BUZZ is good. Jason was great and flexible. He took over where needed and let me do my thing as well. The centerpiece give away was great and a lot of fun. Amazing what people will do for a $20 prize……… Good time had by all. There were many compliments about the DJ. Tell Jason Thank You!!!"
-Winona, Connors, RIX, Meritage Resort at Napa, December 1
"Thanks for following up. Although I wasn't able to attend the party, I've heard nothing but positive feedback about Jason. One attendee was having so much fun, he wanted to pay Jason out of his own pocket to keep him playing longer. Of course that was not an option due to the 10:00 pm noise ordinance on the Pacific Terrace of the hotel. Our director has requested that Jason is hired again next year for our party… I probably will not have an exact date for a while, but as soon as I do, I will let you know."
-Amy Perrone, Genentech, Intercontinental Hotel, December 2, 2011
"Jason was amazing! He really has a passion for what he does and it shows. He put great energy into the party. I can't thank you enough."
-Tato Corcoran, Round Hill Country Club, October 7, 2011
"Jason and his assistant – and all the music – were perfect, wonderful, and fantastic!! Lighting was great, too! They captured the day!"
-Gail Marchi, The Argonaut Hotel, July 30, 2011
"I just want to say that everything was so amazing. Sue has been great, you have been great and Chad and Jason were so fun and laid back. They made me feel comfortable and they totally listned to everything I wanted. The music was totally what I wanted. I dont have too much constructive criticism for you! sorry, everything was just awesome."
Jacqueline Lebrun, Saratoga Springs, July 3, 2011
"I just wanted to let you know that Jason did an excellent job — He really "got" the group, the music was fabulous as well as his timing. I would definitely use you guys again — I had a DJ about 10 years ago — and there was simply no comparison. On our next event, we would definitely use Denon and Doyle and Jason again!! And, I would definitely refer you to others looking for a top DJ!!"
-Nancy Methlie, Pleasant Hill Residence, June 11, 2011
"Everyone LOVED Jason. I even had a few people ask if we could be sure to get him next year! You always have great DJs though so I am not surprised."
-Mariah Bradford-Urban, Leap of Faith Farms, Back Forty, May 6, 2011
"Everything was wonderful! We LOVED Jason. He made all our friends and family feel so comfortable and was such a blast to be around. He even got my panicked "Oh my god this first dance song is so long, can we cut this song short" face and very subtly ended the song for us. Thank you so much for your help on the song selections. Everyone loved us walking down the staircase for our introductions to Dynamite. You guys couldn't have done a better job!"
-Betty Nguyen, Ruby Hills Golf Club, April 9, 2011
"I have received numerous Best Party of the Year emails! We had the best time and Jason was terrific. His music made the party. Not one person left before the music was over and we were all surprised when he called last song. Jason was very courteous and very helpful even with things not music related. He was even helping people with wobbly chairs! It was a night I will always cherish. Thank you so much and please thank Jason again for us."
-Valerie Sokol, Blackhawk Grill, March 5, 2011
"Though the crowed was smaller than we'd anticipated your staff was larger than life. Jason our DJ was a force to be reckoned with and helped us out of a tricky situation when a last minute presentation was launched on us and he was asked to come up with a mic and speaker for a gal in a wheel chair. Then he proceeded to get what little crowd was on their feet dancing, something our band was unable to do. He had a terrific attitude, made me laugh and was lovely to everyone he came into contact with."
-Suzanne Murphy, Hyatt Regency Embarcadero, October 16, 2010
"Thank you very much! The wedding and reception were both amazing!!! Jason did a great job, everyone I've talked to had a fantastic time and to my surprise there were more people dancing than I could have imagined. Morgan and I are both extremely happy with the way the night turned out and we will definitely be recommending Denon & Doyle to anyone looking for a quality, first class company."
-Brian Justice, Lafayette Park Hotel & Spa, October 9, 2010
"Both Patrick and I would like to thank the Denon & Doyle staff for being total rockstars. Jason was the best DJ you could ask for. He was professional, friendly and was excellent at reading what the crowd wanted to dance too. Although the dance floor was small it was always packed thanks to him. The belle of the ball was the photo booth. Aside from Jason, the photo booth was probably the single best thing we spent money on for our wedding. Dare I even say it eclipsed our open bar? People really loved it and kept coming back for more. All night there was a line to take pictures in the booth.
Thank you for helping make our night better than we could have ever imagined it could be."
Athena Eng, Mountain Terrace, September 11, 2010
"Please pass on my thanks to Jason for his hard work last night. It was a tad chaotic in the beginning of the day (before he arrived) but we got back on track and he kept everyone dancing. I heard nothing but good things about him all night."
-Jessica Goldblatt, Dreams on a Dime, Piedmont Hall Community Center, August 28, 2010
"Jason was great! He was very proactive with our vendors to bring more value to the day, and always upbeat and high energy. (i.e.: Jason visited each expo vendor to understand who they were and what their product was, as well as if they had any specials. He then made announcements throughout the day promoting each one of them. AWESOME value add)
It is clear he enjoys his job and wants to make every effort to bring more value to his client.
Thank you again for another GREAT year."
-Heather Mackenzie, Marin Cyclists, August 7, 2010
"My two cents — Jason was terrific! On time, professional & on his "musical" game. Thanks again for everything, you guys are always so great to work with."
-Kerri Becker, Private Residence, July 10, 2010
"It was an amazing wedding!! Jesse and I were so impressed with Martin and Jason. Jason did a wonderful job at the ceremony. Everyone said that when "Jessie's Girl" was cued up and we walked away towards the GG Bridge that it looked like something out of a movie! ( and sounded like it too!) Martin was so professional and organized, even when I wasn't so organized! 😉 He rolled with all of the little things that went on, and was a fantastic MC and DJ!
I am going to write rave reviews on Yelp, as well as tell any friends or family having weddings in the bay area to hire Denon & Doyle!
Thank you so much for all of your help and guidance!!"
-Catherine Clobucker, Presidio Officers Club, July 3, 2010
"Jason was outstanding. So much so that we may hire him again for july 10th – is he available"
-Dana Spanger, Private Residence, June 19, 2010
"We had such a great time with Jason! He did a wonderful job gauging the crowd and playing songs appropriately which got everyone dancing. Thank you so much! "
-Judy Franceschi, Back Forty, October 17, 2009
"Jason was fantastic. He knew exactly what music to play and when. We knew he was there yet he managed to "blend in". Our friends thoroughly enjoyed all aspects of the evening- the venue, the food, the music. It truly was a perfect night and so much of the credit goes to Jason."
-Judy Levinsohn, Epic Roast House, October 3, 2009
"A success as usual… thank you to Jason.. we will book again next year."
-Lisa Anderson, Concord Crowne Plaza, December 20, 2008
"The wedding was great! Everyone had such a great time. The DJ (Jason) did a great job, played the right music. We have had many comments it was the best wedding reception they had ever attended. Thanks a lot. We will recommend your company to many."
-Barbara Thacher, Faz Restaurant, November 1, 2008
"We loved Jason — he was absolutely wonderful… so calm and organized and friendly… he made sure we kept on schedule and got all the important stuff done. Without him, I'm quite sure we would have missed doing a first dance and even the cake cutting. Everyone was dancing too… just a great guy."
-Pamela Polizzotto, Servino Restaurant, October 18, 2008
"Jason was fabulous!!!!!!!!! He rolled with the punches and had the perfect combination of music. All of my friends are dancers (ballet, jazz, hip hop, tap etc.) and it is a true compliment when you have them dancing all night. So please tell him thank you."
-Jennifer Weston, Inn at the Tides, September 20, 2008
"I wanted to let you know that we are so happy with the customer service from Denon and Doyle and are SO pleased with JasonÕs performance. He was very responsive to all requests and took the extra time to make everything perfect. Please pass on this good word to him for helping make our wedding a huge success! Thanks again."
-Jacqueline Smith, Hollins House, September 13, 2008
"The wedding reception was great. Jason did a great job. He played some of the songs we requested and then a good mix of songs he chose. You guys were great."
-Josh Ryan, Private Residence, August 2, 2008
"Just wanted to say that Jason did an awesome job on Saturday, with minimal input from us. You guys rock. People had a great time, we're totally happy. Please pass on our thanks to him, and to anyone else who helped coordinate the event."
-Dan Podsedly, Sir Francis Drake, June 28, 2008
"We were very happy with D&D. Jason was perfect — good timing, great interaction with guests, very fun music. Please thank him on our behalf."
-Steve Long, Private Residence, June 21, 2008
"Jason was everything we hoped for and more! He was so friendly and he picked the perfect songs. I hate to dance and I never left the dance floor once! He also improvised perfectly when our procession song ended before we all got up the aisle. He played the songs I asked for, took requests, and picked his own songs that kept the dance floor packed. Please pass on my thanks and compliments to Jason for making our wedding so fun and enjoyable!"
-Amanda Gullingsrud, Cliff House, March 15, 2008
"I'll write a better review later- but in short- Jason was awesome! Thanks so much for helping to make our wedding amazing. Everyone I've talked to said they had a fantasic time, and I know that Jason played a huge roll in making that happen. He was the perfect blend of fun and classy; just what we wanted."
-Sheilia O'Sullivan, Bancroft Hotel, October 20, 2007
"We had an awesome wedding and Jason did a fantastic job. We were both really happy with the music he played and we had a packed dance floor which I assume means our guests were enjoying it as well! A number of people commented that this was one of the best weddings they'd ever been to and we know that the music was definitely a contributing factor to this. My only wish was that we'd added another hour to the wedding!
Jason was exactly the type of DJ we wanted — he used our selected music as a guide but read the crowd to play the right songs at the right time — we were both really pleased and would highly recommend him (and Denon & Doyle) to anyone looking for a DJ. Please thank him again for us."
-Krisine Newell, Peju Winery, October 6, 2007
"The wedding and reception were great. Jason did an excellent job. He played the music we requested and managed the reception just enough without getting in the way."
-Bill Barger, Viansa Winery, September 30, 2007
"Jason did a great job at our wedding. He played exactly the right kind of music, and he played the right music to get EVERYONE on the dance floor (including our older guests) and kept them there the whole night! I also really appreciate the fact that he was very in tune to our wants/needs, and acted with a sense of urgency on everything that we asked for throughout the evening. Give him a big thanks from us! And, I also want to give a big thanks to Mark Haggerty, because both myself and my uncle were calling him a lot before the wedding with special requests and he was very responsive and got everything right."
-Michelle Smith, Presidio Golden Gate Club, September 15, 2007
"The party was wonderful and Jason was outstanding. Please thank him for a job well done."
-Adrien Drew, Peninsula Temple Sholom, August 18, 2007
"All went well! the music was perfect,(among very old and young).Jason was great, he flowed very well with the relatives and friends…. although I am sure that the young ones would of wanted to stay till the wee hours…The event was perfect…(but, that is my thoughts.) I am sure that stephanie and john would elaborate more on how Jason was outstanding "
-Joyce Schroeder, Viansa Winery, August 10, 2007
"Randy and I could not have been happier with the music for Kimberly and Nathan's wedding. Jason read the crowd and had everyone dancing, to the point they didn't want to leave the dance floor. Rob Camm, the man coordinating the wedding for us, had many compliments for Jason. Rob works with many DJ's and said it was a pleasure to work with someone so professional. Many thanks to you and your company for making our evening so wonderful."
-Peggy Anderson, Private Residence, July 14, 2007
"We are just now getting back into the swing of things after the wedding and honeymoon. I wanted to share my thoughts about Jason. Everybody loved him and we thought he did an awesome job. I raved about him and told him I was very happy and told him he did really well. My family and friends really enjoyed him and the music he played. He played enough variety that satisfied everybody and everyone's age considering I had older people and younger people. The day couldn't of went better from the ceremony to the end of the reception. I am very happy with your company and told everybody how pleased we were and how professional you guys do things. We are happy we went with your company and wouldn't change it for the world."
-Bethany Harvey, Faz Restaurant, June 30, 2007
"The reception went great in all respects. Jason did a fantastic job, keeping the right balance of music, his selection of music around the songs that we requested was just right, and he had a wonderful rapport with the group. I heard nothing but compliments about Jason and his work. Furthermore, I am quite appreciative about your firm's ability to have someone available on short notice and better yet someone as good as Jason. Thanks for helping make a wonderful time for all."
-Dan Bishop, Forbes Island, June 23, 2007
"Jason did an amazing job at our wedding. He was perfect; very tasteful in everything he did. We noticed he went beyond what we had suggested on the wedding planner. We put down a lot of 80's pop music for dancing. Jason did a great job of reading the room. We noticed how he incorporated some oldies into the mix for the older crowd. We got so many compliments on the music throughout the whole evening. A very big thank you to Jason and your entire team!"
-Jeannie Lee, Berkeley City Club, May 26, 2007
"Everything went well and Jason did a great job! We were very happy. Thank you all for your hard work and putting up with all of our emails 🙂 We will definitely recommend you guys to anyone who needs a DJ in the future. Thanks again!"
-Melissa Romero, Private Residence, May 19, 2007
"Jason did a Great Job. He was Very Friendly !! The Party was the Best I could have asked for. I will recommend your company to all my friends."
-Russ Williams, Crown Plaza San Jose, February 17, 2007
"Everything went great. Jason couldn't have been more accommodating. Thanks again. Look forward to using you again in the future."
-David Moll, Scott's Gardens, January 13, 2007
"Everyone had a lovely time Friday night. Jason was great – please thank him for us."
-Sarah Raymond, Flor De Lys Restaurant, December 15, 2006
"We loved Jason and want him back next year. He finished the evening with the electric slide and begged to do one more song. He had a great selection of songs and was a terrific person. Kudos to Jason."
-Eva Guy, Exploratorium, December 8, 2006
"Please tell Jason Wheat thank you so much for his help at our holiday party on Saturday night. It was a success!"
-Sandy McCuaig, The "W" Hotel, December 2, 2006
"Yes ma'am the wedding was FABULOUS, and we have had nothing but rave reviews for Jason. And I heartily agree- he really was excellent. I'm going to prepare a proper thank you note for you and for Jason (I think you use them on your website?), but I'm buried in thank-you notes so bear with me a little bit. 🙂 For the time being, know that I will (and have!) recommend Denon & Doyle to everyone I know. Thank you for helping to make our wedding such a spectacular event."
-Ceri Williams – oops! – Osborne), Scott's Gardens, Nevember 11, 2006
"Everything went great on Saturday. I totally loved Jason and I think he did good once everything got rolling. Thanks so much for all your help!"
-Alisha Ramsey, Benicia Yacht Club, October 14, 2006
"We are on our honeymoon right now in Thailand. Jason did a fabulous job! He was very professional and definitely knew his stuff. Young and old — everyone was dancing by the end of the evening. The most memorable was kelly's dad (straight from Taiwan) dancing like a mad man! Jason did a great job corssing the cultural gap between the younger American generation here and the more traditional older generation from Taiwan and beyond. Thanks for your recommendation of him — and we will definitely be looking to you guys again for any future events we plan."
-David & Kelly, Beaulieu Gardens, September 30, 2006
"Our wedding was great! Your company handled everything with positive energy and professionalism. Jason turned out to be a jack-of-all-trades. He deftly handled our request for two set-ups. He rearranged speakers as needed during the reception and ceremony. Most importantly, he played the perfect songs for a night of dancing that continued on until 1:00 a.m. Thanks for everything."
-Brian & Gina Safine, Redwood Ridge Estates, July 28, 2006
"We had a great time and all seemed to agree that Jason did a great job as DJ. We'll keep Denon & Doyle in mind as I help in the planning of our 35th class reunion next year."
-Susan MacKenzie, Scott's Gardens, July 8, 2006
"We very impressed with Jason, who was the consummate professional in terms of spinning the tunes and making the announcements. Obviously, we will wholeheartedly recommend Denon & Doyle to any friends who are considering using the services of a DJ. Thanks for your assistance."
-Ian Hughes, Presidio Officer's Club, July 2, 2006
"Jason was terrific! We had a great party! It went off without a hitch. Jason was great, and managed to keep all of my unruly relatives in line without them knowingÉ IÕd recommend him in a heartbeat. If I have a 50th birthday party next summer, IÕm going to request him for sure!"
-Jennifer Stuart, Lone Tree Golf Course, July 1, 2006
"This is Tanya's mom. Everything went very well. Jason was a gentleman and did a great job. He had to move things around and worked hard to make everything work. We had many compliments about the wedding being the best wedding anyone had ever attended (which was nice to hear). Thank you to Mark Haggarty, Jason and you for all your help. We really appreciate it."
-Tanya & John, Montington Vineyard, June 10, 2006
"Jason did a great job. He kept the music going and alternated the music based on what people were dancing to. Bob and I pondered whether a DJ was necessary or just go with an I-pod. We're so glad we went the DJ route. Jason really made the party a success."
-Bob Sherwood, Private Residence, June 3, 2006
"There is a good buzz among family and fiends. Everything was excellent. The ceremony music, the reception music, and the DVD screening were all perfect and worry-free. Jason was on top of the details from the start, and he adapted to all the changes as the night went on."
-John Donehower, Berkeley City Club, May 13, 2006
"Thanks so much Sue. Everyone loved it, especially Chad and I. We couldn't have asked for more. Jason did a great job. The vibe was low-stress–one big fun party."
-Deborah & Chad, Rockefeller Lodge, April 8, 2006
"Thank you sooooooooo much! The wedding was absolutely wonderful. Jason did an excellent job. We kept getting compliments on the music that we picked out all night. He was able to read the crowd and we had a wonderful time. We are so thrilled that we chose him and Denon and Doyle. Thank you for all your wonderful help and excellent service. We will definitly recommend you guys."
-Kate & Cameron, San Mateo Marriott, March 18, 2006
"Jason was just great at our party. He was totally prepared to entertain our guests with some great tunes. If we ever have the need for a DJ again we will definitely call on you for assistance."
-Steve Parker, Pacific Athletic Club, February 26, 2006