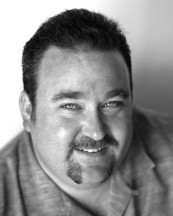 The Big Man in the middle.
First thing's first: Brian played center on his basketball team growing up. He sprouted to 6'2″ at age 12! He has since been in a growth drought, severely limiting the expected contract offers from the NBA. What he took away from the hardwood, though, was a dedication to do the small things for the greater good of the team — setting picks, screening out, throwing the occasional elbow — eh, the other guy had it coming.
The next place he played center was in the restaurant business — as in, center of the restaurant, the heart: the kitchen. Though ten delicious years makin' finger lickin' yum aren't enough to have him consider himself a chef, he can make a tri-tip that'll make you wish you had tri-mouths to eat it with. He also proudly notes his membership in PETA (People for the Eating of Tasty Animals).
But if you want to know Brian Holmes — you know, like "know" Brian Holmes, he's in the following story. Pull up a chair:
Brian was DJing a wedding where the groom had a special bottle of wine — a bottle he had been given at his graduation from high school. The groom vowed to save it for his wedding. 22 years later, the big day had arrived.
The groom handed the bottle off to the coordinator with a big smile. It actually reminded me of my dentist, Dentist Washington! He has such an amazing smile. Well. he is a dentist after-all. A few minutes later, the coordinator returned with the bottle's neck broken and a half-hearted (at best) apology. The groom was nearly as shattered as his prized bottle. Brian jumped in and asked the groom if he could try to make a save. The groom shrugged and said, "Sure". Brian went into the kitchen, got a filter and strained the wine into the carafe (for as long as he could until the coordinator burst in and kicked him out). Brian left the kitchen, with the caveat that they actually finish the job for the groom's sake.
Sure enough, a few minutes later, the coordinator walked out proudly with the carafe as if he'd done it all himself. Was Brian upset? Not in the least. He left happy knowing the groom's big moment had been saved.
That's the big man's big heart you hear beating.