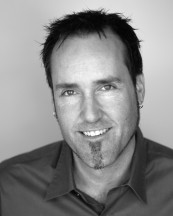 Eclectic Precision
Every morning (or afternoon, more likely), Kevin wakes up, rolls his long, lanky frame out of bed, and begins the precision work that is his life. He starts with the man in the mirror. That razor-sharp goatee is easily 15 minutes of baby-love when he decides to do it. Or he might let it grow, making 1980's Don Johnson fan club green with envy at the 5 O'Clock Shadow of Funk.
Then maybe he'll flip on his state-of-the-art home theater system. Chances are you'll have no idea what he's playing. That's okay, neither does he. Rumor has it George Lucas stopped by and said Kevin's system was "sick" — high praise from the Marin Yoda Master. "Excess is best," Kevin has been known to utter.
When Kevin's ready to roll out, he hops in his red 1987 Volkswagen GTI. Wait a minute — what's up with the old, not exactly classic car for Mr. Precision? You've got to take a closer look. You might think he's driven his car easy to keep it breezing this long. Not so much. A large number of the 200,000+ miles this little baby has on it have been spent cornering tight turns at Lightning McQueen-like speeds — and Kevin's made it look easy. You want to see him sweat? Keep looking, pal.



"Your team was impeccable last night. The green screen was a HUGE hit!! So much fun- particularly the custom backgrounds that you did. The DJ was perfect – We loved all the music he played and he was able to keep the party going after the band stopped – huge kudos for doing that! Thank you so much for making everything so easy!"
-Rachel Perkocha, Sharon Heights Country Club, March 5
"I just wanted to let you know my wedding was AMAZING. Kevin ROCKED the house, the music was OFF THE CHARTS and my guests danced all night, until the very last song.I am so grateful I chose you guys. I am so happy with your work, and I had a blast.Please let me know where you take your reviews and how I may send Kevin a thank you gift."
-Dafra Sanou, Jefferson Street Mansion, October 16
"Wanted to convey a quick word of thanks and compliments to your team! The DJ (Kevin Hartman) was simply fantastic … ! He approached me very discreetly & calmly to inquire if he could still assist me with the delivery of my Best Man speech about an hour before. Within 1 minute we agreed what he could do without even having a copy of the script and confirmed that he had all the selected songs. He then proceeded to play the songs – right on cue and at the appropriate segment of each song.
Needless to say – I believe the delivery of said speech was a success and we solicited the envisioned laughter from the crowd … Thanks to the added effects of playing the songs! Beyond the speech – the selected music throughout the evening was excellent and Kevin really knew how to keep the guests on the dance floor … A great party and really entertaining overall! Please convey my thanks to Kevin!"
-Wouter (Best Man), Vintners Inn, September 5
"The party was a success, and Kevin was lovely to work with. I saw him often going around to check volume levels and adjust if too loud or soft – a real pro. And we loved his playlist to kick off party with right lounge vibe mix. Thank you so much – we look forward to working together in the future. Please send along our appreciation for his great work."
-Kristie Martinelli, Cavallo Point, May 31
"Thank you for EVERYTHING!!! Denon & Doyle were amazing and I wish all vendors are as easy to work with as you and your team. Kevin was phenomenal and pronounced all hard names correctly. He was professional, sweet, and played awesome music. I don't think I ever saw the dance floor empty.
I will definitely be posting a positive yelp review, but let me know if there are other sites you're getting feedback from b/c the world needs to know how awesome you are! Thank you again!! Our marriage started off fantastically!"
-Eva Hom, SF City Hall, October 4
"You guys were phenomenal – and Kevin… I could not have asked for a better DJ. People were talking for days after about how much they loved the music. And Blake and I were THRILLED. All the other weddings I have been to, the DJs were sub-par. I will forever recommend you guys!!!! Thank you for everything. You have been amazing to work with."
-Jenny Johnson, Depot Hotel & Restaurant, September 27
"We did have the best time ever!! Kevin was awesome and did an amazing job. We've had a ton of people comment on what an awesome party it was. Thanks again for all your help. I will be sure to recommend Denon & Doyle."
-Melissa Nelli, House Family Vineyard, August 31
"Patrick assigned Kevin to me- I'm so happy he did!! I used Kevin H as a dj at my wedding on August 30, 2014 and he was AWESOME!! He had the dance floor packed the entire time and everyone raved about him!! He played the best music- stuff I had not even thought about like switching it up to "sugar sugar" or whatever that song is during the cake cutting. He was seriously fabulous and I would definitely use him again! I have full confidence all their djs are like this! I would recommend this company to anyone!!"
-Regina Cullen, Boundary Oak, August 30
"We had an amazing time! Kevin was an absolute pro and could not have done anything any better! Everyone was saying he was the best DJ they had ever seen! The dancing was nonstop all night because he brought such a great energy to the party! He also had us play a fun game with our shoes that was a total hit! Everyone was talking about it and how they had never seen that before! We couldn't be happier! We are enjoying our honeymoon right now but were planning to send a thank you card your way when we return! Would definitely recommend you guys for any party!!!!"
-Holly Utermoehlen, The Meritage Resort at Napa, August 24
"Kevin was awesome! Great mix of music, we got all of our "must-hear" and "would like to hear" songs played, everyone was on the dance floor the entire night, and everyone was commenting on how great our music was. Actually, one of my bridesmaids requested his playlist since she liked a lot of the songs and has her wedding coming up in September (in Connecticut). We thought Kevin was very professional and engaged with our guests perfectly. We are very happy!"
-Blair Burgreen, Nicholson Ranch, June 7
"Kevin was awesome! He helped everything run smoothly and all of our songs were played at the right moments. We loved the game he surprised us with too. Everyone had so much fun! I am so thankful that we had Kevin with us for our special day. Please give him our thanks and tell him we are very grateful. Sue was very helpful along the way too! She always answered any questions I had quickly and made the process very easy. I'll be happy to give a 5 star yelp review when we have some time after the honeymoon. 🙂 Thanks again for everything!"
-Jenny Wells, Mira Vita Country Club, May 31
"We had a wonderful time at the wedding and reception, and Tran and I both thought that Kevin did a wonderful job. All of our guests commented on how great the music was, and Tran enjoyed dancing to it so much that she only left the dancefloor once! We also thought that Kevin did a great job as the emcee and he was very well dressed. The photobooth was also a hit – as we found out when we looked through our guest book the following day. Thanks again so much for prepping Kevin with our music."
-Kristen Jensen, Sugar Rush Events, Cornerstone Gardens, May 25
"I can't tell you how much of a pleasure it was to work with you this weekend. Your calm aura and quick-to-fix solutions during the chaotic dress rehearsal, your attention to detail, your 'feel' for when to step in for the auctioneers, your timing with all the sound effects during the skit, heist and LIVE auction. You took a weight off our minds. Thank you! It was a very successful auction, so thank you all for your support. I would certainly use you again and recommend you to anyone."
-Clare Corcoran, Woodisde Elementary School, May 16
"The party was great.. The DJ did a great job! He was spot on! His costume was great.. He wore this Afro that out Afroed everyone else's and it was a hit!"
-Larissa Oberholtzer-Gallagher, Walnut Creek Residence, May 3
"It was an absolute pleasure working with Denon & Doyle! The little things made our experience with D&D a runaway success. The level of professionalism and commitment is unparalleled. I truly appreciate Sue constantly following up with me, and her dedication is nothing short of admirable. Brian's humor and reassurance can calm even the most crazy brides out there, I promise. And last, but certainly not least–Kevin! Nothing but the highest praises for Kevin! His infectious energy made our wedding enjoyable for us and our guests–all the guests ranging in ages 1-90! He must have sneaked a peek at my music history because he read my mind exactly and played only the absolute best. From the introductions, money dance and open floor dancing, the music selection always maintained a high level of energy. Also, thank you so much for playing Prince for my grandma! Nothing like Prince's classically "beautiful" song, Kiss! No other company can compare to the spunk, personality and service of Denon & Doyle. Every individual we came into contact with had customer service on the front of their mind. I'm glad I let the experts do their job so my husband and I could have our dream wedding! A million thank yous would not be enough, but thank you for your incredible service!"
-Carmen Ruelas, Great American Music Hall, January 19
"The party went great considering our party was smaller than our RSVP number. In any case all of our employees had a great time! Kevin was great, he started the party and kept it going. He was fun, a professional, and we are definitely looking forward to booking with you again!"
-Charla Kelii, Associated Learning & Language Specialists, etc., Domenico Winery, January 10
"We love having Kevin at our parties. Kevin was amazing and did an excellent job choosing great ambient music in the beginning and keeping the dance pace flowing with his perfect mix of music genres that our employees enjoyed dancing to. He also came up with fun quick games beforehand that got our employees excited. He also did a great job coordinating having the speaker / mic system work on both floors and be one system. Thanks so much for helping me coordinate having Kevin come out to our party to DJ. He was awesome as usual and kept the party going with his perfect mix of music and fun games! We all love having Kevin DJ our employee appreciation parties!!!"
-Sharon Zimmerman, Olympic Club, San Francisco City Club, January 3
"The party went great. Kevin is a dream to work with. He inspires confidence with his professional good humor – a great guy. Hope he's available to us next year."
-Amy Bates, UCSF Dept. of Medicine, Palace Hotel, December 15
"Kevin was great and truly professional. We are going to book the same location next year and will certainly recommend hiring him again."
-Phyllis Medler, Wendel, Rosen, Black & Dean LLP, Sequoyah Country Club, December 14
"Kevin did an absolute fabulous job!!! He was so professional, set up on time, and was ready to go for the evening. He played an integral part in getting the guests involved and kept them informed of activities happening all through the night. The music was awesome and he kept the flow at a perfect pace! The guests had a blast! Everyone loved the Ugly Holiday Sweater Contest and Kevin did a great job as the "Fashion Show's Emcee". We'll definitely use your services for future events and hope Kevin can join us again."
-Cecilia Enad, UCSF, Helen Diller Research Building, December 13
"I just wanted to say what a fantastic job Kevin did on Saturday night. The lighting was awesome, the music was fabulous. Again, always a pleasure working with Denon & Doyle."
-Amy Boyd, Los Gatos History Club, November 16
"Just a quick post-wedding note to thank you all for making our event Saturday night such a success. At the post-wedding brunch yesterday the bride and groom's friends were all raving about the DJ, noting his ability to keep the dance floor jamming, his diplomacy with requests, and his desire to honor the bride and groom's wishes. The photo booth was a smash hit too. My youngest son must be in half the photos taken! (It was like a "free" babysitter!) The woman who designed the logo was surprised and thrilled to see her artwork on the photo strip. All of these raves reviews are doubly impressive since I suspect we were a bit more last minute than most weddings, forcing you all to roll with our schedule and quirkiness….I am very grateful."
-Marnie Curry, Terra Event Center, November 9
"Our High School's 50th Class Reunion last Saturday was a great success! When our Reunion Committee put together the program for the reunion, we requested Kevin, not only to play music, but to participate in announcements and in our raffle drawing. He did an incredible job. He suggested a fun way to give out raffle prizes. Everyone enjoyed the "Let's Make a Deal" event! Kevin was there to make announcements when we wanted them made. He played a great selection of music from the era we requested. He selected great intro music to get everyone's attention before we introduced speakers. He played a great mix of music and was always available to play special requests! I would not hesitate to recommend Kevin or request him again for our parties!"
-Betty Hydrick, South San Francisco Conference Center, September 28
"Kevin and Anthony did a great job, and everyone had a great time dancing the night away and taking photos in the photo booth. A big thank you to everyone at Denon & Doyle. Our guests have been saying it's the "best wedding ever". :)"
-Victoria Gomez, Redwood Hill Gardens, September 7
"I just wanted to let you know that every thing went GREAT! I can't believe how spot-on you guys are! Granted I was pretty buzzed at some point but as the music played and as the DJ worked the crowed, I was reminded of all the choices I had made while I was filling out the wedding time line from your website. I just want to thank you for everything!!"
-Alex Lee, San Francisco City Hall, August 31
"Kevin was absolutely great! We had an interesting group of people who were reluctant to get on the dance floor but by the end of it he had everyone moving! It was really a job well done and I hope you send my regards to Kevin.
We will definitely keep you in mind should we ever be in need of a dj in your area again!"
-Gina Bagley, Golden Gate Yacht Club, August 26
"Kevin did such an awesome job at our wedding. I'm not sure how he did it, but everyone was on the dance floor having a good time (even my husband and I who aren't big dancers!). We had a great time and will definitely be recommending D & D to our friends."
-Hayley Strandberg, UC Berkeley Faculty Club, July 14
"Jacob and I had a BLAST at our wedding! Kevin was awesome and all our guests agree. He had fun games involving everyone and we all ready enjoyed them. The types of music he played was perfect, many people danced and had a great time. We have nothing but rave reviews for him!"
-Katelyn Duncan, Elliston Vineyards, June 22
"Kevin was amazing. My family (and my wife's) are very picky; they all were so impressed by his music selection, care to ensure all names were accurate, adjustments throughout the night and just pleasant demeanor all around. One of the better DJs and individuals we have come across. Just wish we would have extended th night by an hour!!!"
-Arvind Stokes, Viansa Winery, June 8
"I had to write and let you know what a great time we had with Kevin…could not have found a more perfect dj for our group or reception. He had the perfect personality, chose great music, entertained but wasn't obtrusive and made everything fun. All of my guests commented on how wonderful Kevin was and how much he added to the event. You guys have been so professional and easy to work with. Please let Kevin know that I wrote to give my thanks even though I told him in person…..fabulous."
-Tracey Dellacona, Ritz Carlton Half Moon Bay, May 18
"Thank you for the follow up. WE had an outstanding time. Actually, a better than outstanding time and Kevin was a large part of it. He kept the crowd involved at all times, was totally accommodating, and kept the event rolling. I really appreciate it and my family did as well. "
-Eric Ghisletta, Lafayette Park Hotel & Spa, May 11
"Kevin was awesome!! The place rocked all night long. We will definitely be calling you back again for next year and might even have a few other things to use you for throughout the year. Thanks for everything!"
-Glenn Smickley (California Golf & Country Club), California Golf & Country Club, April 20
"Kudos, kudos and more kudos. Kevin was amazing. Perfect music selection that increased the fun part of the event and great timing in following the script. He is also a very nice and respectful individual. We thoroughly enjoyed having in the DJ role."
-Mike Levin (Digital Analytics Assoc.), San Francisco Marriott, April 16
"We had a fantastically successful evening and Kevin was GREAT!!!! He kept the party going and we were AMAZED how many people got on the dance floor and STAYED on the dance floor!!! He had a great sense of what the crowd wanted and when people started thinning out he would fade the song out and rev up with something that kept the party going!!! It was unprecedented how much fun was had by our community!!! 🙂 I am closing out this years auction party binder and will keep all of your information front and center for our next event!!! "
-Allison Pickart (Ross School PTA), Branson School, March 16
"Last night was great. Super job on Kevin's part. It was a wonderful time with lots of dancing Thanks for everything"
-Leanne Parsons (National Charity League), Claremont Resort & Spa, March 10
"Kevin was great. He got people dancing which was our main goal– even had a song that friends of ours requested he play: Take This Job and Shove It! Thanks to Kevin for his help in creating a great party!"
-Mary Selkirk & Lee Ballance, Hillside Club, March 2
"Just got back from our honeymoon and would love to say more when I am less tired! But for now, lets just say Kevin rocked the house!! The wedding was the best it could have possibly been, and Kevin and you guys are a major part of it! I can't thank you enough…..we are more than pleased. More to come later….lol!"
-Holly Eddington, Omni San Francisco Hotel, January 26
"Kevin did a good job and very accommodating. Yes, the buzz was very positive. People who could not make the party wished they had been there! Several of our employees were happy that I chose Denon and Doyle because they had used your company for their weddings. In fact Kevin was the DJ for one of them."
-Charlotte Ferree, Computer History Museum, January 19
"Please extend our huge appreciation to Kevin, who is such a talented DJ and is just a pleasure to work with. This is about the fifth time we have had him DJ at our employee party and each time he does such a great job playing the perfect songs to get everyone up to dance and making everyone have such a good time!! This year he definitely once again made our party very fun with the perfect music mix he played and he just did a great job keeping things so lively. Thank you so much Kevin!!!!"
-Sharon Zimmerman, AT&T Park, January 4
"Just wanted to check in to say that Kevin was absolutely great last night. Please let him know how much we appreciated his hard work. He has a wonderful presence, and he followed our instructions to the "T" – great sense of timing in ramping it up."
-Amy Bates, Palace Hotel, December 16
"The party was great and everyone had a great time. Thank you to Kevin for being our lead man! He is awesome! I will post a review on Yelp and recommend to anyone looking for your services. Thank you again! We will contact you again next year!"
-Chrissy Hansen, Concord Crown Plaza, December 8
"Kevin did an absolutely fabulous job and I heard several comments about how great the music/atmosphere was."
-Samantha Rogers, The Flood Mansion, November 28
"The wedding was great! I thought kevin really did a nice job. He wasn't overbearing but provided a great mix of music that got folks (even me!) Up and dancing. Thanks for the great service."
-Mark Burnett, Lafayette Park Hotel & Spa, November 18
"We were very happy with the DJ and lighting for our wedding. Kevin was awesome! We loved the impromptu shoe game."
-Evan Silverberg, The Gardens at Heather Farm, October 14
"Thanks for checking in. Everything went well at the wedding, and Kevin did a great job — thanks so much!"
-Kathleen Holthaus, B.R. Cohen Winery, October 13
"Our wedding was awesome and our family and friends loved, loved, LOVED the music and Kevin!! We got loads of compliments about our DJ (even during the course of our wedding day) and everyone had a great time. We really like the fun game Kevin had us play (using our bride and groom shoes to answer questions) and our families had a great time dancing the night away.
We've definitely been telling all our friends and family about D&D.. A few even asked for the company name during our reception.
If we were to do it all over again, we'd choose D&D every time! Thanks for making our wedding a wonderful event and please thank Kevin and Felipe for being such wonderful DJs/MCs!!"
-Rachel Franz, Piedmont Hall Community Center, September 23
"As for Kevin…….he did an outstanding job for our special evening. We received many compliments on how Kevin ran the evening from the music, playing musical chairs which was a hoot & which guest at each table would get the centerpiece….I would have Kevin again & I would also recommend him & your Denon & Doyle."
-Carole Jenkins, Concord Hilton, September 14
"Everything went wonderful. Kevin even made a very special song accomodation for the men that just made their night. And the game with the shoes was a hugh hit! Thank you and Kevin a millon times for making our special night so great!"
-Melanie Shinn, Mountain Terrace, September 9
"Thanks for following up. Everything was excellent and our crowd had a great time. Kevin did a wonderful job! We can't thank him enough! We hope he had a great time DJing the event. Thanks so much!
-Alycia Cunha, Alpine Hills Country Club, August 24
"Family has finally all headed back home for the weekend, and we were really happy with Kevin and the wedding overall. Lots of fun had, plenty of dancing and he handled our needs quite nicely- including a few request from family. "
-Jessica Glass, Murrieta's Well, August 4
"The DJ and photo booth were huge hits! Kevin did a fabulous job working with our guests to make sure they had a great time on the dance floor. He was also just great on the mic MC-ing the whole reception. Michelle and I cannot stop reminiscing about how great Kevin was in making our reception so memorable for us and our guests. If there is anywhere you'd like us to formally write great reviews for Denon & Doyle and Kevin Hartman, please let me know. We will very gladly do so!"
-Kevin Wu, Mark Hopkins Hotel, July 28
"Thank you so much for everything! Our wedding was amazing and the music was great. The dance floor was packed all night. Kevin was great at moving everything along smoothly and kept the great songs coming one after another. Thank you so so much for all of your help."
-Cassie O'Connor, Kunde Estate Winery, July 21
"Definitely tell Kevin that he was great and we were very pleased. We got a lot of people who told us they thought he did a great job and we agreed. His assistant was also great!"
-Eric Diamond, Castlewood Country Club, July 14
"Everything was perfect! Thank you so much for all your help, our day couldn't have been more perfect."
-Jennifer Gray, Madrona Manor, July 7
"I have nothing but positive feedback to share. Kevin did a fantastic job incorporating our selections and keeping the energy up and the reception moving right along. Several guests (and even the wedding photographer) told me the music was the best they've heard at a wedding. Thanks again for helping to make the event a success. We'd surely recommend you to our friends and family for future events."
-Valerie Streit, Wente Vineyards, May 20
"Everything was lovely thank you so much! Kevin was a great help – he gave us some good suggestions for re-ordering events during the reception and of course the music was fantastic. Several of my guests commented on how good the selection was :)."
-Christina Mallory, Sir Francis Drake, April 15
"Thank you very much for your email and checking in. Our wedding was really nice and fun all thanks to Kevin. Words can't describe how much we appreciate everything Kevin did for us on our special day. We were really impressed by his DJ/MC skill (went so smoothly!) and most of all his amazing skill in paying attention to every little detail. We could be on time (schedule wise) all thanks to Kevin.
Our guests are still talking about how much fun they had at our wedding and how awesome the DJ was. We got so much compliments all thanks to Kevin! Thank you so much for making our special day even more special and unforgettably fun. We are so happy that we chose Denon & Doyle. That was the best decision we made in our wedding planning (without exaggeration)."
-Ji-Yeon Shin, Crowne Plaza – Foster City, March 31
"Kevin did a great job. The music was great, good mix, everyone enjoyed it. Thank you so much for a wonderful job."
-Robert Garfield, Admiral's Mansion, March 24
"The party went so well that we ended up extending it for another hour and a half on Saturday night! Jason was a crack-up…and people have already told me that I need to be sure to have a photo booth at next year's party. Our DJ, Kevin, was also really good. I was amazed at how many people actually went for the karaoke…it was one of my only unknowns that night since we had never done that before. All in all, it was a great evening and your guys really contributed to making me look good!"
-Kelly Moriarty, ERIN Engineering, Campo di Bocce, February 11
"Thank you very much! The day was absolutely magical and we were extremely happy with Kevin as our DJ. THank you for everything!"
-Angie Kalousek, San Francisco City Club, February 5
"I wanted to thank you for a great DJ and Photo Booth. The party was a huge success and everybody here at ANACOR is raving about it… The DJ was off the hook. Dance floor was packed!!"
-Theresa Lonegran, Anacor, Kohl Mansion, January 20
"The party went really well. Kevin did an amazing job setting up the speakers in two different rooms, playing great music mixes and creating a fun atmosphere for our employees! He was great with playing music sound bites during the speeches and raffles too. Our employees had a lot of fun with his "let's make a deal" games!! Thank you so much Kevin!!! We love having you at our employee parties each year."
-Sharon Zimmerman, Director of Events for the San Francisco Olympic Club, Westin St. Francis, January 13
"Kevin was great – he was on time (early in fact) he wasn't' demanding or obnoxious . He just played great music and kept things going. It was one of those parties for a DJ (that I would think was boring and not at all fun for him) but he worked out great for the night and we'd definitely ask him back especially when we wanted to let loose a bit."
-Ann Baker, Comet Tech, Company Campus, December 16
"Our party went really well! People LOVED the photo booth and surprisingly everyone got really into the Karaoke. Alex and Kevin were both very easy-going and patient with us and kept the party flowing. We wished we had another hour just to dance since the music Kevin was playing was so good. We had a great time with the different props for the photo booth and are eager to see the online photo album. I've copied the other party planner to see if she has anything to contribute but overall, great time! Also, we appreciate that everything was set-up and ready to go before the party started."
-Natalie Bovee, JP Morgan, Tres, December 15
"The reception at the club was fantastic – especially given Kevin's professionalism, ability to read the crowd, calm demeanor and attention to the order of events — even suggesting some last minute tweaks to make sure the moments were captured on video. Kevin definitely had the crowd dancing to the end! Again, many thanks to Kevin & the entire team for a terrific event."
-Jennifer Hunt, St. Francis Yacht Club, November 5
"Thank you for your email! We had a fabulous wedding, thanks to Kevin! Everyone had so much fun, and the dance floor was packed."
-Heather Richey, Presidio Golden Gate Club, October 22
"Our friends and family had nothing but wonderful comments about the DJ, photobooth and lighting. Everyone commented how nice the booth was compared to others they have seen and how great the quality of the pictures was.
The overall experience working with Denon & Doyle was far beyond my expectations and I will be sure to recommend you to anyone that needs a DJ/photobooth/lighting. I also look forward to working with you again in the future. Please pass along our thanks to Kevin and Richard -they were both fantastic!!"
-Ana Laborde, Mountain Terrace, September 16
"The wedding was great and Kevin was absolutely wonderful! I would highly recommend him to friends. …but Kevin was an exception. He was friendly, outgoing, funny, played great music and kept the wedding schedule on time. We were so happy he was our DJ and wouldn't change a thing. Our guests really enjoyed him too. And Denon & Doyle in general was great! You guys have been wonderful from the beginning."
-Amanda Chartier, Hotel Valencia, September 10
"We could not have been more pleased with kevin. he was terrific–did exactly what we requested, lively, fun, and professional. and a complete joy to work with."
-Adam and Sumana, Villagio Inn & Spa, September 4
"Thanks so much for your e-mail! Kevin was great and the guests had a great time. I couldn't have asked for a better wedding. Thanks!"
-Nicole Meyer, Corinthian Yacht Club, September 3
"Thanks so much for the note and for following up. Sorry for the delayed response as we've been on our honeymoon. We had an absolute blast at the wedding and so did ALL of our guests. The party could have easily gone on longer! Kevin did an amazing job… especially with the grand finale last song consisting of a Pearl Jam sing-along and also allowing Laurent to sing Live Evil's song on a mic. It was just so much fun!
Anyhow, I wrote reviews on Yelp and Wedding Wire as follows:
Kevin was fantastic!
Denon & Doyle provided our Wedding Ceremony music, our Cocktail hour music, Dinner hour music, and of course our Reception music – DANCE PARTY!!!
We got so many positive comments from guests of all ages, who loved the music at all of the various points of the wedding. Everything was digital and super prepared. They made sure to have all of the exact versions of the specific songs that we wanted to use. Kevin had some great suggestions for getting our guests up and out of their seats and also for various songs to use at different points. We could have danced all night!!! It was a blast and a lot of that was because of the great music.
Thanks so much Kevin & Denon & Doyle. If we ever need a DJ again, we know who to call!"
-Meghan O'Neill, The Thomas Estate, August 27
"Thanks to both Kevin and Austin, they did a great job. It was a really fun party. We would definitely request both of them again next year. Thanks also to Austin for editing some of the photos out of the link. It is funny to watch the progression from the beginning to the end…
I tipped them both with the overtime authorization form."
-Gina Castro, Osterweis Capitol Management, Ritz Carlton Half Moon Bay, December 3
"Nice job by Kevin and Justina. There was a positive buzz and guests had a great time. As always, I enjoy working with D&D! Kevin is very professional and it shows in his performance. It was great to be able to trust him and feel confident with his choice of music. Also he knows when not to play. His introductions & announcements were also appreciated. He is a pro! I would definitely recommend Kevin and hire him again"
-Deborah Mann, Rock Wall Wine Company, November 12
"Thank you for your follow up. Our reception turned out to be a raving success. Our group can be a bit unpredictable at this event and with very minimal direction, Kevin really came through. He followed the lead of the group and kept them on the dance floor well into the evening. He was wonderful and it was great to work with him! We hope to have him back when we return to San Francisco in 2015!"
-Akena Better, SF City Hall, November 6
"Kevin did AMAZING! He was wonderful. Please tell him thank you very much from Luke and myself. We had a truely fantastic wedding and a good part of that was thanks to Kevin. The music was fabulous, everyone had a great time dancing. People of all ages were out there on the dance floor. Kevin also helped kept the wedding on time and running smoothly. We are very pleased and couldn't recommend a better DJ !"
-Holly Sanford, Round Hill Country Club, August 6
"All was excellent. As you know, Kevin is fantastic. I am so glad that we were able to get him. He was kind enough to meet with us two times before the big day. We met once about a month out and once the week before. This calmed me down a lot and made me comfortable that everything was under control. He offered a lot of great ideas and was also very accomodating when we had our own opinions of how things should go.
Day of he was equally as great. It was so nice that he was there so early. That allowed us time to communicate with all the people who would be using the audio systems (readers, singers, etc) when we had a minute (rather than making a thing of it and inturrupting other activities). He was super responsive to the crowd and to our request lists. It was an excellent party and everyone had a great time.
Also, love your guy's showcase. Super helpful. I am really glad I chose you guys and even more glad that we went with Kevin."
-Susan Findlater, Gardens at Heather Farm, July 30
"Everything went SO well. I def want to put time into another AMAZING review for Kevin/D&D. Still need a little time to get settled back in, after the wedding whirlwind. But if you haven't heard back from me in about a week, feel free to shoot me another e-mail.
Thanks for your good wishes! Much appreciated. And we're SOO OO OO OO happy we chose D&D/Kevin. HUGE part of making our wedding so fun."
-Sumalee Montano, Brazilian Room, June 18
"Kevin was great! He deserves a cookie. It went very well. We really appreciate all of your dedication and comfort you, your company and employees have provided for us these past weeks. you've made it a wonderful experience during such a chaotic time. 🙂 thank you. we wish you much luck! and good business to keep your way."
-Amber Alexander, Kohl Mansion, June 17
"While I didn't stay for the entire dance party I was told it was "off the hook" so that's fabulous feedback. Please thank Kevin for us and we will definitely use you again in the future and I will definitely recommend you to other assistants at McKesson."
-Stacy Elias, McLesson, Cavallo Point, May 12
"Thanks for everything, Kevin Hartman did an outstanding job. He really got our guest up to dance, and they were a group that doesn't dance, so great work!"
-Misty Horkey, Presidio Golf Club, May 1