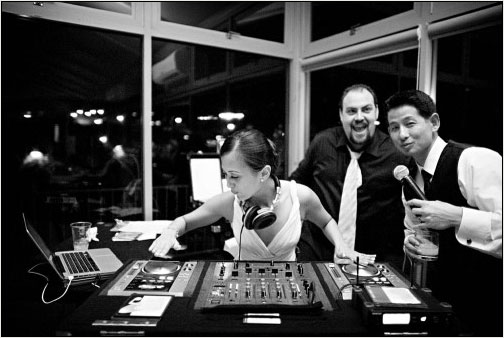 A Cowboy on a mission
Some people are fortunate enough to pick their own careers, and sometimes the career picks them. For Chris Mowery, it's as if each of life's stepping stones led him to become a Wedding DJ. He would attribute some of his most significant life experiences to Providence. Literally. Chris attended Providence High School in Burbank (a fairly significant commute from his hometown of Santa Clarita) and, aside from a great education, received some considerable experience in production audio through various performances at his school. For the man they call Cowboy, that experience would prove to be very valuable.
After a life detour that saw him move up to Northern California to attend St. Mary's College (he is still a basketball season ticket holder though he lives 300 miles away) and work virtually every customer-service job known to man, Chris would answer a Craigslist ad for a professional audio technician for Denon & Doyle, the leading DJ company in Northern California. He walked in expecting his production experience to prove useful and walked out a Wedding DJ in-training. "The owner saw something in me I never really did. Two days later I went on my first event as a trainee and absolutely fell in love with Weddings," recalls the self-admitted hopeless romantic. Cowboy found his calling, and Cowboy got good. Very good. In fact, there may not be a DJ invited to more after-parties or to get more Facebook requests from brides & grooms than Chris. "It's a weird intangible I've never been able to put my finger on," he says in attempt to explain the phenomenon, "but I like to think that I've just been blessed to work with so many awesome people in my life."
It's a rare combination of easy-going professionalism that makes him such a hot commodity in the wedding world. Maybe it's the Southern Cali upbringing that nourishes his "mellow." He's certainly no stranger to the coastal way of life. When not DJ'ing or playing soccer, you'll find him on the beach. Shoes off Tunes and Cowboy hat on. It's that fusion of beach and music that got him his nickname and the reputation of a top-tier Wedding DJ. His list of previous clients is pretty impressive, but you won't catch him namedropping. See, Chris isn't about bragging or boasting, he is about the people. Whether it's working with teens through his church or making sure brides & grooms have the happiest day of their lives, his passion is to help. And while it's true that some people are fortunate enough to pick their own career, there are a growing contingent who consider themselves fortunate that Cowboy's career chose him.


"We did have the best day ever! Chris was absolutely amazing, went above and beyond for us. We couldn't have been happier! He kept our drinks full, surprised us with games and kept the crowd happy all night. We will be recommending him to anyone and everyone who needs a DJ. Thanks so much for everything!"
-Annelie & Michael Briones, Oceano Hotel & Spa, October 11
"Chris was awesome. He never let me stay thirsty and the party never missed a beat!  I would recommend him highly to anyone wanting to have an entertaining and well spoken MC.  He played great music and kept the schedule right on time.  Even my Father In Law loved him and that says a lot! Thank you guys again and give Chris our best!"
-Cody and Amy Morrison, Lafayette Park Hotel & Spa, September 20
"Chris was a delight to have DJ/MC the reception at our daughter's wedding. He played the songs that we wanted and got us through the evening on target. He was a full delight to work with. We have two more children getting married this year and we WILL be contacting Chris! What impressed me the most was his thoughtfulness in taking good care of the bride's parents, Brent and I, always making sure that we had what we needed. Very thoughtful!  I highly recommend Chris! A pure joy and delight!"
-Catherine Johnson, Napa Valley Country Club, August 24
"I just wanted to let you know that you did AMAZING work at the wedding and I couldn't have asked for anything better.  Your style was exactly what Tony and I were looking for and everyone had an amazing time.  We literally still have people coming up to us and saying that our DJ was the best!  Our wedding party especially was very taken back at how attentive you were to their needs.  We really appreciate you doing that. You surpassed my expectations a thousand times over.  Thank you so much for making that day a day that I will remember for the rest of my life.  There are not enough kind words in the dictionary that would actually describe how I feel about you and Denon and Doyle.  The photobooth was amazing and the elegant lighting added so much!  I was just so honored that you were able to be a part of the wedding.  If there is anything that I can do for you, please let me know!"
-Emily Gomez, Hiddenbrooke Country Club, July 26
"Fabulous. Chris went above and beyond to make our day fun and stress free! Everyone could not stop talking about how great the DJ was and he even whispered directions to us during cake cutting. WONDERFUL experience and we are so thankful toh ave chosen Denon & Doyle!"
-Erica O'Brien, Delta Diamond Farm, July 5
"I don't have Chris' email address but he and his assistant were fantastic! Was definitely worthy flying him here from LA for my daughter's wedding. Please let him know how much we appreciated all his hard work and fun! He made the celebration so much fun! (Loved the "shoe game"!!!) Would not have run so smoothly without his hard work. Thank you all for making Shelley and Mike's wedding absolutely the best ever!"
-Tracy Sanborn, McInnis Golf Club, April 20
"Everything was perfect! We LOVE Chris and Abe! They are so easy to work with and make our job that night so much easier knowing we are in good hands. They work so well together and are great with our crowd. They offered a lot of good ideas that night, and some for us to use going forward. Everyone had a fun evening and we had great success at our auction. It is always a pleasure working with you."
-Lea Harrington (Strandwood School), Contra Costa Country Club, March 2
"Chris was an awesome DJ!!! We could not have asked for a better MC for our event…all of the services provided by your company was spectacular!!! Thank you again for helping us create a fun and memorable wedding!"
-Melissa Souza, Sequoyah Country Club, November 3
"We had such a wonderful experience with D&D, from beginning to end. To start, the showcase that you guys offer is great. An excellent idea that we found very useful. We used a lot of ideas from that on our big day. Then, the owners were so accommodating and extended us the 24 light package for the price of the 10 light package because of our off season wedding date.
As for Chris. He's the best. We didn't get the chance to talk to him at the showcase, but booked him on his reviews alone. And boy were they right. Not only was he very approachable, responsive, helpful and reliable, but he was so thoughtful on the day of the wedding. I felt like he was my maid of honor! He held our drinks while we took photos, he filled up our glasses, he walked us thru the whole cake cutting and constantly checked to see if we were OK. And I haven't even gotten to the music part!!! Our wedding was one epic dance party. Thanks very much to Chris. He started with hits from the 60's to include the older crowd and by the time he started playing the top 40 they were hooked and never left the floor.
All in all, I would recommend Chris to any one for any event, but especially to any couple getting married. He not only made me and Bobby so comfortable and calm, but all of our bridal party and our parents. That's big.
So thank you for everything that you, your company and your staff did to make our wedding so wonderful. We sincerely appreciate it. Good luck and I hope to see you at future events."
-Bobby Baksa, Bridges Golf Club, November 2
"Chris was phenomenal! He exceeded all of my expectations. Went way above and beyond… I am completely blown away by that guy. He was more than a DJ to us… He was like the acting event coordinator, food server, photographer asst., keeping us up with the giants score as well…(world series baby!!!) He is beyond awesome. He played all the good songs and did a good job hosting/MCing the party"
-Maria Asuncion, Grand Island Mansion, October 19
"Thanks for checking in- everything was wonderful!!! Chris made our wedding so much fun- I can't tell you how many guests I had comment on how great our DJ was!! Please do pass that along to him;)
I also has a few single girlfriends tell me that they will surely be hiring Chris/D&D when their wedding day comes;-)
The other D&D crew were great as well- nothing but rave reviews from us on everything from Denon & Doyle! The photo booth was SUCH a hit!!
We will definitely post reviews on some of our favorite sites- yelp and wedding wire. If there are any others you'd like us to post on, please let us know. It's the least we can do!"
-Lindsay Gage, Mira Vista Country Club, September 29
"The wedding was amazing the the Chris did an excellent job. He did a great job coordinating with the photographer and the other vendors. He kept us on schedule by providing much needed guidance. The event and ceremony went by quick and it was great to have someone to keep up on track and keep the party going. I would recommend Chris to all my friends."
-Chris Ljungkull, Bridges Golf Club, September 21
"But it's really important to me that you know what an amazing job Chris did as our DJ! He was the first person to greet me at the reception by offering me a cocktail, which I greatly appreciated because I literally never had a chance to make it to the bar myself. He always made sure there was a cocktail in my hand, as well as the maid of honor's. He laughed and joked with the bridal party and really put the MOH and Best Man at ease before their speeches. He was upbeat and lively the entire time and really knew how to get my guests into the party mood. He was the one who really set the party atmosphere and I know there would not have been as many people on the dance floor if it weren't for him. He was out there dancing and having fun along with the rest of my guests which I really appreciated. I know not all djs like to get up and dance themselves. I loved every single song choice he made and the dance floor was packed the entire time. I really cannot say enough good things about him and he went completely above and beyond as our DJ! A regular DJ would have just played the music, but Chris really was the live entertainment for my guests as well as the orchestrator of the entire wedding. I literally received compliments all throughout the night on the DJ!!! Of all my vendors, I really was the most impressed with him."
-Megan Korbel, Silverado Country Club, September 8
"I have to say that Allison and I had a FANTASTIC time at our wedding. I can not say enough of how appreciative we are of Chris. From the initial planning of the music to its execution on the day of, he was spot on. Perfect. Absolutely PERFECT! We were especially surprised as to how attentive he was with us. He stayed with us during our photo shoot and made sure we had food and drink. He waited on the entire wedding party, directing the hotel staff if there were needs to be met. Our entire group was still speaking highly of him on Monday:"He was the DJ…are you kidding me?" was all we heard. And of course, the music. Wow! Chris is a true professional, you are lucky to have him represent Denon & Doyle. I can't thank him enough for making our very special day, one that will be talked about for years to come."
-Jon Jones, Lafayette Park Hotel & Spa, September 2
"Chris and Rick did a fantastic job. My daughter said it was her dream wedding and everything was perfect."
-Rick Barrett, Sequoyan Country Club, September 1
"Your intuition is correct and there is a great buzz among our guests, even a week after the wedding. Chris was AMAZING. He truly went above and beyond in so many ways, and our guests were raving about his style and music selection. We first met after the ceremony (for which he arrived early and introduced himself to my groom), and the first thing he did was offer John and I water and held my dress in preparation for our pictures. He was really friendly and easygoing and a snazzy dresser, to boot! He did a great job of directing our guests to where they needed to be at the right time without being pushy and I never felt he was overbearing with his microphone use. I have a friend getting married in April and I have already passed your name on to her and told her "GET CHRIS!" He was wonderful and our ceremony and rehersal wouldn't have been the same without him!"
-Lesley Oullette, Forest House Lodge, August 31
"Thank you so much for sending this. We LOVED working with you guys. Chris and Rick were fantastic!!!!!! Everyone loved the music and thought the photo booth was so much fun. The only thing that i thought I would mention is that some of my guests didn't know the photo booth was in the room because it was in the back corner. I don't think that was your fault as I had asked my Day of Coordinator and Betty Ellen from the hotel to decide where it was going to go since they knew the room the best.
Really the only reason I mentioned it was because you asked. I wouldn't have changed a thing!!!"
-Denise Auerback, Here Comes the Guide, Intercontinental Hotel Monterey, August 24
"Just wanted to say THANK YOU so much for being the best DJ ever at our wedding! You exceeded our expectations and threw an amazing dance party. Thank you for keeping Seth and I hydrated with drinks, walking us through the evening (especially the cake cutting!), and just being all around fabulous. Seth and I especially LOVED the shoe game (you got me good!:)) Safe travels to LA and we will definitely be giving our friends in SoCal your name as the best wedding DJ:)."
-Seth and Casey Humphreville, Napa Valley Country Club, August 18
…more from the Mother of the Bride…
"What a fabulous reception, with Chris being a major contributing factor! He was very punctual, professional and went above and beyond by getting bride & groom much needed "beverage" while photos were being taken. Casey & Seth had actually met with him on 2 separate occasions so he really got a good feel for their taste in music as well as personalities & selected the random choices accordingly. He was a key factor in trying to keep adherence to the time line & gave them good pointers on how to meet & greet guests! We were very impressed with Chris, as well as the overall professionalism of you staff, and would highly recommend to anyone who asks! Thanks again to all-especially Chris!"
"I must say that our wedding ran a lot smoother having you there to direct everything!!! We especially liked the surprise shoe game! I received many compliments about you and I made sure they all knew who you were and will refer you. When do you make the move again? Thank you so much for everything you did and we could not have done it without you."
-Janet Morello, Canyon View Dining Hall, August 11
"I wanted to say thank you so much for your help with my wedding, Chris was amazing, he was so helpful throughout the event and kept everything on schedule. The music was great and everyone had a blast dancing. I worked with lots of different suppliers for the wedding and it made such a difference that you and Chris were so easy to work with and did an awesome job at the wedding. It helped me be able to relax and enjoy the day! Thanks again and I'll be in touch soon!"
-Ashley Santos, Vineyard Club, August 4
"Thanks for checking in! We had a great wedding and Chris was great. We actually just reviewed you guys (and mentioned Chris specifically) on Yelp, so that is probably the most specific feedback. Let me know if you are able to find it. We were delighted with how everything turned out and really grateful to Chris for being awesome and just really reading the room and keeping the party flowing. Thanks so much!"
-Anna Martin, Jefferson Street Mansion, July 22
"I cannot say enough good things about Denon and Doyle. Now on to the wedding… From the moment I talked to Addington on the phone to the moment that Chris handed us a CD with our songs on it at the end of the night I couldn't have asked for a better experience. Chris exceeded all my expectations. He took our somewhat complicated vision and made it even better. The flow was perfect, his energy and personality engaged the guests and he even got Dan to dance more than one song. The evening was more than I had ever hoped for and a huge reason for that is due to Chris.
Thanks for everything! I looked forward to working with all of you in the future."
-Alissa Forrest, Piedmont Hall Community Center, June 24, 2012
"It's hard to even come up with words to describe how happy we were with Chris. He is truly amazing at what he does. From the moment we arrived, he was there for us, guiding us through all of the events of the reception. He checked on us throughout the night and made sure we were doing okay. When we went to cut the cake, our cake was infested with ants (I know…..gross!!!!). I freaked out and Chris helped keep us calm. He ran and grabbed two pieces of candy for us to feed each other 🙂 Overall, I could not have asked for a better DJ. I had multiple people tell me how much they loved the DJ and two of my friends who are getting married actually want him for their weddings. Denon & Doyle overall is a fantastic company. I really enjoyed the demo night where we got to come and meet all of the DJs. I don't plan on getting married again of course haha, but if I did I would choose Chris again in a heartbeat! Denon & Doyle is lucky to have him on their team! :)"
-Kate Maduell, Canyon View Dining Hall, June 23
"I'd love to give Chris Mowrey the biggest compliment! He was absolutely WONDERFUL to work with and he went above and beyond his call of duty. While we were taking photos, he made sure we were hydrated and or getting our champagne fix in 😉 Chris was also a big hit with the crowd and got everyone dancing, made sure the flow of our day was on point, and always made sure we were aware of what was going on throughout the night. I can't thank him enough for making our day so wonderful and FUN!!! The music he played was perfect and every song we requested to play was perfectly timed.
THANK YOU CHRIS!!! Please let him know how impressed we were with his professionalism and ability to make our wedding the best night of our lives."
-Lindsay Mine, Casa Real, May 27
"Just wanted to let you know what an amazing job Chris did at the wedding. We have had so many comments about how great he was. The bridesmaids, bride and groom all commented to me that he was there with drinks while they were waiting to enter the reception, and gave perfect instructions on what to do at every moment. He played the songs in a brilliant order, and they weren't too loud or too quiet. He led the evening so well. The shoe quiz with the bride and groom was a favorite. Please let him know that we thoroughly appreciated his skill as a DJ and his care for the people at the wedding."
-David Dubinsky, Sharon Heights Country Club, April 14
"Thanks for checking in. We chose Chris to DJ our wedding after he DJ'd my sisters wedding 6 months ago! I could not be happier with our decision. He kept everyone dancing all night long. Everyone can't stop talking about what a fun wedding it was and I know that is thanks to Chris!! He definitely goes above and beyond!"
-Erin Balthazor, Brazilian Room, April 7, 2012
"The auction was amazing and the "hands-on-deck" did an outstanding job. We really could not have asked for more. They were both very professional, reliable, and effective. Our guests gave us raving reviews! We really do believe that without your staffing we would not have raised nearly as much money as we did. Chris and Abe worked really well together and they both knew exactly what to do and when. It is hard to find people that you trust will do what you are thinking and they both did, as well as offered advice and suggestions that we had never even considered.
Thank you so much and we look forward to setting our next year's date for the event soon so that we may get you all back on the books!"
-Lea Harrington, Strandwood School Lafayette Veteran's Memorial Hall, March 31, 2012
"Just wanted to tell you that you are awesome. We had so many compliments about you. Me personally, I wanted to thank you for being there with me after the ceremony. It was totally not ur job but u guys were there and SO FUN!! Thanks for the drinks and the good laughs!! Here's the bomb picture of us!"
-Dennis Leung, Kohl Mansion, March 24, 2012
"Just wanted to let you know Chris did a great job for us. We have had quite a few family and friends mention how great the music was at the wedding, and all the credit belongs with Chris! We could not be happier with our decision to have him be our DJ!"
-Dave Grima, Palm Event Center, January 26, 2012
"We loved Chris! We got so many compliments on how fun he was and how he played the best music! Our wedding was a blast, thanks in part to Chris! Helen at Sharon Heights recommended him to us and I would recommend him to anyone! "
-Courtnay Leonard, Sharon Heights Country Club, December 17, 2011
"Sorry for the late reply, I wanted to get back to you and let you know that we thoroughly enjoyed Chris and the Flip team. I've heard nothing but great feedback from the guests. Chris was also especially helpful with the fire drill of the no electricity on the island. He remained calm and was able to do the best w/ the limited power. He also did awesome at getting people to move from the bar to sit down from dinner! So please let him know how appreciative I am. We plan on sending in a tip but am a bit backed up right now."
-Andrea Wong, Rothstein Kass, Casa De La Vista, December 3, 2011
"Thank you for writing. Everyone had a great time at our wedding. We were extremely pleased with Chris as our DJ, and the fact that we used D and D. You guys provide a great service at a very reasonable price. Chris followed all instructions and did a fantastic job. He is a great DJ and a great guy. It was everything we wanted. We would gladly recommend D and D to anyone. If you would like anything further from us, please let us know. Thank you."
-Shanna Biederman, Westin SF Airport, November 12, 2011
"Dude you rock! Has anyone ever told you how awesome you are? My "husband" and I. . . that's weird to say still. . . .were talking about how awesome you were. At the wedding, you made it feel like we've known you for years. You always made sure our drink was full (THIS IS KEY), you were super professional, you never questioned our ridiculous song selection (even though someone should have-I should have never let my man pick the first dance!!!), you took care of cuttin' the music early since the both of us Hate dancing, you never displayed the slightest bit of cheesiness, you did the infamous shoe test (which was the biggest hit and our family still talks about it to this day), and you played some pretty awesome tunes. All this wedding crap can be so frustrating, intimidating, costly, and intense. . .not to mention it can bring out the beotch in everyone! People like you make it so much fun and memorable. THANK YOU for being awesome. I'll be sure to refer you to everyone I know getting married"
-Karin Erkkila, Carnelian by the Bay, November 11, 2011
"The wedding went great! Chris did an AMAZING job! He definitely went above and beyond what Brandon and I expected out of a wedding DJ. To be completely honest, he helped make our wedding perfect for us. Our planner disappeared during a time that Brandon and I were unsure what we were supposed to be doing and Chris stepped in and kept us moving forward to get pictures done and stay on schedule. He made sure that no matter what, Brandon and I were having a good time and had what we needed when we needed it.
We have been told by numerous family and friends, both at the wedding and after, that our DJ was the best wedding DJ they have ever seen. Chris played music appropriate for the crowd and kept everyone entertained and informed of what was happening next and where.
There is not one negative thing that Brandon or I can think of in relation to Chris' performance/service at our wedding. I am usually big on giving constructive criticism so I regret to say that I can honestly not think of anything. I believe that there is always room for improvement but can not pinpoint anything and for that I apologize.
We also got alot of compliments on the photobooth. I just wish Brandon and I had made more time to get in there. But other than that, it was wonderful.
Please pass along to Chris and give him our sincere thanks for having a big part in making our wedding day so perfect and better than we ever anticipated! We can not thank him enough!"
-Ashley Hoak, V. Sattui Winery, November3, 2011
"The wedding was amazing, and we got HIGH praises on the music! Chris was fantastic and really got everyone on the dance floor…even my 92 year old grandmother!"
-Stephanie Moss, Viansa Winery, October 22, 2011
"Chris was great! He was super awesome, attentive, and personable! Our guests really enjoyed the music and emceeing he provided."
-Vicky Leong, Boundary Oak, September 17, 2011
"I am going to send Chris a separate thank you as well, but I wanted to let you know how wonderful he was at our wedding. Scott and I loved Chris! Every time we turned around he was there taking care of us, ensuring that the reception went perfectly, and keeping people on the dance floor the entire night. We could not be happier. He brought us a tray of food while we had our pictures taken, made sure we had drinks throughout dinner, helped my friend prepare for her solo at the reception, and did a wonderful job announcing as well as communicationg with Scott and I. We only chose a few songs and let Chris run with the music. Scott and I worried for months that no one would dance at our wedding. We even told Chris about our concerns a few weeks before the wedding. People were on the dance floor all night! They were singing and laughing. Everyone loved the music that Chris played. A month later people are still telling me how wonderful our DJ was and what great music we had. Chris played a huge part in making our wedding the incredible night that it was. We have the greatest stories and memories. We can't thank Chris enough for all of his help, support, and talent in reading the crowd."
-Shannon Mahoney, Gardens at Heather Farm, September 16, 2011
"Thanks for following up! As expected, Chris was fantastic. 🙂 Unlike the photographer, he actually came to the right wedding! (Ha ha!) Seriously though, we had an amazing time and the music was a huge part of that. He got my 85 year old aunt dancing! Unbelievable.
I just posted a yelp review for you guys… Thanks for reminding me! 🙂 Thanks again for everything, Chris made a memorable night into one our friends will talk about for years."
-Julia Cox, Napa Residence, September 10, 2011
"Wedding went great. Chris did a great job…kept everyone dancing all night."
-Michael O'Shaughnessy, Kunde Estate Winery, August 21, 2011
"Now that Carolyn and I are home from the honeymoon, we just wanted to shoot you a note to say thank you again for the role you played in our wedding and reception. In short, you were awesome! We had SO many people tell us throughout and after the wedding that they had such a fantastic time and it was such a great party. Specifically, guests repeatedly commented on how great you were — you chose great music, kept the party going, and truly looked like you were enjoying doing so.
I think for me, one of the best parts was that throughout the reception, friends of mine continuously came up to me with comments like, "Oh, I see you must have picked the set-list" or "I knew you would choose that song," etc. And in truth, had Carolyn and I sat down and made a must-play list of 30 songs, we would have chosen those exact same songs. Yet, we didn't — you just played exactly what we wanted to hear without us ever saying so. This of course, made our night.
Thanks again for everything, we really appreciate it."
-Ben Rosebrough, Merchant Exchange Building, August 20, 2011
"Everything was FANTASTIC. We couldn't have asked for a better DJ than Chris. He was awesome, and everyone let us know that. We wished we could have danced for hours and hours and hours. Thanks for everything!"
-Gina Lenardon, Hilsborough Racquet Club, August 13, 2011
"Hi Chris Hope all is well in your world. We're still hearing about how much fun you made Ash and Nick's wedding and just so you know…I've got two more kids and you're our man lol"
-Kerri Cooper, Wooden Valley Winery, August 6, 2011
"I just wanted to say that Chris was absolutely fantastic. I love to dance and my husband is a musician, so music was very important to us for our wedding. Chris was amazing not only with keeping the dance floor full, but also with making sure we both had time to eat, coordinating our entire reception, and keeping our glasses full. I so appreciate everything he did for us!"
-Carolyn Bangasser, Bridgeport Clubhouse of Santa Clarita, July 8, 2011
"Chris rocked the house. He was accommodating, and treated us like royalty. Family and friends thought the shoe game was simply outstanding (and many of them had never even seen such a thing ever performed). Chris came strongly recommended and did not disappoint one bit. Chris is the man and we are so happy that we chose him and your company."
-Brian Rochford, Bridges Golf Club, June 26, 2011
"We just got back to the house after spending the week in Calistoga and wanted to say thank you for everything. The ceremony/intro's/music/and overall vibe was perfect and we have been playing our wedding CD constantly. The photobooth was super fun and Rick was great. We had a blast going through all the photo strips the next morning. It really was the best day and we are truly grateful for all your help. Hopefully we can get together for another event in the future. If you haven't already done so, find Erin on Facebook if you want to take a peak at any of the photos. And please let us know if you ever need a new addition to your references."
-Jesse and Erin Lutsko, Lutsko Family Estate, June 25, 2011
… more from the Mother of the Bride…
"Now, you know we requested Chris Mowrey for the second time, so I'm not about to say anything negative about him or what he could have done better. We want Chris in our family! When Chris arrived is when I knew I had nothing to worry about. He is completely competent, professional and self sufficient. He always pitches in and both my daughters and son in laws consider him a friend. He manages a crowd well, and creates and excitement and party atmosphere that keeps the party going.
The photo booth was a complete hit. I wasn't sure when Erin said she wanted a photo booth that it would work at a wedding. Boy, was I wrong. You can tell from the photos how much fun everyone had. And as I said, Erin and Jesse consider Chris a friend and the proof is that there is a photo booth shot of the bride, groom and Chris!!
I just met Rick for the first time. He too is an angel. I wish I had more girls getting married so this relationship doesn't have to end. You can be assured that I will recommend Denon and Doyle and particularly, Chris and Rick to anyone I know who is having an event. Shoot, Ron and I might have a party just to get you all back.
Thanks again Brian for running such a reliable, professional and fun entertainment company."
-Sandi Lutsko
"Thanks for the email. I just wanted to tell you how pleased we were with Chris being our DJ on Friday. He was amazing! He not only did a fantastic job with the music and mc-ing, but he took such great care of Kevin and I throughout the whole night. We loved him. We've had many people tell us what a great job our DJ did, and I would highly recommend him to anyone who wants a fun, organized, friendly DJ :)"
-Marci Lanfri, Palm Event Center, June 24, 2011
"We would just like to thank you so much for your hard work this past Saturday. You far exceeded our expectations. We were quite upset at the service provided by the Bridges staff that day for multiple reasons, but you really came through when they did not. Thank you for not only being a great DJ, but also for taking care of the head table by making sure our glasses were full, providing champagne when we didn't have any, for tracking down the toss bouquet, for guiding us through our cake cutting, and countless other things you did for us. People haven't stopped talking about how great of a DJ you were!! We can see why you are in such high demand! Oh, and we love our collection of wedding songs that you thoughtfully put in CD for us!!"
-Mei and Ian Pascua, Bridges Golf Club, June 18, 2011
"It was all terrific! Both Chris and Abe were great…followed through perfectly will all of our requests and Chris really engaged the kids with all kinds of games/antics. They were so good and I barely got over to enjoy their performance. But I was especially grateful they never really needed me for anything…they were on complete auto-pilot. Unfortunately for me, I got stuck handling quite a few discipline/behavior issues that night which is a bummer but I guess inevitable given the age group. I have already highly recommended you for next year. Thanks for the follow-up"
-Kim Stevens, Joaquin Moraga Intermediate, June 9, 2011
"Chris did an AWESOME job! We couldn't have been more pleased with him and our guests felt the same way. He really made the entire event run smoothly and helped out with our plan B due to the rain. He is the best DJ I have ever seen at an event. You should pay him more :)"
-Kelly Schuessler, Vine Hill House, June 3, 2011
"Chris did a fabulous job at our wedding! He was so easy to work with and he really helped us to keep everything in order on the day of. I was pretty excited to work with him after reading his reviews online, and he definitely did not disappoint! Everyone has been telling me about how great he was… from grabbing us drinks, to helping us with the cake cutting, to playing great music… he was wonderful!"
-Kristin Ochs, Casa Real, May 28, 2011
"I have been meaning to write this to you since pretty much the end of the wedding. Scott and I just wanted to thank you so much for all you did for us the day of our wedding. I felt like I had a personal assistant because you went so far above and beyond your duties as our DJ. You really took care of us all night from getting us drinks to walking us through our cake cutting experience, you were awsome! Thank you so much for cueing us to the music it helped me a lot and just you being there made me feel so much more calm. I had such a great time and one reason is because you made that possible for me to really relax and enjoy my day. So we just wanted to say a big thank you for all of that."
-Shannon Brazil, Round Hill Country Club, May 21, 2011
… and from Janey Brazil, Mother of the Bride…
"I just wanted to give you a heart-felt thanks for the wedding last weekend. You really took the best care of Shannon. After talking to you before the wedding about you being able to cue her for her walk, she was much better. She was so frustrated with the Round Hill people she wanted to cancel the venue, (not the wedding). After talking with you, she felt so much better, so thanks for that! Your DJ skills were outstanding and everyone loved the shoe game. So many people came up to me and complemented your DJ services. Shannon is in Tahiti for 2 weeks so she is out of touch, no wireless and the internet is VERY expensive so they are staying clear of the computer except for emergencies. I just wanted to touch base with you and say thank-you for everything. You couldn't have done a better job! (I know you probably are so busy and don't need any more business but I would strongly recommend you to anyone getting married!)"
"Things went great! We pretty much went through the entire day without any hiccups! I would like to say, Chris did such an amazing job! We are absolutely thrilled with what he did during the day. Not only was he our DJ, but he was getting us drinks, making sure things were on point, etc. He was also very engaged with the crowd and was showing some energy! We could not have been any happier with our choice in DJ and DJ company. Thanks again for anything and D&D will be the first thing off our tongues when people ask for any DJ advice!"
-Neil Kee, The Flood Mansion, April 16, 2011
"The party went very well. Chris did a very nice job. Low key and helpful with moving things along. We were very impressed with the entire evening."
-Kathy Jacobsen, Claremont Resort & Spa, March 26, 2011
"Chris and Richard did a great job. They helped move things along when it was appropriate, and let things alone when they should. Chris was on top of everything – the music as people entered, handling the toasts, running the first dance, getting the party going with the right music, mixing in some Bollywood pop/ hip hop to get folks out on the dance floor. A good number of my friends came down from Portland, and they all commented that a DJ there would not have had the sense to bring Indian pop, much less play it. I can't imagine when I would need a DJ again, but if I did I wouldn't even bother looking around next time, I would just ask if Chris could do it."
-Don Newell & Jessica Young, Four Seasons Hotel, March 5, 2011
"I didn't know your email so I'm sorry this is late. I wanted to let you know how much we appreciate that you were able to DJ our daughter's wedding. WE continue to get HUGE compliments on how great you were. The dance floor was hopping all night thanks to you. My biggest concern is that most people wouldn't dance. I know my family is a little crazy and would get out there but I didn't know about the rest of the guests. It was great to see everyone out there having a great time. Including the photographers and my 80 year old mother!"
-Connie Keys, Mother of the Bride, Flood Mansion, January 29, 2011
"Thank you very much! Our wedding reception was wonderful and ran smoothly, largely due to Chris! It was pouring rain and I was stressing out, as our timeline was completely pushed back. Chris spoke with the photographer and helped adjust the evening to make sure that I had everything I wanted. He is a fantastic DJ, I don't think the dance floor was ever empty. Everyone I spoke to told me what a great time they were having and how impressed they were with our DJ. He helped make our reception a great party and very memorable. My younger sister is getting married this fall, and I am recommending Chris to her! Thank you for everything!"
-Cami Bangasser, Odessey Restaurant in Granada Hills, December 18, 2010
"Thank you so much for the fantastic work your company did at our Holiday Party at the Bellevue Club. Chris Mowery was so professional and upbeat. He interacted really well with the audience. We liked the music he played, and appreciated how Chris kept our event on track by announcing speakers and our baby photo naming contest. Chris helped make our event a big success. What a pleasure to work with him!
The Photo [Bar] was a big hit, too, and the photographer did an excellent job with taking great photos of everyone.
It was such a positive experience working with your staff. Even in preparation for the event, your office staff got our paperwork together quickly and answered all our questions promptly and in a friendly manner. We will most certainly us Denon & Doyle for future parties."
-Michelle Siegal, Geosyntec Consultants, Bellevue Club, December 11, 2010
"Chris Mowery DJ'd our wedding last night, and he was amazing. He juggled my annoying music requests with all my drunk friends wanting to sing karaoke, and kept everyone on the dance floor. More importantly, he was a voice of reason and made the night much less stressful for my husband and myself. He was kind of a DJ/day-of wedding coordinator/psychiatrist all rolled into one. The night was perfect, due in large part to everything Chris did."
-Christina Yasi, Heather Farms Lakeside Room, October 30, 2010
"I really can't say enough about Chris. He was AWESOME! We couldn't have asked for a better DJ or a better experience with him. He was great. He was the first person to meet us at the reception, and helped us out the whole night, without being in our faces. I honestly felt, and still feel, we couldn't have gotten a better DJ anywhere in the world for our night. He treated all the guests great, helped out where needed, and of course, played rockin music all night long. If he didn't tell you, he even helped me purchase SF Giants tickets to World Series Game 6 over the internet with his laptop. I don't know if that was in his contract or not, but it was sweet!!!!! Definitely a story to remember about our wedding day. Again, I can't say enough about how much we liked, appreciated, and enjoyed having Chris at our wedding. He helped us relax when we first got to the reception, kept everyone dancing and having a great time, and helped the B&G get to where they needed to be every step of the night. He was nothing short of fantastic."
-Todd DeVries, Marines' Memorial, October 15, 2010
"I wanted to let you know that craig and I were both delighted with Chris. He was phenomenal and we couldn't have asked for a better DJ. He was very professional, organized and helped to make things go very smoothly. Everyone let us know that they had a wonderful time and one of our younger guests (maybe around 14) let us know that she had a great time because we "actually played good music". Chris was really spot on for the night and made our reception very memorable. Chris made us feel at ease and we knew that we could relax because he had everything under control. Thank you again for all the hard work and for making our reception great!"
-Christine Nakahara, Joy Luck Palace Restaurant, October 2, 2010
"Chris was very professional and exceeded our expectations. We wanted the wedding to move along with no long stalls and he executed perfectly. All of our guest loved the games Chris suggested and couldn't stop raving about Chris. Our friends that are already married were kicking themselves for not selecting a DJ from Denon & Doyle. I bet you get some business out of this."
-John Praffrath, Marine's Memorial, September 26, 2010
"We were very impressed with Chris. He kept our wedding flowing smoothly and made sure we didn't have to think one bit! Everyone had a great time and I will recommend you guys to all my newly engaged friends!"
-Tina Duncan, Postino Restaurant, September 25, 2010
"Dear Chris and the Team at Denon & Doyle: Thank you so much for all you did to make our wedding so special! Denon & Doyle was the first vendor we found as we planned our wedding! I still remember attending the evening mixer and realizing that we'd found the right DJ/MC! From the beginning, we appreciated the professionalism and helpfulness of the team at Denon & Doyle. Most notably, we appreciated the help and enthusiasm of Chris. The DJ/MC of a wedding is an integral part of the celebration. Two weeks before our wedding, we attended a wedding as guests and found that Chris was the DJ! It was a great chance to see his style and we knew we were in good hands! When it was our turn to plan, he was flexible with his schedule and spent a lot of time with my family working out our timeline and making helpful suggestions. The games were a complete success and made our wedding so unique! During our reception Chris helped make us feel comfortable and our bridal party enjoyed his enthusiasm. We created a full timeline with several song requests and Chris helped to capture the best of them. The Italian traditions that we wanted to incorporate were welcomed and Chris helped to incorporate them in an elegant and fun way. I intend to follow up my letter with reviews on various websites including: weddingwire.com and yelp. Once I get my photos, I will coordinate a big thank you to my vendors and post it on Facebook. Please feel free to use any of the reviews as testimonials on your website! We'd be honored! Thank you again for everything! You helped make our dreams a reality and the friendly and helpful way that the Denon & Doyle team, especially Chris, took care of us was superb!"
-Victoria Bologna, Concord Hilton, September 18, 2010
"I already sent a note to Chris directly but you too, deserve to know what a great job Chris did. Just like you said at the showcase, your dj's fill in where there is a need. Chris was right there to help out the other vendors, he got us drinks plus he set up the speakers and audio perfectly and thoughtfully in both the ceremony site and the reception site. He was seamless, professional, personable and we loved having him there. He needed no instruction as to what to do or where to do it and we knew we could leave him to do his business and rely on him to do his part. Thank you to all of you for participating in Sara and Steves wedding. BTW, I am the mother of the bride. I forwarded this email to Sara and Steve also."
-Sandi Lutsko, Private Residence, September 11, 2010
… and more from the Bride
"OH MY GOSH! Chris was seriously THE BEST! From the second we booked him at the wedding preview, we knew he was going to be awesome; not only that, each time I was in contact with him, I got more and more excited because he managed to outdo himself everytime. When we met with him, I felt like him and I were totally on the same page in terms of music, and I felt so at ease knowing he was going to be the one kind of running-the-show at the wedding. When we couldn't think of songs to be introduced to, I put it in Chris's hands, and he rocked it – myself and Steve and the entire wedding party haven't stopped talking about perfect and fun his song choices were! And even all the adults loved the music! He did an excellent job of gaging the audience, I have actually had two adults who are planning other events ask me how we found you guys…so maybe you have a couple more clients! Anyway, please pass this message along to Chris, he was fantastic! Thank you for all you have done for us – the wedding was a perfect sucess!"
"Chris was AMAZING! Seriously, he was the best and exceeded all expectations."
-Marisa Borruso, San Francisco City Club, September 4, 2010
"We cannot thank you enough for the wonderful job that Chris and Abe did for our wedding! Chris was absolutely amazing, not only as a DJ and Emcee, but also as a person who was there to get us whatever we needed at any given time…even when we didn't think we needed something. Chris was just in the right places at the right times and it just speaks to his experience in the industry. We have nothing but good words for your company and the employees and have received a lot of compliments from our guests and wedding party about how friendly and professional both Chris and Abe were. The pictures turned out great and everything was just perfect. Chris definitely has a unique ability to adjust things on the fly and just knows when certain things should happen to make the most impact and getting the crowd invovled. While Michele and I didn't get a whole lot of dance time (because of pictures and other stuff) the pictures we saw of our guests showed us a lot and we couldn't be happier with the outcome.
Thank you again Brian and please extend this email to both Chris and Abe. We got extremely lucky to have them both on board for our night and we definitely couldn't have had the "dream" wedding we've always wanted without their assistance. Thanks again!!"
-Tobias "Toby" Curl, Casa Real, August 29, 2010
"Chris was absolutely amazing. He was certainly the best wedding planning decision we made. Extremely helpful and informative. He thought about everything and was prepared before it happened. This guy is phenomenal!"
-Brian Addington, Meadow Club, August 21, 2010
"Everything was truly perfect, dont think it could have gone any smoother. Chris was awesome and such a big help working with Heather and I to keep the night on track. Compliments to Chris and Denon & Doyle, first class all the way!!!"
-Dan Transue, Hacienda De Las Flores, August 15, 2010
"Chris was absolutely incredible. I cannot even express how comforting it was to know that he was keeping everything running smoothly and that whenever I needed anything I could ask him. People from the venue would come up and ask me questions and I could just say, "umm…I'm not sure. Ask Chris." That was a godsend. 🙂
Everyone I have talked to as said it was the best wedding/reception they had ever attended. The games were fun, the dancing abundant, and everything just felt as if it effortlessly fell into place (and I know it took a lot of effort to give off that impression). We will always recommend your company and Chris to anyone and will not hesistate to hire you guys again for future events."
-Jay Jordan, Pacific Athletic Club, August 14, 2010
"Chris was amazing! After our ceremony, he showed up at our pictures with glasses of wine for us and was directing the tray-passing servers to us as well. He did such a great job of keeping us comfortable and letting us know the timeline of things without getting us stressed. He read our and our guests' music tastes with perfection and our guests absolutely loved the game he did with us. We've been getting calls from family and friends for the last couple of weeks with rave reviews about our wedding. When we set out to plan this wedding, our #1 goal was for our guests to feel that this was the most fun wedding they've ever been to, and with Chris' help, it certainly worked!"
-Kari Stone, Vine Hill House, August 7, 2010
"Chris was awesome, awesome, awesome! We loved him and so did everyone else. He kept the night moving smoothly. He knew exactly what the crowd responded to and when to play it. He did an amazing job coordinating with the vendors. He had everything under such control that we trusted that he would keep us on schedule and didn't have to think twice about anything. We would hire him back in a heart beat for any future events. We are leaving for our honeymoon in a couple of hours and the one thing left on my list before leaving today is to send him a thank you note with more tip because he really deserves it. We are so glad Chris was our DJ for our wedding!
I will post a message on Yelp because that's what we researched in identifying a dj and found it helpful. Also, one other item Chris did and we really appreciated is he downloaded music we wanted and forgot about and did so on the spot, ie Irish songs for the family. He rocks!
Thanks for checking in and there is absolutely nothing he could improve upon – he was great."
-Janet & John, Blackhawk Country Club, July 31, 2010
"Yes, the wedding was amazing! Chris was wonderful! Everyone commented on how great he was, not just at being a DJ, but he went above and beyond our expectations from giving tips to our best man and maid of honor before their speeches, to getting drinks for everyone in our wedding party. I cannot rave enough at how great he is. We will definitely be recommending Chris and Denon & Doyle to everyone we know. By far, you were the best vendor to work with throughout the wedding planning process."
-Kim Wong, San Mateo Marriott, June 12, 2010
"Chris was amazing!!! We love Chris…..he was there making sure Phil and I were taken care of. He made sure the time-line was on time. He has such a great personality for a DJ. Chris got the crowd going with Phil and I playing the shoe game (who is better by using one of each others shoe) that was great. I am so happy we chose Denon & Doyle as our DJ, you were my first choice and only choice. I will definitely recommend you to my friends who plan on getting married in the future or any parties we plan in the future too."
-Erica Carone, Bridges Golf Club, June 5, 2010
"Chris was fabulous, he did an AMAZING job. Patrick and I could not be happier with how well he did things. The music really does make an event, and the music definitely made a difference here. Chris took his job 17 steps further than any other DJ I've ever seen. He kept Patrick and I on track and worked perfectly with the hotel staff, and other vendors."
-Monica Lilla Gutierrez, The Argonaut Hotel, May 30, 2010
"Chris!
You were amazing! Thank you so much for helping make our day stress free! I'm so sorry I didn't get to thank you personally, I was just so exhausted and ready for bed 🙂 but again thank you! I hope to here from you soon! And we'll definitely be recommending you to some people we know who are soon to get married! Lots of love!"
-Monica Moran, Humphreys, May 22, 2010
"As usual, Denon & Doyle exceeded our expectations. You are absolutely right….. there is a buzz about Saturday night.
Chris and Tyrone were fantastic and very professional. Chris did an amazing job managing/working the crowd. We were all extremely impressed with Brian as well. He did an awesome job as the auctioneer."
-Katie McLaughlin, Contra Costa Country Club, March 20, 2010
"The party was GREAT! Everyone LOVED Chris' music selection. He was playing to ages ranged from 6 years old to 70 years old and EVERYONE was dancing — now that is a successful DJ !!!!"
-Mariah Bradford-Urban, Back Forty, February 27, 2010
"Words can't even express what a WONDERFUL and TERRIFIC job Chris did at our wedding…. he was AMAZING! From waiting on us like we were royality, assiting all our guests while playing fantastic music; he was truely one of the best parts of the evening. Chris' selection of music was top notch and our guests are still talking about it. Several wedding attendees thought that Chris was part of the Palm Event Center staff and were floored to find out he was our DJ. The overwhelming response from our guests was he was 'Awesome' and 'Where did you find him?'.
Ross and I couldn't be more impressed with Denon & Doyle from start to finish & we will be recommending your company to all that we know in the East Bay. Thank you for pairing us up with Chris – you did a great job matching our personalities. We especially loved the cd of 'Our Songs' Chris made for us… nice touch! "
-Amy Yurick, Palm Event Center, January 19, 2010
"I just need to tell you, Chris did an AMAZING job! He was unbelievable.. he had everything set up and ready to go, the lighting was gorgeous and perfect, the selection of music was perfect. He had the dance floor packed the whole evening. He even "shut" a couple requests down which was great, since they were on the "No Play" list! He keep Jessica and Tommy on the time line without being pushy, and they even called me the next day to tell us how much they loved Chris and the job he did! Jessica loved that he had the time line down and kept everything flowing along without a hitch… they just hated how fast the whole evening went….
Chris was one of, if not the best "purchases" of the wedding…. and I will use him again for our next daughter's wedding, and will definitely recommend you to everyone I know."
-Krista Perata, Diablo Country Club, January 16, 2010
"The following is a very critical review of his performance:
In one word, Chris Mowery is nothing short of AMAZING!!
Not only did Chris make the reception a wonderful event for all of our guests, he tailored each detail of the reception to our needs and requests. Chris was accomidating before our event and went above and beyond his duties on the day of the event. He even stayed with us during pictures to ensure that we had the necessary drinks/snacks needed to keep us happy.
Anne and I honestly could not have asked (or imagined) a better DJ for our special day. After returning from our honeymoon, Anne and I have spoken to many of our guests and reminisced about our ceremony and reception. More than half of the people we have spoken to have made comments about the music and the DJ, and how both were amazing. Chris successfully entertained all 200 guests for the entire reception, and never once was the dance floor empty or did the reception lag.
I could praise Chris all day, but the bottom line is that he truly was a perfect fit for our event. Anne and I feel like we've gained a friend in Chris as well. As one of the first couples in our group of friends to get married, we will most certainly recommend Chris, and Denon & Doyle, for any future events. Chris represented Denon & Doyle in a professional, courteous, and knowledgeable way. He is an amazing representative for your organization.
Thank you again for following up with us regarding feedback for Chris. If you have any further questions, please do not hesitate to contact either one of us. Anne and I are more than willing to sing praises for Chris at any time. We look forward to working with Denon & Doyle in the future and thank you again!!!"
Brian & Anne, St Mary's Soda Center, January 9, 2010
"On behalf of Rob and myself, we couldn't be an happier with Chris' job! He went above and beyond your average DJ. He was even pouring us our water at our head table when we were running low! We were truly impressed! He had the reception going so well, we added an extra hour that very night because we didn't want it to end! Our family and friends had nothing but great things to say about him and kept asking us about him. If we ever need a DJ again, or know anyone who will need one, we're definitely recommending you guys! With our family we always have an event going on, so hopefully we'll have a reason to hire Chris, specifically, again some time in the near future!
Thank you again for everything, and helping make it such a wonderful moment in our new life together!"
-Erleen & Rob, Castlewood Country Club, December 12, 2009
"On the way to work I heard a song used for the entrance of my wedding party and got a flashback of how awesome our wedding was and how Chris was a major factor in making it the night that it was.
Chris was like family. He took care of us like he's known us for years. He was not only a great dj but a great assistant! Whatever I needed, Chris was there to fulfill my request whether it be to get me a cocktail or kill the spotlights. Whenever I looked over at him, he'd look at me, like "what do you need?"
He'd come up to us and tell us when things were going to happen. For instance he'd say "in four songs, we are going to cut the cake." That helped so much to get us ready for things and know how long we had to mingle or dance.
I knew Chris had a great personality when I first met him at the showcase. He is so personable and witty. We couldn't have been happier with Denon & Doyle and the service we received. Chris is an asset to D&D, and we'd recommend him to anyone for their wedding or any function they were going to have. He is professional, gets the job done and is a guy you'd want to be friends with.
Thank you so much for making our wedding a hit! We enjoyed every minute of it. "
-Maria Lertora, Hotel Sofitel, December 5, 2009
"Thank you so much for helping us make Jared's Bar Mitzvah at Terra a success. Kyle, Chris and the rest of the team did a wonderful job!! We as well as our client were extremely pleased with the DJ/MC and Green Screen services that you provided. Kyle did an amazing job as an MC ( I just can't believe the energy & dance moves he has! ) and Chris was such a great help ( & has quite a personality!!) with the event flow throughout the evening. The communication between all of you and our events team was great and I really appreciate everyone's effort to help make this event a success!"
-Stephanie Scott, Terra Event Facility, November 21, 2009
"Our wedding was absolutely fabulous. Chris was probably our most favorite vendor. He went completely above and beyond his DJ duties and was there for us in every way throughout the entire reception. We couldn't have asked for a more amazing DJ and MC. Everybody raved about him, and I can't tell you how happy Nick and I were with his services. I am recommending him to all my engaged friends AND when I get a minute am giving him a stellar yelp review! I am so pleased with our entire experience with Denon and Doyle and think Chris is the absolute best. Thanks so much for checking in with me. Although I plan on sending Chris a thank you card, please tell him in the meantime that both Nick and I are just ecstatic about the awesome job he did at our wedding."
-Jennifer Samson, Crow Canyon Country Club, November 14, 2009
"Everything was amazing!!!! Thank you so much for make the night so special… you and your entire team made everything flow so nicely:) Troy and I really loved they way you took care of us… you are a great person and it was a pleasure having you at our wedding. "
– Danyll & Troy Tulowitzki, Sharon Heights Country Club, November 7, 2009
"We had a wonderful time, Chris did a magnificent job. The room looked beautiful, he was extremely attentive to us throughout the evening and was a lot of fun to have as our DJ. Just wish the night never ended. Thank you for all of your help and tell Chris thank you for us."
-Stacey Hayward, Blackhawk Country Club, October 10, 2009
"I can not begin to tell you how thrilled we were with Chris on our wedding day. He went above and beyond with everything he did on that evening and completely exceeded our expectations. He is absolutely wonderful and a dream DJ! We have received so many compliments from our guests about him and most importantly all of our guests said they had a lot of fun which we all owe to Chris!
Please thank Chris for everything he did for us. It was a pleasure having him as our DJ."
-Chistina Louie, Bridges Golf Club, October 3, 2009
"Chris was amazing and he performed beyond expectations. Friends and family said our wedding was the best they have ever been to and they all had an unbelievable time!!! Please forward to chris to let him know."
-Aric Koshiyama, Hiddenbrooke Country Club, September 26, 2009
"We were SO pleased with Chris Mowery. Our wedding planner was orignally trying to talk us out of using D&D because it was a little more than other DJ's she was recommending… but after attending the Open House we were confident that we had made the right choice… and it really did ended up being WORTH EVERY PENNY. At times when our planner went m.i.a doing other things at the wedding there Chris was with a HUGE smile to ask if we needed anything. He was the first to offer us a drink after the ceremony, the first to help wrangle the bridal party for pictures, the first to hold any beverages while people took pictures with us the first to check in on us when we sat for dinner…. it was BEYOND what we would have ever even thought he would do for us. just unbelieveable, really. The reception was an awesome dance party too. For both Mark and myself it was the first time we had seen a MAJORITY of our relatives on a dance floor.ever. It was also the first time I had ever seen my 86 1/2 year old Grandma dancing and not just for a slow song or 2.. but for. the. whole. reception. SHE'S 86 1/2 YEARS OLD! It was truly a magical night and with Chris there it only enhanced our day and evening. He was unobtrusive but still there when it mattered (even popping in at the cake cutting to coach us for another great photo op we would otherwise have forgotten about) All in all, we would were so impressed by Chris' eagerness to help in pretty much all aspects of our wedding and it meant a lot to us that he didn't just stand behind his equipment and play music.
When trying to pick a DJ and looking on yoru website it was hard to truly understand all that D&D could do by just reading the reveiws… because it seems too good to be true. and Mark and I even joked about that at the wedding, "wow. all those reviews on the Denon & Doyle website were right! it wasn't too good to be true at all… Denon and Doyle IS really this awesome!"
We will be telling the world about Denon and Doyle and feel so grateful that Chris could help to make our wedding so memorable, so, THANK YOU CHRIS!!!!!!!!!!!!!!!"
-Stacy Aronson, Martinelli Event Center, September 12, 2009
"The wedding was amazing and we have no complaints— just great things to say. I am incredibly happy that we decided to go with Denon and Doyle for our DJ. Whenever anyone says anything about our wedding, they are very quick to say that they loved Chris. He kept the crowd entertained and kept me at ease the entire evening— it seriously felt like we had a second wedding coordinator. He surprised up with a hilarious game that every single guest enjoyed and I could not be any happier. THANK YOU!"
-Kimberly Coleman, V. Sattui Winery, September 6, 2009
"Chris did an absolutely amazing job. He went well beyond the duty of DJ. Everyone keeps raving about how approachable and nice he was throughout the evening. And Dan and I were so grateful that he helped keep us relaxed with a glass of wine as we were courted around to take pictures! From the planning phase to execution we received nothing less than stellar service from you and your team. We are thrilled to have given you the business. Chris is genuinely a hard worker with a professional yet relaxed demeanor and is such a pleasure to be around.
Thanks again for all your help from the team. We are truly grateful and will never forget your efforts. If you need any client testimonials we are happy to help."
-Ali Novak, Vintage 1870, September 5, 2009
"Thank you so much for the fantastic job you did at the Barsetti-Plaza wedding Saturday Night at Casa Real. It was amazing. I like how you did the Bride/Groom song right when they walked in and had the crowd engaged by standing around them!!
I absolutely loved the Mother/son song. I know I am prejudiced but I thought it went great. The look on Aaron's face when he recognized the Sirius into and then started slapping high fives with the crowd was worth every bit of worry I had done.
He actually said, he liked Reba when her song started. I am so glad we chose to go for it and that you were so kind about the change. I felt it said exactly what I wanted to say at that time. Music is so unbelievable powerful, but I guess I am preaching to the choir on that thought.
You have an opportunity to have a strong impact on the special day of the bride and groom and I can tell you realize that and take it seriously, yet make it all seem fun.
The pace you set was energetic/ yet didn't scare away the older crowd. It looked like you were enjoying your self too, which makes it fun. Breaking up the "traditions", keeps things moving along and then gets the people out on the dance floor quicker which is more fun for them.
I know the kids booked you way in advance and it was so worth it.
Thanks for contributing to our special day, it made a great occasion just unbelievably perfect."
-Monica Barsetti, Casa Real at Ruby Hill, August 29, 2009
"We had a blast at our wedding and the feedback we received from our guests; it was obvious they did too. The feedback we have received was that Chris was the best DJ they have seen/heard. Chris was absolutely amazing!!! He was soooooooooooooo attentive to the Bridal Party and was so sweet to all of us. He was always checking to see if we needed anything and made sure that Glenn and I ate — which without him we probably would have passed out from lack of food. LOL. When we spoke to Chris about what we wanted our event to be, we kept saying we wanted a fun wedding with everyone on the dance floor — and boy did he deliver! He performed way above and beyond what we could have wish for or expected. We have had so many people tell us that our wedding was one of the best weddings they have attended — Chris was a HUGE part of that. The games were fun, the music was great, and the energy was amazing. Everyone loved him! We would definitely recommend Denon and Doyle and without a doubt would recommend Chris to anyone looking for an amazing DJ. We are so grateful to Chris for making our day a memorable one for us and for everyone that attendedÉ.for us he is the BEST DJ and one of the NICEST people. Thank you Chris and thank you Denon and Doyle! We will definitely use both again."
-Sandy Travaglino, Italian Athletic Club, August 22, 2009
"Chris Mowery was the DJ on the wedding I photographed last Saturday. He was great! From the moment the limo pulled up and I needed to transition to cover the reception, he helped me at every turn. He also handled the music and games wonderfully, adding a lot to the evening. Without hesitation I can say that he's the best dj I've ever worked with!"
-Beverly Tharp – Photographer from the above event on August 22nd.
"Thank you! The wedding was great in every way. Chris was wonderful — he kept up with a crazy group of people and the dance floor was full all night. He honored as many requests as he could (especially mine), and was warm and charming — a pleasure to work with and a cool guy. There were alot of announcements, toasts, etc., and he handled it all so well. I will certainly recommend your company, and Chris as well. I hope he enjoyed it too. Sincerely, Paula (and Butch)"
-Paula Tuttle, Presidio Golf Club, August 7, 2009
"Chris did an amazing job and the "buzz" back was GREAT!! We are going to get him a gift for his office from the TEAM that I will get to him within the next couple of weeks. It was a pleasure personally for me to have him there, Wes (my son) just loves him!!!"
-lauren Rosemont, Red House Studios, August 2, 2009
"Everything was perfect! Chris is a true professional you should be very proud to have him on your team."
-Kathy Marty, Claremont Resort, February 4, 2009
"I wanted to take a minute to thank you, Chris and Denon & Doyle, for always being so consistent! Everything was perfect with our holiday party last night. Chris really 'read' the crowd and got everyone — from the General Manager to wait staff to the Stables instructors – on the dance floor! The photo booth was a complete hit. I will definitely recommend this to people. I think it adds to a party and really is a great ice-breaker and unique take-home favors.
We look forward to another year of parties with you!"
-Barbara Brooks, Los Altos Golf & Country Club, January 19, 2009
"Everything went very well. Chris did a great job! Thanks for being able to put it all together so last minute."
-Kathleen Collins, Fairmont Hotel, December 16, 2008
"Chris did a fantastic job for our Big Party for Small Businesses. He really got everyone involved and dancing a ton!"
-Debbie Sachawitz, Round Hill Country Club, December 10, 2008
"Christopher was amazing. I would recommend to all my friends. he was very good at making sure the myself and my Husband were taken care of and my bridal party as well. Also I have received many comments from my guests on how much they liked him and what he did."
-AnnMarie Arthur, Kelly's Restaurant, December 6, 2008
"I cannot tell you enough how great Chris and Gracie were. We knew we liked Chris right away when we saw him work a showcase, and knew we made the right choice when we met with him at the office.
The wedding reception was a smashing success, thanks to the two of them. They were AWESOME! They were able to read our audience and kept them going! Chris only got the bridal party entrance music that afternoon, but was able to make it work, and flawlessly at that. The centerpiece giveaway was truly priceless, and the shoe game between Ron and I was a surprise but so entertaining and funny! Our bridal party loved Chris, he took care of us all night. Our guests had nothing but great things to say about them, and they found us and kept us in the loop all night.
I will recommend Denon & Doyle to anyone who needs a dj! We have so many awesome memories because of them and for those priceless moments, we cant say thank you enough. We told them so many times that night, but please tell them again."
-Christine Balingit, November 29, 2008
"Everything was great!!! Chris really made the event wonderful."
-Jennifer Powelson, November 1, 2008
"Chris was fantastic! Everyone was talking about him to us after the wedding. He did more than we ever could have imagined. Helping with drinks, making sure we had everything we needed during the wedding. The crowd liked him too. We are writing a letter to your company this week and sending it about how great he was. The bridal party that did the toast also felt more comfortable after he talked to them, and they weren't so nervous:=)"
-Shamika McCracken, Trilogy at Rio Vista, October 18, 2008
"Chris was awesome, we will recommend him to anyone needing a D.J. for an event. Can't say enough good things about him. Everyone raved about him and we really appreciate his services."
-Malaney McCullough, Viansa Winery, October 17, 2008
"Chris was fantastic. He was extremely professional, on the ball at all times MCing the event, and he kept the dance floor packed all night long. We would definitely recommend him to anybody looking for a fun filled and lively event."
-Majid Malek, Viansa Winery, October 11, 2008