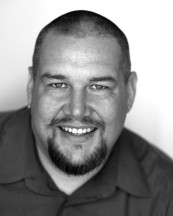 He loves it when you call him Big Poppa.
Big Daddy Chad is there for you, brides. Grooms, worry not, he's there for you, too — he just knows that by making sure your lovely lady is taken care of first, you and the rest of your guests will be guaranteed a lovely day. Midwestern in roots, Bay Area in upbringing, he's lived his life providing protection, from his days as an all-league lineman for Antioch High School to his time served working on the front line with the Antioch Police Department.
The only thing bigger than the big man's commitment to protect and serve is his heart — which he opens and holds out to his wife (aka: his best friend) and three kids.
All together now,
"Awwwwwww…".