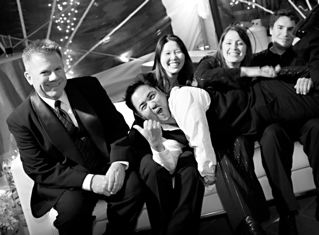 Mr. Mellow-tasker, Mark Haggerty
Handling 1000 things at once never looked so easy. A Bay Area native with Aussie roots, Mark loves his work. He takes the fractured pieces of party puzzles that plop in his lap and puts them together perfectly with some of the highest quality equipment from the likes of Graham Slee HiFi. Do him a favor, though, please don't ask for autographs, stories about his time with "Beach Blanket Babylon", or when he was Mr. Concert Promotions in the 80's
… unless you really want to hear about them.
He has worked with and can legitimately drop names like Joan Collins, Carrie Fisher, George Lucas, David Geffen, Val Diamond, Paul Stanley (Kiss), Danielle Steel, Heart, John Cougar, Huey Lewis, Peter Tosh, The Motels, The Go-Gos, Cheap Trick, The Police, Santana, Tom Petty, Night Ranger, Katrina & The Waves, Journey, Sammy Hagar, Montrose, Stray Cats, Foreignor, Loverboy, ZZTop, Billy Squire, Men At Work, Ronnie James Dio, and Quiet Riot faster than you can say, "throw another shrimp on the barbi, mate!"


"First let me tell you that Mark was absolutely wonderful. Able to instantly adapt to all kinds of changes/modifications to the schedule, personable, professional, and he was truly such a major part of our celebration. So many people were dancing and the atmosphere was simply terrific. We couldn't be more pleased! A truly wonderful evening. I didn't worry about a thing, and I needn't have in any case because Mark was fabulous. THANK YOU!"
-Liese Tamburrino, The Lodge at Sonoma, November 29
"Mark Haggerty was a total professional in every way. He was prompt, well-mannered, helpful, and accommodating. Mark was there early, he set up and did a sound check for the men who were singing a song to the bride, and it came off beautifully. Mark also did a great job playing songs that got the crowd on the dance floor. My husband and I danced almost all night, and we really appreciate that Mark was aware of what songs got the crowd going.
I would recommend Denon & Doyle with no reservations, and give them high marks for excellence, professionalism, and a job well done. It all came off without a hitch, and that is due to Mark's attention to detail in transitioning the crowd during the evening with speeches, special songs, special dance songs, etc. etc. Thank you from the bottom of my heart for making the wedding a memorable, lovely event."
-Margaret Bang, Round Hill Country Club, October 25
"We had the day of our lives and Mark was awesome. I would give a testimonial for D&D anytime. From the first point of contact through this last email it has been nothing but class! In fact – going to your showcase was the best learning experience for how to plan logistics of our wedding that we had the pleasure of attending!"
-Kelly Voet, Mountain Terrace, October 11
"Mark was AMAZING! You guys were awesome as always and Mark is the best. Definitely made my wedding! Thanks!"
-Vanessa Crabtree, Ocean Hotel & Spa, May 31
"Mark was fantastic! He was classy and professional and kept us dancing all night. People keep telling us how much fun they had (a few have even told us it was the best wedding they've ever been to)! Also loved the dance floor lighting, and the cake spotlight really enhanced our beautiful cake. Great job!!!"
-Stephanie Martin, Marine's Memorial, May 24
"My Event was a huge success! Your team were so professional and such a pleasure to work with. I couldn't express it enough to my senior management how you and Patrick made everything fit into my budget. The "selfie" sharing station was a huge hit on both days. Nothing but kudos J."
-Diane Miguel, Shaklee Corporation, San Ramon Marriott, May 7
"Thank you so much for your email. I just wanted to let you know that I have never been happier with a company than I am with yours. The way Mark conducted himself was nothing short of amazing, he was a true professional at our wedding. Mark not only took control of the music but also was awesome as a MC. Diana and I are still in aww at how many text we have received on how much they enjoyed our DJ. Mark was nothing short of amazing on how he handled the crowd. His choice of music, and at one time certain songs played was flawless. My biggest fear was there was going to be a disconnect with some of our guest not speaking English. Gabriel did a fine job connecting with the crowd and helping Mark get some of the importing announcements across. In my eyes most of the credit goes to Mark with the way he combined the crazy variety of music we had requested. The venue was beautiful, but having Mark DJ was actually my favorite part of the wedding. Mark is a huge asset to your company, and I will highly recommend your company, but also to have Mark if available be the DJ. I would personally like to thank your company as whole and to let Mark know how much credit he deserves for making my wedding so memorable for all our guest."
-Matthew Fyten, One Leresdorff, May 3
"Mark was fan-tastic! I told several of our guests through out the night "man, this DJ is too good! I keep thinking I will take a break from dancing but then I can't because every some choice was so perfect for us!" Also, we loved that he brought the glow sticks and little glow rings for the "single ladies" toss. It was all around everything we had hoped for. And on our wedding day, there was a lot to worry about since it ended up pouring rain. It was a relief to not worry about Mark at all. He took care of everything he needed on his own."
-Jenna Morris, Bridges Golf Club, April 25
"We were extremely happy with the DJ, the lighting was great, sound system great and it made for a fun time for everyone. Thanks for helping make our day special!"
-Timothy Thomure, University Club of San Francisco, April 12
"The party was a hit! Mark was amazing! he had perfect music and was very friendly and professional. He knew what to expect and was eager to please. Diaz was very happy."
-Claudia Rafello, Palo Alto Hills Country Club, February 1
"I'm happy you emailed because I was definitely planning to get in contact with Denon & Doyle and tell you guys that Mark was absolutely AMAZING! We are so pleased with his work and he had an excellent rapport with all of us. There will definitely be a lot of positive reviews written after our experience with him. He's a wonderful asset to your company! He will definitely keep those he works with coming back :-)"
-Mary Kaldas, SF City Hall, January 11
"Mark was superb from the moment we first met him until the last minute of our wedding day. His professionalism during our first meeting enabled us to rest easy that we had chosen the right man for our wedding. He removed problems from our day, which is quite simply the best thing someone could do as a couple are planning a wedding. During the day he played everything we wanted, was an asset in ensuring the night went to an ever changing schedule and made sure the dance floor was kept occupied. What more could we want!"
-Andy Smith, Mira Vista Country Club, January 4
"Mark did a fantastic job. He showed up early and was the last to leave. He kept the party going and my parents' 50th was a huge success thanks to Mark and his awesome music selection. The slide show was a huge hit too."
-Karin Burk, El Patio Espanol, January 3
"Thank you for your e-mail! Both Mark and his assistant, David did a fabulous job for our wedding! It was a really fun time! Everyone I hear from agreed that you all did wonderful work. The set up of the projector and screen also worked very well. We showed a video that had many people in tears of joy after. The music selection was perfect. The disc at the end with our wedding music also meant a lot to both Joann and I! We'll put it out our list to make sure to post positive reviews for you. Thanks again for everything!"
-Richard Homeres, Pierd 29 Restaurant, December 27, 2013
"The party was incredibly fun. We had a fabulous time and we had a great buzz. I felt bad for Mark as he was getting lots of different requests. Overall the buzz was amazing. We were worried that people would not leave the 'main body of the party' to go dance but everyone did."
-Christine O'Sullivan, Palo Alto Residence, December 14, 2013
"Our party was interesting to say the least. The restaurant had a water pipe burst and flooded part of the area are party was held in. Mark was great and didn't miss a beat! We were able to move our dance floor to an un-flooded area and Mark continued to play the music and kept everyone happy. He also did a great job when we were handing out prizes and brought glow sticks which everyone loved. He did a really amazing job and we really appreciated it all!!"
-Cathea Dinkler, UFCW Trust, Scott's Seafood Bar & Grill, December 7, 2013>/b>
"Thank you Mark for helping create the environment we were going for. We appreciate your time before the event to walk through the day with us to make sure you had what you needed. We threw several special and hard to find requests your way and sincerely appreciate you doing the research to make it happen. We could not have done our entrance or first dance if you had not gone above and beyond to find a solution for us. You did a great job reading the crowd and playing the music that kept everyone going. We all loved your attention to detail and how well you read the crowd. Including picking up on the mention of a song during the speeches and leading off with that to get things going again. Brilliant! We appreciate your help with our last minute request to also assist us with sound for our ceremony. Our guests commented on how impressed they were with the sounds system and how well they could hear everything even right there on the ocean. Your timing was perfect with all the special requests we had during the ceremony. Truly helped us pull off the special surprises we had in store for our guests. Thanks so much for all of your professionalism and creating the all night dance party we were looking for at our wedding. Great job! Thanks for your follow up. Mark was great! We would love to say great things about our experience."
-Brynn Gottsman, Surf Spot, November 2, 2013
"Mark did a great job at our wedding and the music was all well timed and executed properly. Other than that, He was great, professional, the music quality was awesome, he worked well with all the other vendors, and everyone had a great time."
-Angela McIntire, Kohl Mansion, October 19, 2013
"We had a wonderful time and I was going to actually email Sue soon. We just got back from our honeymoon in Europe and the first thing people said to us was how much fun our dance [party] was and how amazing the DJ was. Mark did a wonderful job as the MC, moving things along at a nice pace, he knew when to move on to the next event and did a great job of selecting great dance songs with no awkward transition from song to song. Our guests loved dancing to the music so much they didn't want the night to end."
-Julia Shin, Marines' Memorial, October 12, 2013
"Could not have done anything better, they were great. Mark was worth every penny and more. Everybody involved cant stop talking about what a great job he did. Thank you so much! "
-Andrew Siegel, Petaluma Residence, September 21, 2013
"It was great — we don't usually do a DJ, but Mark had them dancing from the beginning. You are very easy to do business with and if I need DJ services again I'll certainly call you folks!"
-Brenda Reisinger, Hyatt Regency – Sacramento, February 14, 2010
"Everything went very well at our wedding. Mark was great to work with and we really appreciated all of his extra help with sound during the ceremony and the slide show as well. Overall, our experience with you guys was terrific and we would happily recommend you to others. "
-Kristen Brunson, Mira Vista Country Club, February 13, 2010
"Thank you Mark! I just want to second Chingwin, you guys were fantastic. I've never seen a wedding where everyone was dancing so much, you did a really great job keeping the crowd going. And the photobooth was a total blast, everyone kept telling me how much fun it was. Again, thank you!"
-Adam Pyonin, The Argonaut Hotel, January 9, 2010
"We were very happy with everything the day our wedding. The photobooth was a HIT with everyone and we love the guest book with all of the photos. Mark was awesome and played exactly the kind of music we wanted. I will recommend D&D to everyone I know that is getting married."
-Valerie Bolch, Hotel Vitale, January 1, 2010
"I just wanted to write to let you know what a great job Mark did for us on Friday, as he always does.
– Somehow he managed to set up on time, even though when he got there, the outlet was overloaded.
– Somehow he managed to play the right music, even though the direction wasn't 100% clear cut. Possibly just the opposite!
– Somehow he always manages to take everthing in stride, no matter what!
He really has the whole package: artistry, technical knowlege and customer service. I can't imagine hiring a DJ other than Denon and Doyle! If you ever need a reference, we would be happy to speak on your behalf."
-Helen Gettinger, Hyatt – Santa Clara, December 11, 2009
"As always Mark was great! He had a good plan for the night. I prefer to use nobody else but Mark for all of my events. Thanks again!"
-Greg Schniegenberg, Concord Hilton, December 4, 2009
"You guys have been excellent to work with. We were so happy with how everything turned out. It was an all out dance party that no one wanted to end, thanks to Mark! We have had countless compliments regarding how amazing our DJ was. Mark did exactly what we talked about and played all the right music at the best times. I wish I could get married again just to have him there! (I would of course still choose to marry the same man). We will absolutely recommend Denon & Doyle whenever anyone asks for a DJ recommendation. Thank you for everything!"
-Ashley Rawitch, Claremont Country Club, November 20, 2009
"Oh my gosh, it was AMAZING! Everyone had a blast. I had people coming up to me saying this was the best wedding they had ever been to. Mark did an amazing job, read the crowd and kept the wedding moving. He thought of things I didn't think of and was aware of the crowd and what he needed to play to keep people on the dance floor! "
-Melissa Miller, Palm Event Center, November 15, 2009
"I did want to get back to you to let you know that mark was simply terrific. We met with him a few months before the wedding and he gave us some pointers then. a week before we ran the schedule by him and he gave us some more guidance and suggestions. and then on wedding day, he mixed our music with his and get the mood of the place buzzing, so much so that we had folks on the dance floor for 4 hours and then had the extend for another hour. I have already recommended him to two friends who are organizing their reunions next year and who were at the wedding to wintess his magic. Thanks again to you guys at d&d. you were professional from start to finish. what a pleasure."
-Safdar Mirza, Cliff House, October 17, 2009
"First of all — what an amazing night! Matt and I had so much fun at our 10-10-09 Wedding and most definitely our guests did as well. I can't tell you how many people are providing us with feedback and saying "you had the best Dj with the best songs". Thanks thanks thanks for everything you did to make our night run as smoothly and beautifully as it did. Again thank you Mark for everything — We loved every moment and are so happy that the guests danced their butts off till the very end!!"
-Lindsay Ferguson, Round Hill Country Club, October 10, 2009
"Everything was perfect- Mark did a great job! We can give you more feedback when we return from our honeymoon. "
-Karen Romano, Cordevalle Country Club, October 3, 2009
"We are in Mexico soaking up some rays and drinking too much champagne! The wedding was beautiful and Mark did a spectacular job. Jamie and I both had many guests come up to us and tell us how much they loved the music selected for the evening. Our wedding quickly turned into dance party USA and that is exactly what we wanted, bringing all our guests together across all generations. We can not thank Denon & Doyle enough for the fabulous work. Mark was a rockstar!"
-Stephanie Joukoff, Bentley Reserve, September 6, 2009
"Mark was amazing and exceeded our expectations. The thing we loved most about him was how much he really seemed to care about the success of our wedding — he worked so hard, and I cannot tell you how much we appreciated that."
-Angela Kung, Trentadue Winery, August 22, 2009
"We could not have been happier with Mark and Denon & Doyle. As I visited our guests throughout the room, everyone commented on how much they liked the music. Mark did a great job of combining old classics with newer numbers. People were up and on the dance floor before the first course was over and never stopped. We did an impromptu dance with the bride's great grandmother and all her grandchildren and Mark had her theme song (Hello Dolly), announced what was going on, and everyone loved it. The dance floor was still full when the bride and groom were called upon to make their exit. I told Mark that his part was one aspect of the wedding I did not have to worry about. I knew we were in good hands. Thank you so much for making our reception everything we had hoped it would be. I will gladly recommend you to anyone who wants the very best in a DJ."
-Lisa Hirsh, Catta Verdera, August 15, 2009
"The wedding was fantastic! Mark did a great job and we were very pleased to have chosen him as our DJ. He made our night a huge success:) "
-Dana Szalanski, Round Hill Country Club, July 11, 2009
"The guests at our wedding all have the same opinion about our reception, it was the best they have ever been to! We are still getting compliments about the awesome music choices. My groom and I wanted our wedding to be a party, lots of fun with no dull moments… Denon & Doyle helped that come to life. Thanks so much to Mark for showing our friends and family how to have a blast a wedding!"
-Erica Fry, Los Altos Country Club, June 27, 2009
"The party was great and Mark was great. Everybody loved the music and he really read the crowd. Thanks for helping to make a special evening even more special."
-Arlene Leonoff, Claremont Resort & Spa, June 21, 2009
"It went fantastic! Mark did a fabulous job. Just an example…one of our guests were going to leave to go home to their kids but Mark started playing Primo Indian music and they stopped and stayed for another hour. Many guests commented on hoe a non-indian palyed such good music. I will add that all the music was Mark's choices. Also we loved his other selections and flexability.
We would highly recommend D&D and Mark again"
-Ena Sinha, Culinary Institute of America, June 14, 2009
"Mark was AMAZING – he did just what we asked him and then improved on it. He read the crowd really well and many commented to us on how great the music was. He did just the right amount of checking in with us and interaction with the crowd. We had a fabulous time and have nothing but good things to say about Mark!"
-Laura Romain, Corinthian Yacht Club, June 6, 2009
"The wedding went off without a hitch! We could have not been more please with Mark and his addition to our wedding. All the music ran smoothly and was a great part of our reception. Mark was a pleasure to work with and I will definitely recommend him and D&D for any future events. We also had Alex do the music for our ceremony and that was lovely as well. We made the best decision picking D&D to handle our music for the wedding."
-Carrie Cooper, UC Berkeley Faculty Club, May 23, 2009
"Vivian and I are extremely happy with Mark's performance at our wedding. Everything was timed perfectly that Vivian and I did not need to look at our watches for the entire evening. He even remembered details such as reminding us to take our sunset photos.
The music Mark selected got several positive reviews, from the classical pieces during dinner to the 80Õs songs during the open dance. He is very professional and fun at the same time. He helped line us up for the bridal party entrance, and organized a fun game for the centerpiece giveaway. We would recommend Mark to any of our friends"
-Chris Lee, Hong Kong Flower Lounge, May 16, 2009
"The wedding went perfectly and Mark was WONDERFUL! A true professional and he helped keep the flow going and the feet dancing!!! We got so many compliments on the music and style as well, so I really appreciate how you catered to our requests, it was such a mixed crowd! =o) I loved working with you guys, and it really couldn't have gone any better! We really appreciate it! Thanks again!"
-Laura Plann, Hyatt Vineyard Creek, May 9, 2009
"Mark was wonderful to work with. I especially wanted to comment on his help in the planning process. He was always very open to meeting with us, talking to me on the phone, and working with our budget, etc. I appreciated that pre-work because it made me feel more comfortable on the day of. "
-Guyen Ha, Bridges Golf Club, April 25, 2009
"Mark you really did an amazing job….I was blown away at how smooth the whole reception went. You made it happen! You are the man! Thank you so much again!"
-Mary Anne LaHaye, Lafayette Park Hotel, April 18, 2009
"We just returned from our honeymoon and looking now at the pictures from the wedding…everyone had a blast. We are so grateful to Mark. He did an amazing job, was so helpful, and kept everything running so smoothly the entire wedding night. Thank you again for all the services your company provided. We will definitely be recommending you!"
-Ashley Jerome, Crow Canyon Country Club, March 21, 2009
"Mark was wonderful and we had a very successful event. Everyone I spoke to was complimentary about the DJ and your company."
-Debbie Kurzrock, Penninsula Temple Shalom, March 7, 2009
"Mark Haggerty did a wonderful job at our wedding on 2/28. He was professional, fun, organized, and accommodating. He has the ability to read a crowd well, while being mindful to specific requests from the bride/groom. I believe he represents Denon and Doyle very well, and I would readily recommend him to any bride."
-Catherine DePrime, Trentadue Winery, February 28, 2009
"Mark was fantastic and several people came up to me and asked who was my DJ and said they would get the info in the future from me. Mark did everything perfect from the special themed introduction to the dancing. He was seemless the entire time."
-Jack Juchcinski, Ruby Hills Golf Club, January 17, 2009
 
"Mark did a great job, as usual. He really knew how to read the crowd and coax the dancers out. We enjoyed him a great deal"
-Kitty Dowgert, Four Seasons Palo Alto, December 20, 2008
"People all said this was the best party ever from the passed hors d'oeuvres to Mark's Djing. He does a fabulous job. You're lucky to have him."
-Janet Lawrence, San Francisco City Club, December 17, 2008
"Mark did a fabulous job for our event on Saturday. He was very professional, and knew how to play the crowd. I received positive feedback by all. We will definitely look at using your company (Mark) for future events such as this. Thank you."
-Mercedez Marr, Westin ST Francis Hotel, December 6, 2008
"Mark is the best – classy, sophisticated and fun. He did an outstanding job at our wedding. It was a great party from beginning to end. Mark was a great emcee. He read the crowd beautifully and he kept the party fun without being intrusive or pushy. He did a great job incorporating what he heard from us about our music preferences and helped us through some akward planning moments as well.
I would highly recommend Mark and Denon and Doyle – great job, lots of fun and memories to last a lifetime."
-Mary & Walt, Rossmoor, November 22, 2008
"On our honeymoon in Mexico but Just wanted to let you know I'm going to push Denon & Doyle like drugs for anyone who needs a DJ – especially Mark, HE IS THE MAN. Give the guy a Christmas bonus – something along the lines of a corvette or Ferrari as he totally deserves it."
-Rebecca Rothman, Sir Francis Drake, November 15, 2008
"You guys did an amazing job at our wedding. Mark made our wedding!!! He played the perfect music all night long and kept eveyone entertained. The game he used to give away our centerpieces was great! It got everyone moving and totally broke the ice. I just cant say enough good things about Mark, so I will just say thank you."
-Veronica Lamb, Grand Island Mansion, November 8, 2008
"Mark was just FANTASTIC!!!! I'm going to refer you, especially Mark, to all my friends who are getting married and are looking for a great DJ. Not only did he play the perfect music at the perfect time, he was the best MC!!! The best and the greatest part was him handing us Cds at the end of the night with a lot of the songs he played throughout the night. That was a GREAT touch!
Mark, thanks again for helping make our wedding even more magical!"
-Kelly Chin, Ferry Building, November 1, 2008
"Mark did an absolutely fantastic job for us! We were so pleased with his professionalism and expertise. His personality and knowledge helped us in creating the environment we were looking for and allowed for the flexibility we needed as a few things changed mid-stream, and he never missed a beat! Many of our guests commented on the job he did as well as the great music selection he provided. We will definitely recommend Mark to everyone we know and we plan on writing up a great review on Yelp for both Dennon and Mark over the weekend. Let me know if there is any other sites we can boast to about your services as we would be more than happy to support you considering the job your organization did for us.
I will be giving Mark a call early next week to personally thank him again as well. You couldn't have anyone better on your staff…"
-Jason & Tejai, The Flood Mansion, October 25, 2008
"Everything was marvelous, couldn't have been better!"
-Karen Clausen, Presidio Officer's Club, October 17, 2008
"Mark was absolutely wonderful! He knew the venue extremely well which helped in every aspect. Everyone danced and had a great time from beginning to end … with Mark pulling out a few surprises that were a party hit! It was everything we had imaged and we are recommending Denon & Doyle and Mark to everyone. Thanks for all the hard work!!!"
-Christina Waterbury, Harvest Inn, September 27, 2008
"The wedding was amazing and we had an excellent time! Much of the success was because of Mark's organization and customer service. He was well organized going into the wedding day with a phone call to confirm all of the details. Throughout the day, Mark would ask for our opinions to make sure everything goes smoothly. His music selection was great and he followed all of our special instructions to the letter. Everyone really enjoyed the Barbie and Ken game, and it really broke the ice for the guests to start dancing. We know we can count on Mark and would recommend him to our friends for future events."
-Jason Wong, Brazilian Room, September 20, 2008
"Mark Haggerty was fantastic! He did a great job with the music for the ceremony, cocktail hour, dinner (esp. A fun bit involving giving away the centerpieces) and the dancing of course. Great balance of music and reading/ interacting with the crowd — just what we hoped for. We'd definitely recommend him in the future."
-Prasanna Rasiah, Kohl Mansion, August 24, 2008
"Mark did a fabulous job! He played great music that kept the crowd dancing all night. And I'm sure that if you saw pictures, you'd think it was especially lively dancing. We received many compliments on what a great job he did. Fred and I had not given him any sort of playlist, so he chose all the great songs on his own.
Mark also did a wonderful job of getting a 99% non-Jewish crowd up to dance the Horrah. I don't think a single person was left in their seats. My Catholic Mom is now convinced that the Horrah should be the dancing kick-off for every wedding.
Last but not least, Mark was technically very flexible and accommodating. We had an unusual layout of events, and he went the extra mile to ensure that there were speakers in the cocktail lounge where we chose to do our first dance and toasts. Similarly, he cooperated with our event coordinator to make sure that champagne would be passed to guests during a toast which we had overlooked.
We could not have asked for a better DJ. I would gladly recommend Mark to anyone. Please pass along our gratitude for his help and talent. I just hope he enjoyed the night as much as we did."
-Heather & Frederic, 1 Fort Mason, August 23, 2008
"We had a great party and everyone loved Mark. He was great and kept the party on the dance floor all night, just like I asked. Thanks so much!"
-Natalie Price, Magnolia Farm, August 16, 2008
"We all would love to respond to the service we received from you all and especially Mark. From our first experience at the showcase to the last song played we received the best most professional service. You all are on top of the whole process. You respond fast, you keep your records up to date and current; your communication to us is A-1. I never had to worry changes would be lost, amounts always accurate etc.
We had never ever had to use a DJ company before, so we did not know what to expect… except that Denon and Doyle was GREAT. (You all are very popular). Everyone was right. We appreciated the time Mark visited with us at the site 'our home' before the event (even all the way out to Oakley). He suggested some extras around our back yard and especially the lights that brought out the "Bling" of the cake. WOW GREAT TOUCH -REALLY alot of our guest were impressed.
Our event was probably not the biggest but you all made a big impression. Everyone had fun!! That is what you do. Mark was right on in his set up time he was ready to go exactly when he said. On our next event (reception) (three more children to go) we will absolutely call you again… All the best to you and your staff…"
-Leila Hellwig, Private Residence, August 9, 2008
"Can you please give Mark a gold metal in creating the best party in the entire county. I would extend it to the world but then you might just loose your best DJ to England. He was fantastic! Everyone had a great time dancing, singing along with the music and playing with the party props! He was professional, thoughtful and fun what more could anyone ask for? Everyone loved him. Thank you so much for providing such a great DJ for my wedding day! It was definitely one to remember."
-Cathy Williams, Scott's Gardens, August 8, 2008
"Our wedding was amazing and we were very happy with Mark's professionalism and skill all around. We would highly recommend him to anyone else and knowing that he was in control of the situation let us relax and fully enjoy the reception."
-Tom Haven, Berkeley City Club, August 2, 2008
"Mark was wonderful as our DJ. He really got the spirit of what we wanted for our wedding and definitely kept our guest AND ourselves dancing and celebrating… He was perfectly sharp with the DVD arrangements and was very very kind with me all the time. He is a great professional and does his job very very very well.
I am really glad he was our DJ and I can see him as our DJ at other parties of ours when the time comes to celebrate our anniversaries ;)"
-Marianne Nobre, Calistoga Ranch, August 1, 2008
"WE LOVED LOVED LOVED Mark!! Everyone at the wedding couldn't say enough about how great he was. How he played everything we wanted to hear and kept the party going the whole night long!! =) We loved all the added little things that he did, ie. The blow up guitars (which people asked if we planned hehe), the streamers and just the overall up beat attitude he had! He was definitely a huge addition to our night and I will definitely recommend him to any and all of my friends who are getting married!!"
-Sarah Coakley, Paradise Ridge Winery, July 19, 2008
"Mark did a most fabulous job at our wedding. I specifically chose him because he seemed to be about our age and would understand the music a crowd our age would like. He did an incredible job and so many people commented on how great he and the music were. He did "just enough" MC stuff, played an excellent song list in an excellent order, and I feel had a huge part in the success of the reception. Gary and I just bought a new home together and were on a really tight budget for this wedding. The one place we did spend money was on the DJ since I know they really do carry the wedding. Since Mark was doing the music for the wedding and reception it was important to me to have the best. We spent a little more to get the best, and it was well worth every dollar! Thanks again, and please know we will highly recommend your company to everyone we can!"
-Liza Grime, Spinnaker Restaurant, July 6, 2008
"Words cannot express how pleased we were with Mark. I gave him a few pieces of info about the type of music we liked, and basically told him to keep the party going. Well, he did! I have been to a few weddings by now and I have NEVER seen my friends dance so much. He even had my 85 year old aunt out on the dance floor! Best of all, my father claims he had the most fun out of anybody. You couldn't take him off the dance floor! I recommend Mark to anybody looking for a DJ- or a band. He is professional and does exactly what you ask him to do. There are many people out there who don't think a DJ is as good of a music choice as a band for a wedding. Well, I disagree. I have never been to a wedding with a band that can get the crowd going like Mark did. He read the crowd very well and knew the right time to play certain songs. We loved the work he did and found him extremely easy to work with."
-and one from mom…
"This is the second time we have used you for a wedding. You also were the DJ for our daughter Allison's wedding (Allison and David Solin) in Sept. of 2004. While you were great for Allison's wedding (obviously if we asked you for Kristen's wedding) you were absolutely fantastic for Kristen's wedding. The DJ had the "touch." I didn't stop dancing all night and I just got my Medicare card. It was my kind of music but I noticed that it was everyone elses'. I never saw my family hit the dance floor like they did for Kristen's wedding and while I am older than my cousins (I am better shape) they never stopped. Everyone, young and old, has commented to us about what a great party it was (it should have been for what I laid out for this wedding). Put me on your reference list"
-Kristen Thompson, Fairmont Hotel, June 28, 2008
"Now that we're back from our honeymoon, we wanted to thank you for doing such an excellent job on our wedding. We've received a number of compliments on the excellent selection of music, and were so pleased to see everyone having a great time! Coming from families where no one likes to dance, we wouldn't have been surprised if nobody had made a move all evening. So imagine our delight at seeing an unexpected number of people on the dance floor! Thank heavens for the internet, which helped us find Denon & Doyle–and you–in the first place. We couldn't be more pleased with the results!"
-Nicole Horejai, Grand Island Mansion, June 14, 2008
"Thank you! Everything was great! Mark was a excellent!"
-Gillian Myler, Private Residence, June 7, 2008
"Thank you again for all your work this weekend! You were fantastic – everyone really enjoyed the music and atmosphere! We will be sure to recommend you to any of our friends."
-Cathy Bandy, San Jose Country Club, May 31, 2008
"Mark was fabulous!!! Worked great with everyone and helped gather people for the toasts. He was attentive and great at getting the crowds up and dancing. Great guy – great event."
-Tosca Clark, Bix Resaurant, March 22, 2008
"It was a very successful evening and you had a large hand in making that happen. Thank you for going above and beyond the call of duty, and for making our event so much fun as well! I really enjoyed working with you and will be sure to always recommend you and Denon & Doyle!"
-Sandy Preto Flett, Orinda Country Club, March 1, 2008
"EVERYONE at the party had a blast. Most people couldn't believe the number of songs that Mark had on hand. In fact, my dad was very impressed when Mark was able to play 3 of his favorite songs from the Beach boys to Rowling Stones. Thank you SO much."
-Rosanna Chenette, Bix Restaurant, January 26, 2008
"Everythi
ng was PERFECT and Mark was truly wonderful. The music was even better than we had hoped fo r…. and the Party Box he brought for the kids was perfec t… and of course, all the Big Kids had fun with the toys as well!!! We have several newly engaged couples in the family and as soon as they set their dates, I am quite certain you will hear from them too! Thank you for making Deborah and Nick's day so special and so memorable!!"
-Ann Lund, Italian Athletic Club, December 29, 2007
"It was a wonderful wedding, absolutely fabulous. Mark was a true professional and there were plenty of good comments. They loved what he did, and I would tell them it was the DJ's idea. It was just as presented in the showcase. It moved along, very timely and unusual activities — no one realized that it was Mark conducting the orchestra — he was in the back ground managing the event. And he even did the Macarena! Which my very unhip guests loved! Lots of good comments about the non-bouquet toss, children's coloring contest, and especially the give away for the centerpieces. The crowd loved the shoe game and no one had ever seen this before. The sound during the ceremony and reception was perfect. All the equipment, placement, etc. was great. If I had another daughter, I'd hire you guys in a second."
-Edie Arterburn, Castlewood Country Club, December 28, 2007
"Our holiday party was great. Mark did a fantastic job in reading the crowd and played exactly what everyone wanted to hear. My complements to him. Thank you again for making our holiday party a memorable one."
-John Organ, Mcormick's & Kuleto's, December 13, 2007
"Everything was fantastic. Mark was pleasant, professional and responsive. We enjoyed him very much. I hope we have reason to use your services again. It's been a pleasure working with you."
-Kitty Dowgert, Exploraorium, December 8, 2007
"We had a wonderful party and we LOVE Mark!!! Dr. Odumakinde is convinced that he is the best DJ around. I am sure that you all will be hearing from us again. Thank you for everything."
-Meghann Lopez, Claremont Resort & Spa, December 7, 2007
"Mark was wonderful as was our wedding! It was the most perfect day and we have nothing but rave reviews for Denon & Doyle. We're so happy we went w/you guys and even happier we got Mark! He executed everything perfectly. My only wedding regret is that we ran out of time! I just wish we had more time for dancing, but I guess as far as weddings go, that's not a bad problem to have."
-Fiona Doyle, Viansa Winery, December 1, 2007
"We were delighted with Mark's service as our Djay. He arrived when he said he would, set-up his equipment in the place we reserved for him and asked about any special details he could help us with. (There were a few requests from our son who was making a presentation and Mark was happy to accommodate him.) He played as many of the songs that I had requested as he could in the time allotted. Mark added a great deal to the success of our party. He even presented us with a CD of some of the songs I had asked him to play. A wonderful momento of the evening. "
-Janet Pease, Western Aerospace Museum, November 9, 2007
"Mark was absolutely fantastic! We could not have asked for more. He kept everyone dancing literally until the lights were turned back on! Everything was so smooth. Please express to him how grateful we are for his stellar performance. Eitan and I will definitely recommend Denon & Doyle to anyone we know."
-Allison & Eltan, Omni San Francisco Hotel, October 20, 2007
"You were just great. If it weren't for you and Sandra, the evening would not have run as seamlessly as it did. Thank you so much for being there for us. I had a great time and so did Michael. We both thought you did a fantastic job in choosing the music and getting the mikes to the speakers. Do you think my son has a chance to be a broadcaster/singer? I was shocked that he sang his version of "MY MOM' to me. So sweet."
-Linda Chan, Olympic Club, October 7, 2007
"Thank you again for making our wedding such a beautiful event! Everything went even better than I had hoped for and you played a big part in that. Everybody had such a good time!!!"
-Kathi Seifert, Presidio Golden Gate Club, August 24, 2007
"Mark was a great DJ! We did not have to worry about a thing during our wedding. Mark helped to coordinate all the events and stuck to our timeline very well. He played our requested music and really got the crowd moving and having fun, while still remaining classy and professional! Our guests really liked the maraccas and leis he provided for the conga line. Thanks so much for helping to make our day fun and memorable!"
-Kimberly Wong, Hotel Sofitel, July 22, 2007
"We were delighted with the DJ's. Many people told me this was the best wedding they had ever attended, and we agree! We thanked Mark and Gideon, but would like you to extend an additional thank you as they both did an excellent job… Thank you again for a wonderful event!"
-Louise Edwards, Nestledown, June 29, 2007
"Our wedding was simply amazing! Mark was excellent and very attentive to our guests. He was able to play special requests and did things on the fly for us. It couldn't ask for anything better! "
-June Shih, Silver Creek Country Club, June 23, 2007
"We had a fantastic reception. Mark was AWESOME! He truly made our day special. Mark set the tone and kept the party alive all evening long. Our guests ranged in ages from 5 to 80. The music was appropriate for everyone in between. We could not get over how many people were dancing and having such a good time. The music Mark selected and played was spot on. He is a true professional. We were swamped with compliments regarding the music from most of our guests. The music was one of my biggest concerns regarding our celebration. Boy did I waste a lot of time worrying over it. It could not have been better."
-Drew Bardet, Claremont Resort, June 16, 2007
"We really enjoyed having Mark as our DJ. Due to our wedding reception location, we had to have a strict time schedule. Mark kept us on track and made sure we danced the night away! He really worked with us beforehand to make sure he had all of the music we wanted and played everything we requested. He is definitely one of our favorite vendors 🙂 I will say as much on the Knot."
-Wendy Shaper, Brazilion Room, May 26, 2007
"The wedding was beautiful. Everyone said it's the wedding of the century. Mark did a wonderful and superb job from the beginning up to the end of the wedding. Everybody had a great time on the dance floor. We wouldn't have any other djay than Mark Haggerty. We love him. A million thanks to Denon & Doyle especially to Mark."
-Grace Tuazon, Boundary Oaks, May 12, 2007
"Just wanted to let you know what an excellent job Mark and Beverly did last night! We had a lot of last minute changes during the evening and Mark and Beverly just went with the flow. So, please pass on our sincere THANKS to them for keeping the evening sane. They truly are professionals! Thank you! I really appreciate it!"
-Susan Horning, Blakes at Boundary Oaks, April 27, 2007
"Everything went great! And Mark was so in tune with the presenter during the awards presentation. The dinner music was at just the right tempo and volume. Mark was fantastic and easy to work with, which is what we needed for an event like this!"
-Shelli Krunic, Servino Restaurant, April 19, 2007
"The wedding was wonderful and Mark and Chris both did a great job! I felt like the music was exactly as we discussed and really helped to the tone for the wedding. I told Mark directly that I thought that he did a great job, hopefully I communicated that well. If I did not I apologize. We have recommended you to a couple of people and had one of our guests say that they were going to ask for you for an event. I will follow up with Lisa to find out the name of the guest. Thank you again for all your help and please know that if we have another event that requires a DJ, we will always call you guys!"
-Tino Selitto, Sebastiani Vineyards, April 14, 2007
"Everything was fantastic! We got many compliments on the music selection specifically, which was all due to our great DJs. Thanks so much for all your help! I seem to recall at the info meeting that you said you have all the paperwork needed for changing my name. I wondered if that was something you could email or mail to me (we don't live near your office). If not, that's fine. Please pass along our heartfelt thank you to Colin and Mark. We had so much fun at the wedding and I don't think we left the dance floor!"
-Chelsea Davenport, Legion Of Honor, April 7, 2007
"People are still talking about it. How he never stopped the music once and he never took a break. He was wonderful!!! He was very helpful from the start with all my questions and needing assistance with picking certain songs. He will be highly recommended. Thanks again to Mark Haggerty and Denon & Doyle for making our wedding a grand and unforgettable event!!"
-Stephanie Jorge, Grand Island Mansion, March 31, 2007
"As usual, Denon & Doyle, and Mark Haggerty, did a fantastic job! Many people stayed and danced till the wee hours, and the slide show and all the AV stuff was great. Our chairs for next year most definitely plan to book with you for the 08 auction. As soon as we decide on a venue and a date, we'll let you know. I can't say enough about Mark – he is really easy to work with and very professional. We ended up raising about $80,000!"
-Los Perales Schol Fundraiser, Marriott Hotel, March 10, 2007
"Oh my god … it was AMAZING!!! We couldn't have asked for any better! Still people keep telling me how great Mark was. We danced all night. And maybe people are just being sweet but the main comments we keep getting about the wedding are "That was the best wedding ever!" and " EVERYONE had so much fun". Thank god I found you guys."
-Erica Hartono, Lake Merritt Hotel, March 3, 2007
"Wonderful party, its hard to please that many physicians but I did it. The doc who paid for it said it was the best party she had ever thrown. Mark was fantastic, so much that Dr. wanted your card and plans to use him at her next function! I'm sure he knew how awesome he was and the support he gave me as I gave him and extra $250.00, well deserved"
-Deb Shearer, Crow Canyon Country Club, February 24, 2007
"It was everything we could have ever wanted!! I really know that thank you is not enough — but thank you. Everyone had a great time and didn't want it to end, all because of you. Thank you again you were the reason for the success of our holiday party."
-Jennifer Andrews, Harvest Inn, January 25, 2007
"Mark did a great job at the party. He was very accommodating to our folks and the schedule that we had in placed. The employee's feedback was excellent. We were behind schedule because few executives were late and he was quick with the changes that needed to be made and the music was appropriate."
-Van Lieou, Marriott San Jose, January 12, 2007
"Mark was brilliant — great presence and people loved the music selections — both the cocktail hour/dinner music and then the dance music."
-Pal Bollwinkel, Bistro Boudin, Deember 14, 2006
"Once again, Denon & Doyle has been a wonderful company to work with and have at our Holiday Party. Everyone at work had a great time and complimented the music and DJ, Mark. Mark is such a pleasure to work with and is very talented at what he does. He is a valuable asset to your company and I will continue to recommend any friends and family to him and Denon & Doyle. Thank you so much, Mark, and we are looking forward to seeing you again in the future!"
-Julie Crivello, Woodfin Suites Hotel, December 1, 2006
"Jim and I wanted to thank you for being such an amazing DJ at our wedding. Thanks to you and your assistant for keeping the evening on schedule. I don't know what we would have done without you. The music was absolutely perfect. I remember Jim looking at me during the cocktail hour and saying,"Oh my God…people are dancing during cocktail hour." Thanks to you the dance floor was packed all night. People keep telling us how fun our wedding was. From personal experience I know that a "fun wedding" is based on how great the music is. Thank you from the bottom of our hearts for helping to make our dream wedding a reality.
-Megan & Jim, Olympic Club, November 18, 2006
"It was a blast …. .Dj was great !!He was drssesd as Austin Powers!! Thanks again SOOOOO Much … .sammy was also impressed!! Hard to do!! anyway …. we tipped him too!! Keep in touch."
-Kari & Sammy Hagar, Acqua Hotel, October 28, 2006
"We had an amazing time, and Mark was awesome! Thanks for everything."
-Afam & Sarah, Carnelian Room, October 21, 2006
"I am planning on sending a more formal thank you, but wanted to let you know that we LOVED having Mark as our dj. He played great music and was very go with the flow. Everyone danced the night away, and we ended up staying later than planned because everyone was having such a good time. I heard a lot of people saying how good the music was, and I will not hesitate to recommend Mark and Denon & Doyle in the future. Like I said, Mark can expect a more formal thank you soon, but please pass along our thanks."
-Carolyn & Jason, Alta Mira Hotel, October 7, 2006
"We had an amazingly wonderful time, and Mark was such a stud! Thank you all so much for making it the magical night it was. Many thanks to Mark from both of us, awesome and then some.
-Maureen & Kirk, Ventena Inn, October 6, 2006
"You guys (and our DJ Mark in particular) got it exactly right. I have not seen that high a percentage of people dancing at a wedding before, and would be surprised if I do again. From young to old, our guests loved the music and had a great time, in no small part due to Mark's skillful song choice throughout the evening. He was precisely what we wanted in a DJ — and nothing we did not. Bravo to you guys. We'd hire you again in a heartbeat."
-Benjamin & Sarah, Green Room, September 30, 2006
"Mark did a more than excellent job, he played the perfect music for the perfect time; he listened and met our requests. We did receive a lot of positive feed back from our guests and will definitely recommend you guys. We appreciate your professionalism and attention to detail."
-Mario & Karina, Hiddenebrook Country Club, August 26, 2006
"I can't tell you how pleased we were with Mark Haggerty DJ'ing our wedding. He did a fantastic job! Mark was a pleasure to work with, always attentive, and did a great job keeping the pace of the wedding going (from the initial introductions, to the cake cutting, dancing etc). I might also add he was easy to work with. I found as we were planning our wedding, this "easy to work with" trait became tremendously important."
-Jami & John Martini, Chabot Science Center, July 22, 2006
"Mark did a great job. I actually never left the dance floor. I would recommend him to anyone. Everyone else loved him also. Thanks for doing such a great job. Everything went smoothly and I really didn't have to do a thing. He made the night perfect."
-Tracy Rose, Hiddenbrooke Country Club, July 8, 2006
"HI! The wedding was beautiful! Everyone had a wonderful time, and we're all still talking about it! Jeff and I were extremely happy with Mark. He did a fabulous job, and made it so much fun for everyone. Thank you so much for all of your help throughout the planning process. Please thank Mark again for me for helping to make it the perfect wedding."
-Erin & Jeff, Scott's Gardens, June 30, 2006
"Greetings from Hawaii! Mark was absolutely everything we could have asked for and did a fantastic job! Everything was well organized, well pulled off and everyone had a fantastic time dancing the night away. An A+ report for Mark and please extend our thanks once again!"
-Dan Miller, St. Francis Winery, June 4, 2006
"Just wanted to thank you so very much for your WONDERFUL, SUPERB music for our wedding… What a FABULOUs team you have! We were so blessed to have had you do our music for our wedding! Thank you, thank you, thank you!"
-Britten Rogich, Ritz Carlton Half Moon Bay, June 3, 2006
"The wedding was great and Mark was terrific. Mark was on top of everything, amenable to requests and a great host. My wife and I were really impressed with D&D from start to finish, and you guys were certainly the most professional people we worked with throughout the planning and during the event. I would recommend Mark and D&D to anyone – A+!"
-Chris & Sujin, Marine's Memorial, May 20, 2006
"I just wanted to thank you SO much for doing such an outstanding job with our wedding last Saturday. I seriously cannot tell you how impressed and happy we were with everything you did – it was perfect, literally – and everyone commented on how fabulous the music was and what a great time they had because of it. You are amazing and we cannot thank you enough!"
-Jen & Tee, Corinthian Yacht Club, April 22, 2006
"Thank you and all at Denon and Doyle for the wonderful professionalism that helped make our Wedding Day the best ever! Terry and I were more than elated at the great job that Mark Haggerty did for us. His attention to detail and congeniality was a big factor in making sure that "things went right". We got many comments on what a good job he was doing, and how nice he was to deal with. He was efficient, without being pushy or overbearing. He was so much better than our wedding coordinator. He was great on the "special" dances and requests, too. The sound system was just right on volume and placement. We will have many wonderful memories for a long, long time; and Mark and your organization were greatly responsible for making a lot of them possible."
-Ray & Terry, Sunol Valley Country Club, March 26, 2006
"Thanks so much for the message. I just have to say that Mark was FANTASTIC!!! We received so many praises from our guests on how great the music was. The dance floor was never empty on Saturday night thanks to Mark and the night was flawless. Denon and Doyle has been nothing but professional and great to work with. You helped make our day very special."
-Angela & Mark, Old Federal Reserve, March 18, 2006
"Everything was perfect. Mark and his assistant did an exceptional job. Everyone stayed on the dance floor until the very end. He did such a wonderful job of honoring our wishes of keeping things classy but somehow managed to keep it all super fun. "
-Kimberly & Andrew, Sir Francis Drake, March 4, 2006
"Thank you for doing such a wonderful job at our wedding this past weekend! A lot of people commented on how great the music was. For me, the reception was a dream come true — so thank you for being a very important part of it! "
-Aeryn Seto, Kokkari, February 19, 2006