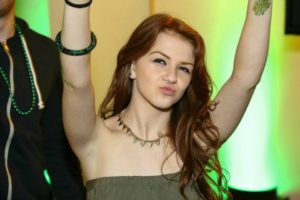 Bio – Sabrina Beisner
If any lesson is to be learned from the fairy tale lore of Jack and the not so friendly Giant, it is this: never underestimate the power of a bean. For Sabrina Beisner, affectionately referred to by family and close friends as "Bean," her small stature is also not to be underestimated. She is a powerhouse, no doubt about it. When her Kindergarten teacher gave her the nickname, it's unlikely she could have predicted the way Sabrina would grow into such a decorated performer and entertainer.
She credits all the amazing moments and unforgettable experiences in her life thus far to two things—her loving personality and her greatest passion in life, dance. Sabrina has been dancing since three years old, a few years even before she got her nickname. Dance was more than a hobby, it was an integral part of her life. She used her dancing talents to perform in front of a list of celebrities and in a number of venues impressive enough to make your jaw drop.
While she will happily share about her experience dancing with Janet Jackson and the Rhythm Nation when asked, she positively lights up when recounting her time as a Junior Jam Squad member for your Golden State Warriors. "It always gave me a rush," remembers the Pleasant Hill native, "and the anticipation of running onto a court for thousands of screaming fans is not something you easily forget."
She worked at her craft enough to get admitted into the Oakland School for the Arts. Studying dance theory and gaining appreciation for the fine art she was so consumed with led Sabrina to more and more opportunities. She's organized philanthrophic events and taught a crowd full of celebrities and thousands of students a dance for a "We Day" concert in Oakland. Doors kept opening as Sabrina kept working and growing. Fortunately for us, her next open door just happened to be next door.
Sabrina recalls walking into her dance studio each day for practice and being distracted by the inner-workings of the office space directly next door, the one with a Denon & Doyle sign on it. "I remember asking my friends, 'What is this place? It looks so cool!' and I got lucky enough to get hired on as a party motivator," Sabrina recalls. It became clear that Sabrina was no ordinary dancer. The combination of a cheerful, team-oriented attitude, a dedication to her clients, a fearless mind-set and absolute brilliance as a performer made people take notice. It was not long until Sabrina began leading parties as a MC, the next evolution in her growth as an entertainer. We've learned to never underestimate this diminutive dynamo, and we suggest you remember your fairy tale lessons and never do so, either.