Times have certainly changed, but people still want to get married! Adding a live stream or Zoom Interaction is the best way to share your wedding simultaneously with guests that cannot physically attend.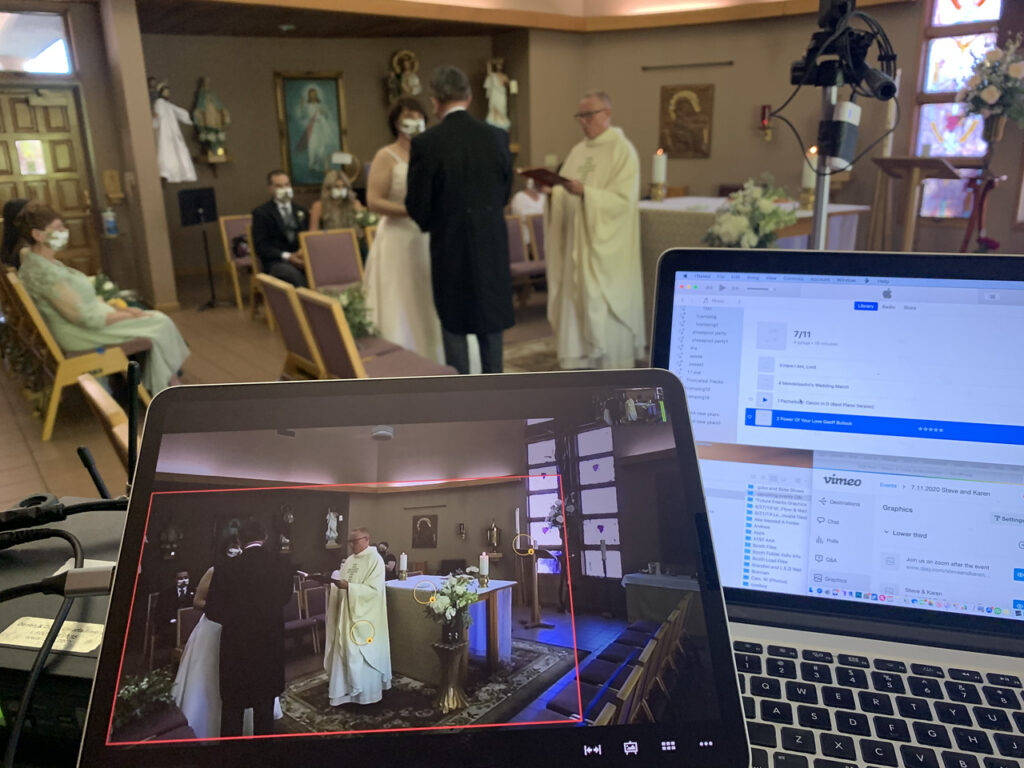 What is live streaming?
This is the highest quality live view option and is simple for your guests to watch. We create a custom URL link where your guests can watch realtime without having to log in. We include multiple camera views and a live text chat option. Video is also archived at your URL so guests can watch anytime.
Pros: Highest quality video & audio, ease for your guests, multiple camera angles.
Cons: Guests interaction is limited to text chats, no 2-way video conversations.
What is Zoom?
Zoom allows your guests to log in and join in the conversation. We couple this with a "Host" that monitors the conversation, mutes participants when needed and spotlights special events. Having a Host also adds security to the Zoom. We record and post the video from the Zoom and send you a link.
Pros: Allows interaction with your guests. Works best when you add our large specially configured flatscreen to your event so you and your present guests can interactive with the guests at home.
Cons: Video and audio quality can be rough at times due to the limitations of Zoom. It can be more confusing than simply clicking on your URL and watching the live stream for guests who are unfamiliar with Zoom.
What if we want both

?
We will create a custom URL for you to share with your guests before your wedding day that will host the live stream and includes a link and instructions to the Zoom for joining us after the ceremony. After your ceremony, we invite your guests to the Zoom with a text overlay on the live stream. Your host will greet the participants as they log into Zoom, help the with technical issues and keep them updated on upcoming highlights (First Dance, Toasts, Cake Cutting, etc.).
At the reception your Zoom tech will enable the Zoom configured flatscreen as well as provide a camera with a second angle (often roaming where the action is to keep the zoom guests engaged). See for yourself…